I find myself in Sydney, Australia, a long way from home, but only a few hours removed from the theological goings-on of Western Europe. These days there is no such thing as isolation; I knew this before, but am discovering it in new ways. We live in a global village theologically, as in almost every other way. The death of Reinhold Niebuhr was known here in Australia as soon as it would have been in Amsterdam. The same theological problems fill the pages of the journals here that keep us reading there.
We live in a single theological world, and that is something to be glad about. To be a theologian is no longer the interesting hobby of a few scholars neatly tucked away in a corner of a university, on a side road away from the freeways of life. Theology has to be on the mainroads of life or it has lost its directions.
Theologies are measured these days by a standard of relevance; the basic question asked about a theology is whether it is relevant, significant for the fundamental questions of human existence in this time. A lot of theological work that, yesterday, we assumed was vitally important and true may today be pushed aside. The historical dimensions of theology get short shrift from this disposition; to those who find only what fits directly into today's situation important, church history and the history of dogma are studies of theological relics.
But this trend is not a pure blessing; it often carries theological poverty in its heart. Examples are not hard to find. Theological stars, like Hollywood discoveries, rise and fall in the Church's firmament, and after their fall it turns out that the stars hadn't shed much light after all. But in this atmosphere, even modest warnings against theological confusion and stupidity, to say nothing of heresy, are shrugged off; what has clarity or truth to do with relevance?
The compulsion to turn one's back on history can be fatal. The present time can become a myth, an idol that is most fragile. A student can get so immersed in this time that he loses the opportunity to gain the information he really needs to be relevant, theologically, for this time.
I am glad to be able to say that this opinion is shared by more young theologians today than in the recent past. Many young students have rediscovered history. And these are not students who have reacted against the demand for relevance and have retreated from the stern demands that true relevance makes on the theologian. They have, on the contrary, discovered that the route to relevance in the present often leads through the past.
The European student who reads only the publications of the last ten years or so has become a somewhat ridiculous figure. There are symptoms that people are beginning to catch hold of the obvious—that the only way to understand and minister to one's own time is by understanding the past. Isolation from history brings, in the end, fruitlessness for the present.
To accept this is, of course, a far cry from the historicism or the historical relativism many of us reject. But it is the discovery of the inexpendable usefulness of the past for grasping the meaning and truth of the Gospel for our time. Not to see this is to condemn oneself to irrelevance, no matter how contemporary one's jargon may sound. On the other hand, not to see that the past must be brought to bear on our ministry in our time is to be orthodox for the sake of orthodoxy, instead of for the sake of service.
I believe that no significant and ministering theology is possible without intense involvement with the past. This was true of Aquinas, of Luther, of Calvin; it was just as true of Barth, Bonhoeffer, and Niebuhr, or anyone else who has been significant in the world of theology. They were sensitive to the tensions and conflicts of the past in direct relation to their sensitivity to the tensions and conflicts of their own times. None of them turned his back on the needs of his day in order to play peaceful theological games with the past. The urgency of their own time forced them back into history to see what God had done and what God had led men to say and do back there.
To leave theology to modernity-intoxicated men who live only in the shallows of contemporary thought is to throw theology into the hands of theological delinquents. The stars of sheer relevance are not long on stage. They offer a bargain-counter theology; it may be tempting to people who want to become stars themselves without the bother of such nettlesome stuff as exegesis and history and other "irrelevancies" in the curriculum. But what they offer is a very inferior product that is obsolete at the next turn of the corner.
So we greet the new theological generation, a generation that appears to have seen through the simplistic bandwagon fads of much theological sloganeering. This generation seems ready to get to work again, free from arrogance, liberated from glittering generalities. To get to work, really to work—this is a decision that bears a promise of greater fruitfulness in theology for the today of Christ's Church in our world.
Have something to add about this? See something we missed? Share your feedback here.
Our digital archives are a work in progress. Let us know if corrections need to be made.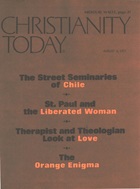 This article is from the August 6 1971 issue.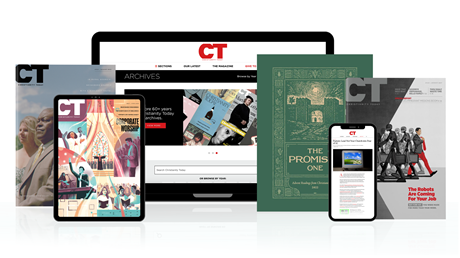 Subscribe to Christianity Today and get access to this article plus 65+ years of archives.
Home delivery of CT magazine
Complete access to articles on ChristianityToday.com
Over 120 years of magazine archives plus full access to all of CT's online archives
Subscribe Now
It's Back to Work They Go
It's Back to Work They Go