Just as the pulse and respiration are signs of vitality in the human body, so missionary outreach is a primary sign of a denomination's spiritual health. Judging from this, a number of the mainline churches are currently suffering from a deep malaise. At a time when the burgeoning world population calls for more and more missionaries, these churches are retreating and retrenching.
Here are comparative missionary statistics for six large denominations. The 1958 totals are taken from the Occasional Bulletin of the Missionary Research Library of New York, whose information was gathered by Frank W. Price and Clara E. Orr. The 1971 figures were secured from the denominations' headquarters or official publications.
That all these denominations have cut back on their overseas missionary forces would be less significant if the decline reflected a trend among all missionary agencies. But it does not. In 1958 the Evangelical Foreign Missions Association (EFMA), missionary arm of the National Association of Evangelicals, had 4,688 missionaries under its banner, according to data from the Missionary Research Library. As of January, 1971, the number had increased to 7,479, exclusive of home staff personnel. This was an increase of about 60 per cent during a time when the six mainline denominations were cutting back by approximately one-third. The six largest missionary agencies in the EFMA grew by 26 per cent, so that the largest percentage of growth was among the smaller agencies.
Most of the larger nondenominational missions operate within the framework of the Interdenominational Foreign Mission Association (IFMA). Two of the six largest IFMA agencies showed a decline, but the six largest together showed an increase of 30 percent. For all the IFMA boards together, the 1958 figure was 5,902, the 1971 figure 6,164. The agency that had the greatest increase was Wycliffe Bible Translators, affiliated with the IFMA in 1958 but now non-affiliated. From 705 staff members in 1958 (having started from zero in 1935) Wycliffe grew to 1,762 in 1970, according to the latest North America Protestant Ministries Overseas Directory (available from MARC, Monrovia, California 91016; $7.50 hardback, $4.50 paperback). The unaligned Southern Baptist Convention overseas task force grew from 1,186 in 1958 to 2,494 in 1971.
In an address to fifty missionaries on furlough recently, Dr. David M. Stowe, top mission executive for the United Church Board for World Ministries, noted a 10 per cent decrease in missionary personnel of major U. S. Protestant denominations in the last three years. "Meanwhile, the fundamentalists and pentecostals increased their numbers at about the same rate as the mainline churches' decrease." Dr. Stowe added, "Worldwide inflation and the deterioration of American economic power whittle away at the buying power of our mission dollar.… We shall have to rediscover the Christian graces of poverty and sacrifice."
At approximately the same time, COEMAR, missionary arm of the United Presbyterian Church U.S.A., said that its budget will drop in 1972 to $13.6 million from the 1971 figure of $14.7 million. And overseas personnel will be reduced by 220 over the next two years—100 through retirement or resignation, and 120 by relocation in other work, most likely in the United States.
The missionary decline in these old, mainline denominations was preceded by a change of orientation in the ecclesiastical hierarchies. These were the churches that began to turn away from evangelism and personal soul-winning as they came to envision the mission of the church to be changing the world's social and economic structures. At the same time these denominations were deeply infiltrated by those who no longer believed in the uniqueness of Christianity and bowed to syncretism (as, for example, Colin Williams, dean of Yale Divinity School, who said that what the Buddhist believes in his situation is as good for him as what he himself—Williams—believes in his own situation). In addition, the mainline churches have been invaded by a neo-universalism. According to this view, all men are already in Christ; they need only to be informed of their salvation.
Syncretism and universalism are deadly foes of missionary outreach, and also of spiritual vitality. It doesn't take lay people long to lose their enthusiasm and cut their financial support for ministries that their leaders no longer believe in. The future for the overseas missionary ministry of some of the mainline denominations is not bright. But does this mean there is no hope?
The past few years have seen a resurgence of evangelical concern inside and outside the mainline churches. In virtually every church with non-evangelical leadership, offsetting groups have arisen to challenge the status quo and to work to bring renewal to the denomination. In a transdenominational framework, Key 73 may be one of the brightest hopes for constructive change. Missionary retrenchment always signifies spiritual sloth. There will be no reversal of missionary decline without spiritual renewal. This is the first priority.
The China Vote
The demonstration on the floor of the United Nations that followed the vote to admit Communist China and to expel the Nationalist government on Formosa appeared to be more than partisan exuberance. It sent a chill through many watchers, not only because of what had been done but because of what it may have presaged.
The United Nations being what it is, there would seem to be no valid reason to exclude the People's Republic of China. But the United Nations cannot justify admitting Communist China on its own terms: the expulsion of the regime of Chiang Kai-shek.
The Nationalist government on Formosa was one of the original signatories of the United Nations Charter. It has stood by its commitments to that organization as loyally as virtually any other country. It had every right to continued membership.
One of the ironies of the ouster was that many countries that supported the move had themselves been voted into the organization with Taiwan's help.
Many of the nations in the U. N. are very small; some have a population of no more than 300,000. This creates a major problem, for the one-nation, one-vote principle gives disproportionate power to little countries.
Some nations may have voted for the ouster in order to show contempt for the United States and to curry favor with the People's Republic of China. Contempt is hardly a worthy motive, and any hopes centered on Peking may be in for disillusionment.
Many more people are beginning to wonder whether America in her desire to promote international cooperation has not introduced a Trojan horse. The balance of power within the United Nations could now swing to the Communist bloc. That demonstration on the floor when the vote was announced may have had more significance than we should like to think.
We will be willfully blind if we ignore the fact that Communism is still grimly determined to dominate the world. The vote against two Chinas was a political victory for Communism. But the Communists also continue to work through aggression, infiltration, and subversion.
The Christian can take comfort in the knowledge that God is the Lord of history and that he will have the last say. But in the meantime we need to face up to the fact that the Church of Jesus Christ has been driven completely underground in the People's Republic of China and that in the process tens of thousands of Christians sealed their faith with their blood.
On the other hand, no nation in the world has been more open to Christian missions than the Nationalist government on Formosa. The Christian Church has flourished in that country, and many within the government are active Christians.
Religious freedom is the most important of all freedoms. Where Communists are in power, they shamelessly violate this right even while they speak of "religious freedom." Some people in the Western nations, even though they themselves have little or no interest in religion of any kind, should take a searching look at past history and at present conditions in the world. Although religious freedom should be the inalienable right of every person, many in the Soviet Union, mainland China, and elsewhere have been deprived of this right.
The United Nations has voted, but God will yet be heard from.
The Pilgrimage Of Eugenia Price
It has been a long ten years for Eugenia Price and the Gould family of St. Simons Island. From the shallow beginning of The Beloved Invader to the not-quite-so-shallow finish of Lighthouse, Miss Price has struggled to grow as a novelist. Unfortunately, the characters of the final novel in her trilogy are as one-dimensional and predictable as in her first, still too reminiscent of Grace Livingstone Hill. But now she has a grasp of the art of description and dialogue, and that we are glad to see, for the modern Christian novelist is all too rare.
Lighthouse is rich in landscape detail and emotional portrayal that avoids melodrama as well as understatement. Miss Price vividly captures the sights and sounds of the Florida wilds and the Georgia coast. She writes simply and directly, with a flair for storytelling. The dialogue, though stilted in some places—the Negro dialect unnecessarily interrupts the story's flow—reflects the fine narrative.
Some will condescendingly call this novel "escape" literature; others will feel it unworthy of the name of literature. But even one of this century's best stories, Tolkien's Lord of the Rings, has been accused of not being literature. One of the often overlooked fundamentals of good fiction is storytelling, and Lighthouse, despite some weaknesses, is a good story. If Miss Price hasn't written "first-class fiction," as Ann Paton hoped she would (see August 22, 1969, issue, page 28), Lighthouse is at least a strong step in that direction. May evangelicals welcome her latest work with a hearty encouraging "Write on!"
The Debut Of Jesus
Jesus people have been picketing the Mark Hellinger Theater in Manhattan, protesting that Broadway's Superstar is not even a reasonable facsimile of the Christ of the Bible. They have a point. The Broadway hero is not the Saviour who is turning young people off drugs today. But Superstar breaks a long period of cultural silence about the name of Jesus, and the sequel could be a revival of revealed religion.
The Therapy Of Thanksgiving
God expects gratitude. That's reason enough to practice it. But if one needs more incentive, he might well think of the benefits of thanksgiving. Expressions of gratitude take the focus from ourselves, and contribute to the humbling most of us need.
Thanksgiving forces us to take better stock of our situations. The inventory invariably obliges us to conclude that we are better off than we thought we were.
A look into history suggests that many of the people known for thankful spirits were those who, on a worldly scale, had the least to be thankful for, and vice versa. Jesus himself was the personification of this principle when he gave thanks for the cup. Here was the symbol of the supreme penalty he was about to endure; yet he stated his gratitude for it.
Counting Corpses In Britain
An old controversy flared up again in England with the killing of a police superintendent at about the same time that a young thug pumped nine bullets into another of Britain's unarmed policemen. The 92,000-member Police Federation charged that the Home Office has "out of sheer panic" concealed the fact that crimes of violence have doubled since capital punishment ended in 1965.
Since 1957 a new defense to a murder charge is "diminished responsibility," which brings a sentence for manslaughter instead of murder—and reduces the murder tally. The government denies any increase in "willful, premeditated murder." Maybe so, retorts a police spokesman, "but the number of bodies lying around has increased tremendously."
Abolitionists see their cause as befitting an enlightened society. The corpse count in Britain and elsewhere suggests that in respect for human life we may be losing rather than gaining sophistication.
Thank God, This Is The Day
This day is supremely important. It is the only day we have right now, for we can neither relive yesterday nor pre-live tomorrow. Yet we can be robbed of today. It is so easy to dwell in the past, rummaging through good memories, mulling over bad ones. And we are prone to project our joys, opportunities, even our living into the future—often at, say, $10 down and $10 a month. We resemble those quoted in Isaiah 56:12: "Tomorrow shall be as this day, [only] much more abundant." Today thus often becomes something to be endured rather than enjoyed, overlooked rather than overseen. We need the psalmist's attitude: "This is the day which the Lord hath made; we will rejoice and be glad in it" (Ps. 118:24).
This is the day to live. Jesus said he came that we might have life abundantly—today. No longer need we pursue happiness. We can be happy or joyous as the Holy Spirit reproduces within us the dynamic qualities of the very life of Jesus Christ. Added together, the traits mentioned in Galatians 5:22, 23 amount to life. And we can have it today, if the Holy Spirit can have us today.
This is the day to be strong. "As thy days, so shall thy strength be" (Deut. 33:25) is a promise we can realize today. In a real sense Christ is our strength (Gal. 2:20; Phil. 4:13), providing stability through every day. Paul discovered this provision in a day of personal weakness, when he was at the end of his own resources. He learned by experience what Christ meant when he said, "My grace is sufficient for thee; for my strength is made perfect in [your] weakness" (2 Cor. 12:9).
This is the day to decide. We tend to keep putting off the important decisions until tomorrow. Joshua's words echo still: "Choose you this day whom ye will serve.…" That is the decision that undergirds all others. In one familiar tale the author describes a strategy session in which devils discuss the best way to thwart Christ's cause on earth. The winning idea: "Tell the people to decide tomorrow. Tomorrow will be soon enough."
Tomorrow never comes. This is the day which the Lord hath made; we will rejoice and be glad in it.
Today is the day for thanksgiving.
Have something to add about this? See something we missed? Share your feedback here.
Our digital archives are a work in progress. Let us know if corrections need to be made.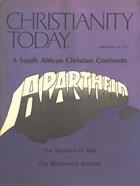 This article is from the November 19 1971 issue.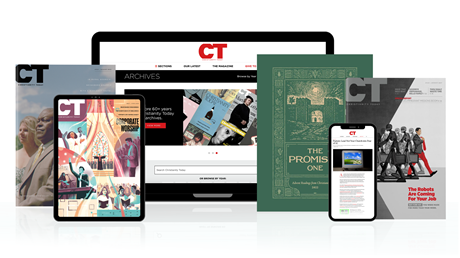 Annual & Monthly subscriptions available.
Print & Digital Issues of CT magazine
Complete access to every article on ChristianityToday.com
Unlimited access to 65+ years of CT's online archives
Member-only special issues
Subscribe
Read These Next
Trending

American Christians Should Stand with Israel under Attack

While we pray for peace, we need moral clarity about this war.

From the Magazine

I Studied Christianity with the Hope of Debunking It

A decade later, I became a Christian.

Editor's Pick

Don't Miss These African Christmas Hits

Jam out this season to highlife, Afrobeats, jazz, a cappella, R & B, rap, dance, and hip-hop artists from Nigeria, South Africa, and more.
The Missionary Retreat
The Missionary Retreat