Christmas, as everybody knows, is a time to be merry. It is a time for parties, gaiety, good food, gifts, traditions, carols, and happy expressions of peace and good wishes for the coming new year. We think about shepherds rejoicing, angels announcing "good tidings of great joy," and Mary "magnifying and praising God" for the coming of the Christ-child. Enthusiastic anticipation, exciting activity, pleasant memories, and warm feelings all merge into something called "the Christmas spirit." But great numbers of people, even in our churches, experience Christmas very differently. For them, the season to be jolly is instead a time of discouragement, fatigue, anxiety, and unhappiness. Suicide rates jump sharply in the days preceding Christmas, and recent studies show an increase in the number of Americans who consult psychiatrists between Thanksgiving and New Year's Day. Even people who rejoice in the activity and message of Christmas sometimes find themselves facing what has come to be known as the Christmas depression.
There are at least four reasons for this yuletide unhappiness. First, there is the increased pressure that many people feel: pressure to get the shopping done, the cards addressed, the house decorated, the presents wrapped, the food prepared, the bills paid. It is easy to get caught up in a whirlwind of preparing for parties, visiting with friends, practicing for the cantata, getting the Sunday-school program ready, and attending to numerous other seasonal activities. In the midst of all this activity, our resistance gets down, we do not get enough sleep, we overeat (or drink too much), and as a result we tend to be more irritable, impatient, and inefficient—all of which can make us feel more pressured and anxious. For some people, the traditional Christmas gathering of the family increases the feeling of pressure. Old resentments, family rivalries, and insecurities that normally are kept hidden suddenly reappear, often accompanied by anxiety and depression. In many families there is also worry over a family member who drinks too much.
Loneliness is a second cause for Christmas depression. Students and servicemen and others who are away from home, widows and others who grieve, the sick and elderly, people who feel unloved and friendless—all tend to feel discouraged and lonely when everyone else is preparing for parties or visits with friends and relatives. Even people who have no problems with loneliness during the rest of the year are likely to feel unhappy and rejected when they have no one with whom to share the joys of Christmas. Sometimes this leads to self-pity or a "poor-little-me" attitude, to resentment at being left out, and to envy of those who appear to be happy at the holiday season.
Feelings of inadequacy are also accentuated at this time of year. Recently two psychiatrists, one in Europe and one in the United States, reported that most of their Christmas patients are people who felt inadequate and unwanted as children. Over the years these feelings become buried in the unconscious, but they rise to the surface when the person begins to compare himself to the perfect Christ-child, whom everyone wanted, worshiped, and adored. Some people feel inadequate because they cannot entertain as well as their friends, saddened because they cannot afford the gifts they would like to give their children, frustrated because they cannot give presents that are as expensive as those they have received, or guilty because they have overlooked someone or received a gift they feel is undeserved.
Perhaps all of this unhappiness comes because Christmas seems to be a time of increased Satanic activity. Whenever people begin to think about Christ, it appears that the devil becomes more active. The Scriptures, for example, report increased demonic activity at the time when Christ was on earth in human form. More recently, the expanding Jesus movement has been accompanied by Satan worship and a resurgence of interest in the occult. At Christmas, more than at any other time of the year, Christ's name and birth are predominant. It is not surprising, therefore, that Satan is especially active at this season, distracting people from the babe of Bethlehem, creating misery instead of joy, and even providing his own substitute for the divine Christ in the form of an old man named Santa Claus who is eternal, omnipresent, omniscient, omnipotent, infallible, the giver of good and perfect gifts, the symbol of happiness, and a powerful judge who judges on the basis of works.
Becoming aware of the existence of Christmas depression is the first step towards helping ourselves and others who tend to get discouraged at this time of the year. There are also some practical steps to combat it. First, we can make a deliberate effort to reduce holiday pressures. We can start our preparations early, eliminate what really does not need to be done, and plan activities that will focus on the real meaning of Christmas, the birth of God's son. Most of the busyness of Christmas is our own fault. It comes because of poor planning, procrastination, or disorganization, and it tends to crowd out. Perhaps we need to spend more time considering how we can be still at Christmas and know that He is God.
Second, Christians should ponder ways in which they can help those who are lonely or in need at Christmas time. This may mean giving of our money, time, and energy to make others feel wanted and remembered. It may mean opening our homes to others and sharing Christmas, or giving to those who have less than we do. We spend so many dollars on gifts and food for our own families, so little on others who are ignored at Christmas or in need.
Third, we should give special consideration to what we teach our children about Christmas. Saying little about the Christ of Christmas, over-stressing frenzied activity or the receiving of gifts, teaching children to believe in Santa Claus, doing little to minister to the needs of others at Christmas—these are all ways in which we teach children that Christmas is something other than a celebration of the coming of God's Son.
Fourth, those who are counselors, pastors, teachers, and parents should be alert to the pressures and discouragement that others feel at Christmas. We need to show a tolerance and compassion for those who find this to be a difficult time of year. Counselors should make themselves available to reassure and encourage people who are in need. Psychologists give a lot of short-term support to those who experience Christmas depression; similarly, we who are Christians should be willing to bear one another's burdens in a special way at this time of year.
Finally, each of us must actively draw near to God at Christmas. Caught up in the holiday season, we easily let our devotional life slip. A Christ-centered Christmas is not likely to come automatically. It comes because we deliberately make room for Christ in our holiday activities. And that is the one sure way to make it really a season to be "jolly."
Have something to add about this? See something we missed? Share your feedback here.
Our digital archives are a work in progress. Let us know if corrections need to be made.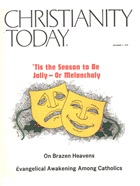 This article is from the December 7 1973 issue.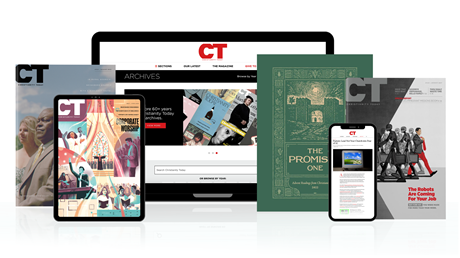 Annual & Monthly subscriptions available.
Print & Digital Issues of CT magazine
Complete access to every article on ChristianityToday.com
Unlimited access to 65+ years of CT's online archives
Member-only special issues
Subscribe
'Tis the Season to Be Jolly—Or Melancholy
'Tis the Season to Be Jolly—Or Melancholy