The breakdown of the Paris peace negotiations last month and renewal of American bombing of North Viet Nam dominated political discussion at the turn of the year. In response to the controversy, in which a number of churchmen soon became caught up, Dr. Billy Graham prepared a statement that is the most definitive yet on his own position. It is reproduced here in full.
Recent inquiries from the press and a few personal letters and telegrams give me the opportunity to clarify (1) My position on the war, (2) My relationship to national leaders, and (3) A definition of my own ministry.
First, in regard to the conflict in Southeast Asia: The first I was ever aware of American commitment to Southeast Asia came from President Kennedy a few days before he was inaugurated President of the United States. I played golf with him in Florida. In the locker room afterwards, he got into quite a discussion about the problem he faced in Southeast Asia. He said, "We cannot afford to lose Laos."
I can only remember one occasion where I said anything publicly that could be construed as support for this war. That was an offhand remark in answer to a question many years ago. At that time the Viet Nam war was in the early stages and no one had any indication that the United States would become so deeply involved. From that time on I avoided expressions as to who was right and who was wrong. Naturally, I have come under criticism from both hawks and doves for my position. During all this time, though, I had repeatedly indicated my hope for a rapid and just peace in Southeast Asia. I have regretted that this war has gone on so long and been such a divisive force in America. I hope and pray that there will be early armistice.
Biblical truth, especially in the books of Matthew and James, would indicate we will always have wars on the earth until the coming again of the Prince of Peace. Nevertheless, I have never advocated war! I deplore it! I also deplore the violence everywhere throughout the world that evidences man's inhumanity to man. I am therefore praying for every responsible effort which seeks true peace in our time.
Secondly, concerning my relationship to the Presidency: It has been my privilege to be acquainted with five Presidents during my ministry. While I have attempted to avoid issues which are strictly political, at the same time I have spoken and continue to speak on issues in which I feel a definite moral issue is involved. I should stress, however, that any discussion I have with a President is private. The first President that I ever met was President Truman. Not knowing White House protocol, I was immediately surrounded by newsmen who wanted to know what the President and I discussed. In all innocence I told them everything. From that moment on, I was persona non grata—and rightly so. Years later both President Truman and I laughed about it, but it taught me a lesson. It is an unwritten law that when you visit a head of state, you do not reveal what you discussed. If the head of state wishes to reveal it, then he is free to do so. Nor am I a White House "chaplain" any more than Cardinal Cushing was during the Kennedy years or Dr. Pruden was during the Truman years. Each President knows that I have asked God to give him wisdom and that I encourage Americans everywhere to remember him regularly in prayer, especially during days of national crisis and unrest—this would be my position if Senator Humphrey or Senator McGovern were the President.
Everyone knows that President Nixon and I have been personal friends for many years and that I believe him to be motivated by a desire for peace. History will have to judge whether his decisions were right or wrong.
Third, the matter of my own ministry: I am convinced that God has called me to be a New Testament evangelist, not an Old Testament prophet! While some may interpret an evangelist to be primarily a social reformer or political activist, I do not! An evangelist is a proclaimer of the message of God's love and grace in Jesus Christ and the necessity of repentance and faith. My primary goal is to proclaim the Good News of the Gospel of Jesus Christ. The basic problem of man is within his own heart. This is why evangelism is so important. Current events indicate that there is a world-wide crisis of the spirit. The people of the world need a new birth that only Christ can bring.
This is a time when spiritual values ought to come into sharper focus, and men ought to turn to God for forgiveness and guidance. We must never let disagreement over methods for arranging peace obscure the ultimate means for achieving peace—which is faith and trust in God.
Everywhere I go this year I am going to call for renewed concern for each other, a revived dedication to just government, and a revitalized consecration to God in our national life.
George M. Marsden is associate professor of history at Calvin College, Grand Rapids, Michigan. He has the Ph.D. (Yale University) and has written "The Evangelical Mind and the New School Presbyterian Experience."
Have something to add about this? See something we missed? Share your feedback here.
Our digital archives are a work in progress. Let us know if corrections need to be made.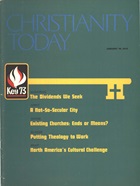 This article is from the January 19 1973 issue.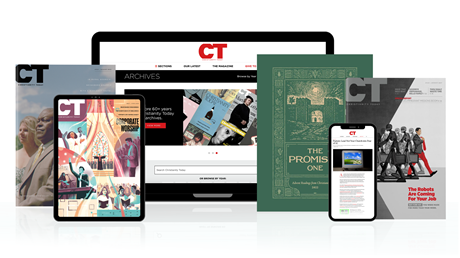 Subscribe to Christianity Today and get access to this article plus 65+ years of archives.
Home delivery of CT magazine
Complete access to articles on ChristianityToday.com
Over 120 years of magazine archives plus full access to all of CT's online archives
Subscribe Now
A Clarification
A Clarification