Religion In Transit
A San Bernardino, California, coroner's jury ruled this month that Sergei Kourdakov, a Russian seaman who defected to the West and professed Christ, shot himself to death accidentally. He was associated with Underground Evangelism. U. E. head L. Joe Bass concurred in the verdict.
The American Baptist Seminary of the West will shut down its ailing Berkeley branch (formerly Berkeley Baptist Divinity School) and shift its Southern California operation from Covina to a new campus at Claremont.
Zondervan Publishing Company has 2.2-million copies of Hal Lindsey's The Late Great Planet Earth in print. Last month Bantam Books flooded newsstands with 570,000 more copies.
The Georgetown University library in the nation's capital annually loses more than $10,000 worth of books and periodicals, mostly through thefts. More books on the devil and witchcraft have disappeared than those on any other subject.
Six Methodist denominations plan to hold a joint North American congress on evangelism next January. They are the United Methodist, African Methodist Episcopal, African Methodist Episcopal Zion, Free Methodist, Christian Methodist Episcopal, and Wesleyan churches.
The Southern Baptist foreign missionary force stands at more than 2,200.
Thousands in Bakersfield, California, have pitched in to prepare "The King of Glory," an extravaganza of music, dance, and drama on the life of Christ, for performance next month as part of Key 73. It was conceived by Baptist pastor John A. Lavender, author of the American Baptist Key 73 lay program "Project Winsome."
DEATHS
KENT S. KNUTSON, 48, president of the 2.5 million-member American Lutheran Church; in Minneapolis, of the rare Jakob's disease.
ROBERT J. MCCRACKEN, 68, Scottish-born Baptist minister who was pastor of Riverside Church in New York City for twenty-one years until his retirement in 1967; on a cruise ship at sea near Bangkok, Thailand.
There are at least 339 published English versions of the Scriptures, forty-five of them complete Bibles, according to the American Bible Society.
Personalia
Larry Tomczak, 23, of Washington, D.C., former student-body president of 14,000-student Cleveland State University, may be the nation's first full-time Roman Catholic lay evangelist. Hundreds have responded to his bedrock-gospel sermons and invitations.
Field coordinator Jay Kesler, 37, of Youth for Christ was elected YFC president this month, succeeding Sam Wolgemuth, 58, now YFC's first full-time board chairman.
Press officer Kevin Logan, a Catholic, resigned his duties with the "Call to the North" joint evangelistic campaign in England, calling it "devil's work." He said the Call had become merely a compromising exercise in unity, accused the Catholic Church of aiming to convert England to its falseness, then said he wanted to become an Anglican priest.
Norway's Arne Rudvin, a Lutheran, was installed as the Church of Pakistan's second bishop of Karachi. The church is a union of Anglicans, Methodists, Scotch Presbyterians, and Danish Lutherans.
World Scene
Explo '73 attracted 2,500 to a Campus Crusade evangelism training event in Guatemala City; 800 hit the streets to try out the training, and 1,100 decisions for Christ were recorded.
Japan Evangelical Mission has transferred several missionaries to Brazil, which has the largest population of Japanese outside Japan, and hopes nationals in Japan will soon join the missionary task force.
Less than three years ago, Algeria threatened to oust the missionaries working there, but now government leaders are asking for church workers to fill specialized job categories. Meanwhile, the small community of Protestants last year achieved a de facto union in a body known as the Protestant Church in Algeria, say sources.
Controversy is brewing among members of the Hungarian Reformed Church (there are reportedly 1,200 Reformed churches in Hungary with two million members). Bishop Bartha Tibor secretly sold the church in Debrecan (population 150,000) to the government, then dismissed the pastor when he objected. Fellow pastors, angry over the bishop's act, may issue a public protest, risking jail if they do, according to a story in a Netherlands daily.
Ten students from the Southern Baptist-related Wake Forest University in North Carolina, on a study tour led by religion professor J. William Angell, visited the Pope, then took part in a nearby mass. They received the bread, a highly unusual event for non-Catholics (who are as a rule explicitly excluded in Catholic masses).
After the ceasefire in South Viet Nam, the Viet Cong took over a Southern Baptist-related chapel near Bien Hoa, says missionary James F. Humphries. The believers disobeyed orders and fled to territory held by the South Vietnamese.
The Cypriot cruise ship Sounion, carrying more than 250 Baptists and Methodists on a Holy Land tour operated by Wholesale Tours of New York, was blown up by terrorists in the Beirut, Lebanon, harbor. There were few injuries and no loss of life.
At least 10,000 university students in Kerala state, India, are actively involved in Campus Crusade for Christ, reports Crusade leader Bailey Marks.
Anglican bishop Chandu Ray of Singapore quotes Bishop K. H. Ting of Nanking, China, as saying that he knows of mainland Chinese churches "filled with people," especially in Chekiang, his former diocese.
Have something to add about this? See something we missed? Share your feedback here.
Our digital archives are a work in progress. Let us know if corrections need to be made.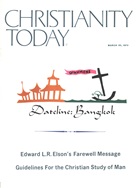 This article is from the March 30 1973 issue.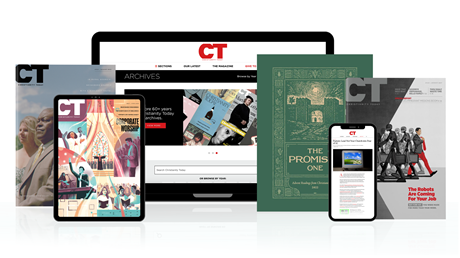 Subscribe to Christianity Today and get access to this article plus 65+ years of archives.
Home delivery of CT magazine
Complete access to articles on ChristianityToday.com
Over 120 years of magazine archives plus full access to all of CT's online archives
Subscribe Now
Religion in Transit
Religion in Transit