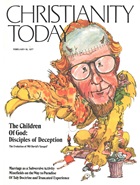 This article is from the February 18 1977 issue. Subscribers can read all of CT's digital archives.
Once Clyde Kilby of Wheaton College was asked one of those inevitable questions about literature: "Dr. Kilby, I just can't understand why you spend so much time and attention on these fantasies by Tolkien and Lewis and Williams. What good do they do? They're about an imaginary world; they don't tell us how to cope better with this one. Why read them?"
With the longsuffering smile of a teacher speaking to one who had not seen the light, Dr. Kilby replied, "If I went down the street to a magazine rack, I could probably find two hundred articles on how to live better. How to improve my marriage, how to lose weight, how to attract a lover, how to succeed in business, how to banish guilt, how to get rich, how to love myself. People gobble up those articles. But does anyone really change? Another magazine will print the same advice next month, and people will still writhe with the same problems. These books by Tolkien and Lewis and Williams bypass all that good advice. They don't tell me how to do something; they tell me what to be."
I have almost (but not quite) come to the same conclusion about advice on marriage. I spent a year studying the first five years of marriage, the period when the divorce rate is highest. I began by interviewing nine couples who revealed to me the struggles of their first five years. Then I read every marriage book I could find, Christian and secular. The advice contained in most of them was compact and well-blended, a convenient pill I could offer to each couple. But the best advice cannot solve a problem without the cooperation of the people whose problem it is.
I remember well the long interviews my wife and I had with the nine couples. Most started at ...
1
Our digital archives are a work in progress. Let us know if corrections need to be made.
Marriage: Minefields on the Way to Paradise
Marriage: Minefields on the Way to Paradise