Christmas Cheer: Have It Your Way
A private survey of pastoral counselors indicates that the Christmas season is a time of excessive family tension. A chief cause is the custom of decorating the home for the holidays.
"The parents want an 'old-fashioned' Christmas, while the children may prefer a Star Wars décor," sighed one counselor. "And the teen-agers in the family criticize both and favor decorations that identify with the poor and hungry of the world. If Grandma and Grandpa get in on the planning, you can be sure there will be an explosion."
This humble columnist has hit upon a brilliant idea that will honor the meaning of the season, keep the family together, save time and trouble, and even bring in a few shekels for the church. (I always save the best reasons for last.) Are you ready?
Decorate different rooms in your church building or educational wing with different holiday themes! One room can be an "old-fashioned Christmas" with strings of popcorn, a real tree (if you can find one), a rocking chair, and chestnuts roasting on an open fire (if the fire code permits it). Another room can carry a space-age theme. (I have never decorated a rocket, but I assume it can be done.) A third room could emphasize the Bethlehem manger and the needs of the peoples of the world. (Don't get carried away, however. After all, it is the season to be jolly.)
Then make these rooms available to your church families. For a contribution, each family can use a room for 30 minutes: 5 minutes to open gifts, 5 minutes to pass them around, and 20 minutes to clean up the mess and salvage paper and ribbon for next year. Or, if they work fast, they might save a few minutes to read the Christmas story; but this is optional. When the family returns home, there is nothing to clean up or take down! Never has Christmas been so painless!
We even have a name for this helpful program: "Holiday In and Out."
Merry Christmas!
EUTYCHUS X
Is Ford's a Better Idea?
Being a Seventh-day Adventist minister for 30 years, I gladly respond to the challenge given to Seventh-day Adventists in the October 24 editorial, "Taking 'Courage to Stand Beside Luther." I believe in the biblical doctrine of justification by faith, that through Christ alone I am justified, and that the Scriptures alone are the infallible revelation of his will and by them all teaching and experience must be tested.
REV. AMOS COOPER
McDonald Road Seventh-day
Adventist Church
McDonald, Tenn.
The real shaking among Adventists is not over esoteric positions but over the heart of the gospel—salvation by grace alone, through faith alone, on the basis of the blood alone, mediated by the Holy Spirit on the authoritative basis of Scripture alone.
Perhaps it should be said that this heart is not only accepted by Adventism's leading scholars, thousands of ministers, and laity, but also by some in administrative ranks. Having worked in close relationship with the top Adventist administrators, I would like to testify to my conviction that for the most part they show the fruit of regeneration resulting from total dependence upon the cross of Christ. But because no man can be well informed in all areas, it is also tragically true that most Adventist administrators have not applied the gospel as the touchstone to all other beliefs. Because of this failure, 1844 has sometimes appeared as a competitor with A.D. 30, and the last judgment with the atonement, and Ellen White with Scripture.
The intercessory prayers kindly offered in the editorial of October 24 are not only appreciated but needed, not because the flesh in Adventism is any worse than in other groups, but because it suffers from the same malaise.
DESMOND FORD
Newcastle, Calif.
I have never, in the hundreds of pages read by Ellen White, found her to be contrary to the Bible to the nth degree. Why then would it be considered wrong for us to use her writings as a commentary directing us to God's word? Do the editors themselves have any comments concerning the Bible? Would that not be considered a "commentary"?
LARRY WARE
Laurel, Md.
Defining the Terms
In the November 7 editorial, "Tax Support for Christian Colleges," on federal aid to Christian colleges, you used the term "religion of secular humanism" a number of times. Wouldn't it be better to more clearly define the terms? Is secular humanism a religion? In my 16 years in the holy ministry I have worked with a definition of what is a religion. I find there must be at least three parts present: theology, soteriology, and cultus. I too am appalled by the secular world view, but I do not think that naming it a religion is the correct approach.
REV. ROGER DREWS
St. John's Evangelical Lutheran Church
Oak Creek, Wis.
Political Bandwagon
As an evangelical in a very nonevangelical setting (Harvard Divinity School), I wish to say bravo and amen to Carl Henry's "Evangelicals Jump on the Political Bandwagon" [Oct. 24]. Evangelicals need to intelligently approach the political arena and seek the implications of their faith in the larger community beyond the boundaries of their church and nation.
It is a very dangerous stance to judge those who do not hold our same political views as being less Christian or godly. Self-righteousness has been known to crucify the innocent.
AL SAIZ
Cambridge, Mass.
Liberal and conservative Christians are at odds, and become inevitably more distant as long as they follow liberal and conservative spokesmen whose interests never converge. Yet it is conceivable that the Holy Spirit, who historically has produced balance in the church, is leading a portion of Christians to be concerned about nuclear arms, poverty, and prejudice, while inspiring another portion to concern themselves with rights-to-life and electing moral men to public office. All of these issues are important to God. All of these should be important to the church.
ALICE BALDWIN
Home for Ecumenical
and Biblical Exchange
Frazer, Pa.
The inconsistency of Carl Henry's article on evangelical involvement in politics was quite puzzling He first lamented that evangelical leaders were setting forth moral criteria for their voting constituency, but then proceeded to advance his own criteria, almost all of which are tenets of Moral Majority!
NEAL WILLIAMS
Lynchburg, Va.
Dr. Henry errs in including the Christian Embassy among groups that are involved in political activity. The Embassy's 26 staff are actively communicating how to meet Jesus Christ by faith and grow in one's relationship with him. Working in New York and Washington, D.C., we develop evangelistic and discipleship relationships with government officials from six continents, including North America. Although we are pleased to see Christians involved in the political process, the Christian Embassy is not active in this field, and has never supported either candidates or legislation.
R. H. ANDERSON
Director, Christian Embassy
Washington, D.C.
Latimer Remembered
My thanks to Clara H. Stuart for her excellent article on High Latimer [Oct. 24]. But may I just express my regrets that she did not say a little more about Latimer's political and social proclamations. Latimer was a leader of the "Commonwealth Party," a group, mainly of divines, noted for its zeal for the poor and its denunciation of oppression. In fact, one of his parishioners called Latimer "a seditious fellow," an epithet which Latimer took as something of a compliment.
Would that the new evangelical right would pay more attention to such Reformed teaching than they do to traditional American foibles.
PAUL MARSHALL
Institute for Christian Studies
Toronto, Ont., Canada
The model of Hugh Latimer was a healthy one to place before us as we reflected on the Reformation. A great tragedy of the floodgates opened by the Reformation was that many went on to cast off not only many helpful and constructive lessons learned by the church through her history, but some went so far as to ignore even those definitions of orthodoxy, such as the ecumenical creeds, painfully established in centuries of struggle for the truth.
ROBERT STROUD
International Lutheran
Center for Church Renewal
St. Paul, Minn.
Which Luther?
Sadly, the Luther described in the editorial "Faith of the Reformers" [Oct. 24] is not the historical Luther. Certainly, the real Luther would not have claimed Calvin (the protégé of Luther's enemy, Zwingli) as his own. He would have said that men are saved without works, especially through the sacrament of baptism, a means of grace. And, from beginning to end, Luther defined the church in the same way: the place where the Word of God is preached and the sacraments are rightly administered.
JOHN BALL
Huntsville, Ala.
"Lumps of Clay"
I am disturbed by the attitudes presented by Robert C. Baptista ["The Christian College …" Nov. 7] and many other evangelicals concerning Christian higher education. Baptista dismisses the idea of opening up the Christian schools to students "either neutral or hostile to spiritual things," because it would not enhance the spiritual ministry of any Christian college. This sums up the biggest problem with Christian schools. The Christian life is to take place in the midst of our enemies, so how can a spiritual ministry be enhanced in the absence of people we consider worldly?
Let's raise our children to be more analytical, hungering and thirsting for truth. Let's not treat them like mere lumps of clay.
PAUL KOENEN
Central Baptist Church
St. Paul, Minn.
Shot Down
What is Harold Fickett's article on "Who Killed J.R.?" in the Refiner's Fire doing in my favorite magazine [Oct. 24]? Why must I read of "Willy's getting cold feet" and why he shouldn't have gone to bed with a young woman whose "chemicals were racing"? If I wanted to be reading about a show becoming "an elaborate striptease, a seduction with the 'saving grace' of a G-string ending," I would have gone to a racy newsstand magazine.
REV. FINLEY HUNTER
Community Bible Church
Tipp City, Ohio
Have something to add about this? See something we missed? Share your feedback here.
Our digital archives are a work in progress. Let us know if corrections need to be made.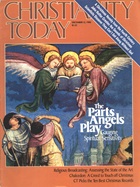 This article is from the December 12 1980 issue.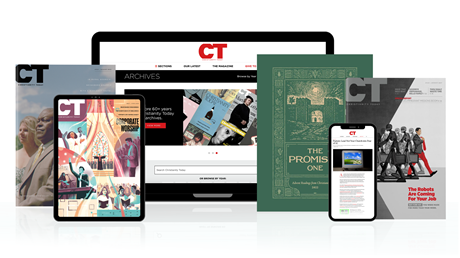 Subscribe to Christianity Today and get access to this article plus 65+ years of archives.
Home delivery of CT magazine
Complete access to articles on ChristianityToday.com
Over 120 years of magazine archives plus full access to all of CT's online archives
Subscribe Now
Eutychus and His Kin: December 12, 1980
Eutychus and His Kin: December 12, 1980