John Rutter has proven to be one of the richest sources for sacred music.
"It was a Judy Garland kind of story," John Rutter told me. It was near the end of the Christmas term in 1965. He was in his second year of music study at Clare College, Cambridge University, when his tutor suggested he should get more conducting experience. He decided to put on a Christmas concert, involving about 70 of his fellow students in the choir and orchestra. For it he arranged a number of traditional Christmas carols and wrote several original compositions.
"As it happened, a record producer from EMI—one of our largest record companies—was in the audience. He came to me after the concert and invited me to do an album, and asked if I had sufficient material for a whole 45-minute album. When you're a kind of dewey-eyed 20-year-old, you don't refuse that kind of offer and, naturally, I was very flattered. Sir David Willcocks [an editor at Oxford University Press] heard about it, and asked if I would be interested in these carols being published. That's how it all started."
What started has proven to be one of the richest resources for sacred music in the evangelical church in the past decade.
John rutter was born in London, September 24, 1945, into a family with no particular musical inclination. The parents were somewhat bewildered by this precocious three-year-old who would pound out strange things at the piano and copy music he heard on the radio. They realized such talent required training, so they sent him to a school with a fine music program, Highgate in London. There he sang in the excellent boys choir, performing in the premiere recording of Benjamin Britten's War Requiem.
He started at Cambridge in 1964, reading in music. He took his first degree in 1967 winning first-class honors in both parts of his comprehensive exams; his bachelor of music (a graduate degree) in 1968; and began a Ph.D. program, which he finally abandoned in 1970. His love for composition had completely engulfed him, and the university agreed that his composition work was more important. From 1975 to 1979 he was director of music at Clare College. He also directed the Chapel Choir and taught several undergraduate courses. Realizing that administrative work was getting in the way of time needed for composition, he resigned to devote himself full-time to composition, guest conducting engagements, music clinics, and conferences.
"I'd always known I wanted to be a composer in one form or another, but I never realized I could be a published composer, still less that I could make a living at it. I was very fortunate. I got off to a flying start when I was very young."
Indeed he did. His first published composition, "Nativity Carol," was written at 17 while he was still in high school. Today, his published Christmas titles alone number over 80. His increasing popularity is reflected in the growing number of his compositions and arrangements in Oxford's Carols for Choirs collections. Each volume contains 50 selections: in volume 2 (1970) 12 numbers are by Rutter; in volume 3 (1978), 14; in the just-released volume 4 (1980), there are 23. A new collection of 25 arrangements, tentatively titled The John Rutter Carols, is about to be published by Hinshaw Music. A collection of secular Christmas pieces will be published later in 1981.
"Christmas music always seems to have played an important part of my life ever since I was a boy," says Rutter. He remembers fondly his experiences as a boy chorister at Highgate and in the Anglican church, including singing the treble solo in "Once in Royal David's City" and playing the title role in Menotti's Amahl and the Night Visitors. Furthermore, he is musically attracted to a simple style: "I think I have a lot of folk music in my personality, and carols are a kind of folk art," he says. He has been greatly influenced by Tudor polyphony and the contours of plainchant, and by such American songwriters as Jerome Kern, Richard Rodgers, and Steven Sondheim. He says his arrangements "seek to reinterpret each carol in terms of the twentieth century while remaining faithful to the spirit of 'sweet jubilation.' " All of these influences are evident in the contrapuntal character of his choral writing and the lyrical quality of his melodies.
Rhythm is a highly significant element in Rutter's style. Many of his compositions have the rhythmic character of dances. For example, "The Coming of Our King" is in the nature of a Slavic folk dance, "Shepherd's Noel" is a shepherd's dance, "Noel Nouvelet" is a stately pavane, and "Jesus Child" emphasizes Latin-American rhythms. Sometimes the rhythms bring certain images to mind, as in "I Saw Three Ships" where one is tempted to think of a youth happily skipping along. His best-known composition is "Shepherd's Pipe Carol," commissioned for the original 1966 recording. It is a dialogue between a traveler and a shepherd boy on the way to Bethlehem.
Rutter has written the words for approximately a third of his published Christmas titles. They strike to the heart of the Christmas message, combining clear theology, imaginative imagery, and an expression of personal response. Typical is this stanza from "Nativity Carol":
Love in that stable was born
Into our hearts to flow,
Innocent, dreaming Babe,
Make me Thy love to know.
"I'd far rather work with somebody else's lyrics, but if there isn't anybody on hand or words that fit the idea in my head, then I have to couple together a text myself. Sometimes I find words just spring into my mind … but I don't think of myself in any sense a lyric writer or still less a poet."
Orchestration is very important to Rutter. He strives to achieve as much as possible with as economical means as possible. Sometimes the orchestration gives the main clue to the entire work. For example, in "Shepherd's Pipe Carol" it is in the orchestra that you can hear the piping of the shepherd boy. A typical Rutter orchestration will call for three woodwinds, two horns, harp, and strings. He tries for a transparency of orchestral texture, especially when accompanying voices. "You don't want to swamp the whole texture," he says.
A significant departure from this style is his Gloria, written on commission for an American choir in 1974. A brief work in three movements for choir, organ, brass, and percussion, it is the core of his Festival Mass, to be premiered in Atlanta in 1982. The primary challenge of the work is rhythmic, and the pitfalls for the rhythmically imprecise conductor and performers are many. It is likewise essential that all performers have a secure sense of intonation.
The Gloria also shows something of Rutter's organ writing, especially in the slow second movement. He says of his short-lived organ studies at Clare: "J. S. Bach and I struggled together for some while, and Bach lost."
It would be misleading to suggest that Rutter composes only Christmas music. He has arranged and composed an increasing amount of non-Christmas music as well. Among anthem settings are "Lord, Make Me an Instrument of Thy Peace" and "The Lord Is My Shepherd." His newest anthem is a festival setting of Psalm 148, "O Praise the Lord of Heaven," for double choir, brass, percussion, and organ. It was composed for the 1980 commencement at Westminster Choir College, at which he was made an honorary fellow.
Although raised in the Anglican church, Rutter is equally involved with several denominations. "So much depends on a particular minister and the tradition in a particular church and in a certain area," he says, noting accurately a problem many ministers of music face.
"One of the things I aim for is music with the same audience contact that pop music has, and at the same time something of the stature of classical music. Yet I can never be fully satisfied by pop music—I don't find it to have enough substance to give any lasting satisfaction."
His doctoral dissertation would have been on the interaction of symphonic music and light music in the Vienna of Beethoven and Schubert. He does not see his church music in isolation from other genres—a fact that has undoubtedly enriched his sacred writing. One of the best selling classical albums on the market is a classical-popular crossover of Rutter's "Beatles Concerto," a two-piano concerto based on a number of tunes associated with the Beatles. The album has given Rutter sudden exposure to the nonchoral public in America, and exemplifies one of his primary concerns: "The gap between composer and audience is distressingly wide in serious music today."
His final project at Clare College was similar to his first. He recently recorded a new Christmas album, "Christmas from Clare" (ArgoZRG-914), including some of his BBC-TV work, as well as new compositions and arrangements. (You may want to add this record to those listed on page 22.)
John Rutter has been justly acclaimed as "one of England's most capable contemporary church composers." By virtue of his composing, conducting, recording, and teaching, he is rapidly becoming a welcome and significant force in American evangelical church music as well.
A church music specialist and conference speaker, Mr. Dinwiddie is director of choirs at First Presbyterian Church, Deerfield, Illinois.
Have something to add about this? See something we missed? Share your feedback here.
Our digital archives are a work in progress. Let us know if corrections need to be made.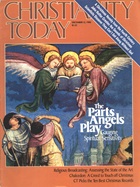 This article is from the December 12 1980 issue.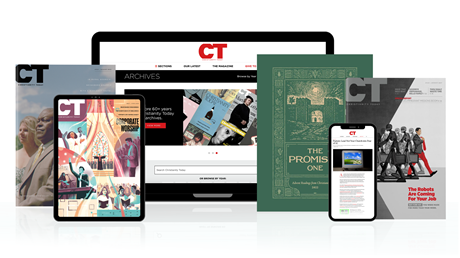 Subscribe to Christianity Today and get access to this article plus 65+ years of archives.
Home delivery of CT magazine
Complete access to articles on ChristianityToday.com
Over 120 years of magazine archives plus full access to all of CT's online archives
Subscribe Now
Refiner's Fire: Creating the Sounds of Christmas
Refiner's Fire: Creating the Sounds of Christmas