It's hard to imagine a calling more important than to help a child grow.
Motherhood has had bad press in the last 15 years. For a time it gave some women vague guilt feelings that they were content with so small a lot in life. Other women rushed into lengthy assurances that mothering wasn't all they could do and proved it. But the climate hasn't been good for answering the question, "What do you do?" with "I'm a mother."
Mothers have been blamed for all kinds of childhood insecurities and later life maladjustments. Part of a generation of children have now grown up conning their mothers into feelings of obsolescence and naiveté. The perils of the empty-nest syndrome have been discussed, dissected, and exploited. If you can't cope as a grownup you can always blame your mother.
The propaganda has been effective with some candidates for motherhood, who have said, "No, thank you," to so confining a role with such uncomplimentary advance reviews. They have seen pained children and pained parents. And they have watched the hurt left-behinds of men who didn't like growing older and sought to prove they weren't by taking up with a younger woman (who, incidentally, didn't have varicose veins from birthing four babies).
The cynic wryly says, "Happy Mother's Day?" Hallmark cards may try to deny these feelings exist by using a coverup of pink roses and verse; but this is part of the observable history of our society. It does affect us. Based on these observations, young, professional couples in your church and mine may have decided not to have children, and today they can control their destinies in the matter. Maybe it is time to talk about this to learn why motherhood is given bad press.
Mothers have never claimed to be perfect—but what we have done to them may be unfair. Whenever we consider them to be roles, instead of people, we set them up for a fall. Mothering is a very absorbing occupation when little people in a household multiply, and how well a woman handles these demands depends on her sense of personhood. If she isn't sure of her own self, her temptation is to let the children define her, to hide behind their needs, and to live through them.
The children provide her sense of well-being in that they need her; they may also provide her source of irritation in that they are their own persons—when she is not. These lead to all sorts of possibilities: She may learn the "control" game or become a master of manipulation. She gives, but not freely. As everyone, she has expectations of what her return must be, but her expectations may be more desperate because they tell her who she is. This kind of mothering gives novelists classic material for developing their characters. Who has not read of the perfectionist who lives through her children, yet scars them all?
Further, we've been to blame every time we have glorified a role instead of insisting that a person's wholeness must give substance to that role. That principle is true whether the individual is an executive, a waitress, a preacher, or a doorman. God wants whole people who live holy lives. Whether their title is Mother or something else, he is looking for wholeness.
A Change in Mood
But times and ideas change, even in a five-year span. Motherhood (howbeit, controlled motherhood, not shameless propagation, as the young would say) is again on the rise. And with the swelling tide comes a contemporary oddity that is worth some comment.
In the wake of utterances by the most militant segment of the women's liberation movement, a group of restless women have emerged. They have gone through phases of trying to be like men, and their disillusionment with men has convinced them that wedlock is bondage. But now they are advocating the belief that women are different, that their bodies do matter, and that they are especially created to bear children. And they want children. They don't want marriage—but they want children, with a sensuous, earthy longing to give birth and suckle.
These women are not so much interested in mothering as in bearing young. They are intrigued at once by the physical process of being and creating, and the joy of cuddling, nursing, and possessing. Their desire has little to do with the dream of sons and daughters carrying on a family name or tradition.
This is more than an oddity: it is human tragedy. Such self-centered behavior has little regard for society or the family God ordained. It is another way of using children to make up for personal emptiness; it is exploiting the birth process, the child, and one's own self for the sake of bodily experience.
Why do I bother to mention it when it is so obviously wrong? First of all, part of the sin is related to the first kind of mothering: it is the sin of using people, of truncated living. While we do not view these motives as similar, their roots are the same. So are all the other ways in which we destructively use others to make up for what we are not.
Second, it is instructive to note cultural trends, to learn from those sociological trends that have washed over the country ever since 1963 when Betty Friedan wrote The Feminine Mystique and exposed a kind of substitutionary living. None of us have been left untouched by the influence of the movement she began. This hostility to motherhood should reveal to us that it is always wrong to take a personal sense of being from our role.
Third, even such a twisted view of childbearing is at least an admission of the uniqueness of sexuality, a statement about the "naturalness" of motherhood and God's design. The pendulum thus swings back toward center, even if in a distorted way. We have to deal with human wholeness. But the warning is clearly there: motherhood is not a total way of being.
It is a great mistake in life to try to take our identity from another person—whether that person is our spouse or our child. Our sense of self must be independent of others, for it is only then that we can give freely of ourselves. It is unfair to demand that others prop us up in our need, and it is hopeless to be without personal resources in the time of crisis.
Yet, turning their backs to the message communicated by mass media, hundreds of women everywhere have continued happily mothering children into adulthood in a healthy way. They are the ones who are free to nurture, to affirm, to discipline, to encourage, to listen, and to be wise. They are busy furnishing the minds of the young with goodness. They are sharing out of the richness of their own lives. You meet their children everywhere. Sometimes they marry your children and you are twice-blessed. This mothering is worth writing about.
It is hard to imagine a calling more important than to help a child grow, to make him aware of his world, and to have an uncommon delight in goodness, truth, and beauty—and to have an uncommon commitment to them. In the final analysis we cannot make our children; that is God's business. We can, however, provide a diet he can use. Mothers who do this best are themselves growing, delighted by their own potential and by others.
My Child
My child, what can I give you?
I should like to give you everything so that you lack for nothing, not even one single desire, but I know that for want of many things I have come to be satisfied with what I have and to think of others and their needs.
I should like to give you a life full of fun and games, but I know that because of many "chores" and responsibilities of my youth I have learned to be responsible.
I should like to protect you from all the errors of your youth, but I know that because of my failures I have learned to make better decisions.
I should like to give you a profession of wealth or importance, but I realize that man is truly happy only when he fulfills the purpose for which God has created him.
What then, my child, can I give you that would be of any real value?
I give you my love, which means that I accept you, without reservations, just as you are and will be.
I give you my personal presence in order that you will have the security you need during your childhood.
I give you my ears, in the sense that I will never be too busy to listen to you—sometimes never uttering even one word.
I give you opportunities to work so that you might learn to do it without shame and come to enjoy the satisfaction of work well done.
I give you my counsel only when it is necessary or you ask for it so that you might avoid some of the mistakes I have made.
I give you my consolation when you have failed or feel discouraged, but I will not always protect you from the consequences of your sins.
I give you instruction in the way of the Lord so that when you are old, you will never depart from it
I give you my daily prayers that the Lord will keep you and guide you in such a way that you, my child, will be a man or woman, who will serve and glorify our heavenly Father.
This I give you, with all my love,
Your Mother
Lydia Lightner
It is this delight that inspires poetic verse about motherhood. It inspires a football player to smile and say, "Hi, Mom. I love you," when the television camera suddenly zooms in on him on the bench. It inspires young children clutching coins in hot, sticky hands, to comb the variety store looking for the just-right gift for a mother too wonderful for what is found. It makes sentimental verse beautiful, not maudlin; for everyone, deep down, wants this kind of mother.
What a safe, beckoning place such a mother makes! I remember coming home from school, opening the door, and calling, "Mom!" I wouldn't have said I needed her; I only wanted to know she was there. The good smells of the kitchen sent out love messages—freshly baked cookies or bread.
My mother: she listened to my tales, showed me how to tear out the stitches and begin again, stayed up late at night to finish the dress I'd hoped to wear the next day, suggested I solve my problems in one way or another. So many memories crowd in. She was not a preaching mother, but a being mother, quicker to think of others than of herself.
I picked blueberries alongside my dad one bright September day shortly before he died. He said to me, "Now, honey, when it comes time to go home, take a look at how many berries your mother has. She will pick twice as many as the rest of us." He was thoughtful and then went on, "She is so good with her hands. All of our lives she has made life better because of the way she used her hands." Her hands worked out what was in her heart.
Nowadays my own hands look more and more like Mother's—fingers slightly twisted with enlarged knuckles, but still capable hands. It comes full circle when my own back door opens and I hear the call, "Mom!" I make sure the kitchen shouts, "I'm glad you're home." Will it also come full circle that my hands—my self—have blessed the lives of my children?
On the one hand, that's the privilege of being a mother: out of the fullness of her life, she gives to others. On the other hand, it is not only mothers who have a corner on that kind of giving and loving, for it isn't the role, but rather the authentic person behind the role that determines how rich life will be and how it will bless others. Such knowing and sharing of love can come full circle for anyone. "We love because he first loved us." It's been God's idea from the beginning.
Carl F. H. Henry, first editor of Christianity Today, is lecturer at large for World Vision International. An author of many books, he lives in Arlington, Virginia.
Have something to add about this? See something we missed? Share your feedback here.
Our digital archives are a work in progress. Let us know if corrections need to be made.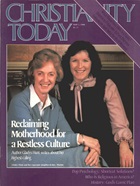 This article is from the May 2 1980 issue.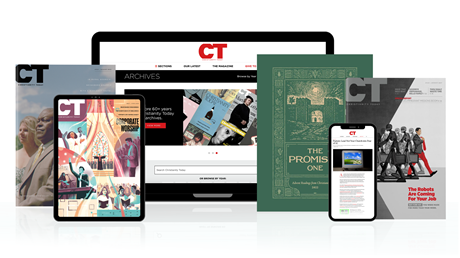 Subscribe to Christianity Today and get access to this article plus 65+ years of archives.
Home delivery of CT magazine
Complete access to articles on ChristianityToday.com
Over 120 years of magazine archives plus full access to all of CT's online archives
Subscribe Now
Reclaiming Motherhood for a Restless Culture
Reclaiming Motherhood for a Restless Culture