Faith, life, and mission must be integrated in the preparation of pastors-to-be.
I have never been a seminary teacher—but please do not judge me unqualified to engage in the debate about seminary education. I was myself a seminary student once (though long ago); I have visited many theological colleges around the world, and seminarians have confided in me.
That something is wrong is generally conceded; the statistics of ministerial dropouts cannot be swept under the rug. The major cause is the gulf between the ideals of the seminary and the realities of the pastorate, which lead to disillusion, even to defection.
Some argue, "Jesus never founded a seminary," and call for their abolition; but this is a naive overreaction. Seminaries must maintain their goal of academic excellence. We need to learn from Prof. Richard Hofstadter who, in his Anti-intellectualism in American Life (1962), traces the historical decline from the Puritan vision of the "learned minister" to the revivalist preacher who despises theology. Already by 1853, he argues, there was a widespread belief "that an intellectual clergyman is deficient in piety and that an eminently pious minister is deficient in intellect." Yet nobody who has felt the pain of Third World university students, as I have, who find themselves facing intellectual challenges their godly but uneducated bush pastor cannot even understand let alone help them meet, can doubt that the educational standards of the pastorate must keep rising with those of the population.
At the same time, theological students are not tadpoles—all head and nothing else. Their theologizing needs to encounter the spiritual, moral, and cultural ferment of the contemporary world: theology must be related to faith, life, and mission.
First, faith. All seminary professors hope that their students will be stronger believers when they leave college than when they entered. But how is their faith to ripen? The temptation is to try to coerce it.
Some seminaries thus require students to sign an elaborate doctrinal or denominational statement before they may enroll, and another before they may graduate. But how can we expect students to have a coherently articulated theology before they even begin serious theological study? And what kind of justice is it to make a degree dependent on toeing a party line instead of on successfully passing an examination? Other seminaries (particularly liberal ones) go to the opposite extreme. Far from trying to compel faith, they take a sick pleasure in trying to destroy it. They deliberately set out to undermine the beliefs a student brings to college.
These attempts to coerce faith or to demolish it make the same fundamental mistake: they confuse education with indoctrination. Indoctrination is incompatible with intellectual freedom, because by it the teacher tries to impose his or her mental authority upon the mind of the student. "The ideal educator," on the other hand, writes Arthur Koestler, "acts as a catalyst, not as a conditioning influence": he seeks to provide the stimulus and the context for free intellectual development.
Applying this principle to seminaries, wise students will choose one that is neither a hothouse nor a demolition yard, but a warm, supportive community of faith, committed yet open, reverent yet critical, in which they are encouraged to develop a Christian mind under the lordship of Christ, and so grow into Christian maturity. Only such a robust, first-hand faith can withstand the onslaughts of the unbelieving world.
Second, faith has to be related to life. A Christian mind is ineffective without a Christian character. The seminary needs to be a place that fosters personal growth and character formation, and expects theology to lead to doxology in both public worship and private prayer. It is a tragic example of declension from biblical standards that the principal gateway into the pastorate today is a theological examination, while a comparable examination of the candidate's character, behavior, moral standards, marriage, and home (as plainly required in 1 Timothy 3 and Titus 1) is seldom conducted.
How may seminarians be helped to grow up into Christ? Mainly, they need to find models in their teachers. Yet many complain that they feel alienated from their professors. Some seminaries try to solve this problem by appointing a chaplain, with special responsibility for the pastoral care of the students. This is good—but only if the faculty do not then regard their pastoral responsibility as having been delegated to him. To me the most impressive colleges are those in which professors and students meet one another regularly for fellowship, worship, discussion, and counseling.
A third dimension is needed for wholeness: mission. I have great sympathy for the advocates of TEE (theological education by extension) who emphasize that theological study is best done within one's own cultural setting, and not by being transported to some distant seminary. Although I do not myself believe that such on-the-job training is either required by the pedagogical example of Jesus or should even completely replace traditional seminary education, many seminaries need to do much more to break down the walls that divide them from the real world. Failure to do so encourages ivory tower theologizing, which proves inadequate after graduation and is a major reason for subsequent disillusionment.
Seminarians must, therefore, be personally and deeply involved in some form of mission, evangelistic or social or both. This should be on a regular basis, and in short midterm placements and vacations. Moreover, the theology taught in the seminary needs to be not only biblical, systematic, and historical, but also contextualized in the modern world. Some seminaries urgently need to develop a global perspective and a commitment to world mission. Others live in the past and concentrate on the defense and maintenance of ecclesiastical traditions. This may be right and necessary—but only if such traditions can stand the test of Christian scrutiny in the modern world.
Almost nothing is more important for seminarians than the development of skills in the hermeneutical task. How can they relate the ancient Book to the modern world? That is the paramount question. I would require all students to go to the movies and the theater as well as to the chapel and the classroom: screen and stage are mirrors of the world we live in. Classes need to discuss the contemporary culture exhibited there in order to develop a Christian response to it. Preaching is essentially the exposition of God's Word with such faithfulness and sensitivity that it makes a forceful impact on modern hearers. Yet pastors will never excel in this exacting discipline unless they have learned to soak themselves in both the sacred text and the secular scene, and to struggle with integrity to relate the one to the other.
Perhaps "integrity" is the key word. It is the quality of an integrated Christian, whose whole being has come under the liberating lordship of Jesus. An integrated Christian is growing in faith, life, and mission as a three-dimensional responsibility. It is to the development of such integrated Christian leaders that seminaries should devote themselves.
JOHN R. W. STOTTMr. Stott is rector emeritus of All Souls Church, London, England.
Have something to add about this? See something we missed? Share your feedback here.
Our digital archives are a work in progress. Let us know if corrections need to be made.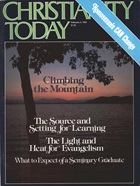 This article is from the February 6 1981 issue.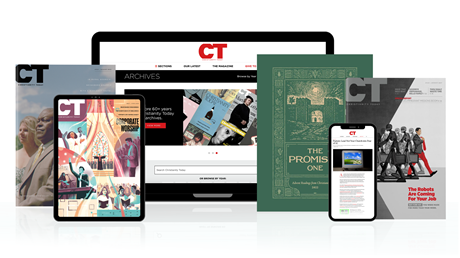 Subscribe to Christianity Today and get access to this article plus 65+ years of archives.
Home delivery of CT magazine
Complete access to articles on ChristianityToday.com
Over 120 years of magazine archives plus full access to all of CT's online archives
Subscribe Now
Seminarians Are Not Tadpoles
Seminarians Are Not Tadpoles