Latest defections over World Service dues.
Exodus is not only the second book in the Bible. It has long been a characteristic of Methodism. In England, Methodism's founder, John Wesley, split from evangelist George Whitefield over the issue of Calvinism. In America, Methodists throughout the nineteenth and twentieth centuries have seen friends and relatives departing into breakout denominations: Methodist Protestant, 1830; Wesleyan, 1833; Methodist Episcopal, South, 1844; Free Methodist, 1860; Nazarene, 1907; Southern Methodist, 1940; Evangelical Methodist, 1946; Evangelical Church of North America, 1968.
In addition to spinning off whole new denominations, mainline Methodism, now called the United Methodist Church (UMC), has been sloughing off new congregations at an increasing rate, contributing to the slow, steady decline of mainline Methodism that began in the mid-sixties. United Methodist membership in 1980 stood at 9.5 million, down from nearly 11 million in the early sixties.
Most recently, congregations have been leaving the denomination as pastors and members return to the biblical roots of Methodism. Others have left because of charismatic movement influence. The following six churches all pulled out of Methodism this year:
• In Peterborough, New Hampshire, some 120 members quit the local UMC church this spring. They formed Trinity Evangelical Church under the leadership of Ronald R. Pinard, who left the denomination with them. Now their weekly worship attendance averages 175, and is growing. Within one year they plan to affiliate with a compatible denomination. They left, said Pinard, after UMC Bishop George W. Bashore told the church it had to pay its World Service apportionment in spite of reservations voiced by church members. Religious News Service reported, "The parishoners objected to church money allegedly being sent to Marxist-oriented activist and guerrilla groups."
• In Poneto, Indiana, a new congregation known as The Sonlight Wesleyan Church began April 26. A group of dissatisfied members and their pastor left the Petroleum United Methodist Church. The new congregation has approximately 250 worshipers each Sunday, said Ray Cale, former UMC layman now active in the new church. Attendance at the old church was about 60 or 70, he said. It used to be around 310. The infant congregation affiiliated immediately with the Wesleyan denomination. "Our main thrust is soul saving," said Cale.
• In Kearney, Missouri, Christ Wesleyan Fellowship started May 17. According to Dale Taff, a 30-year Methodist who was among the 15 families who left the local UMC congregation to establish the new church, they are searching for a pastor and property to build on.
"We didn't want to leave Methodism," he said. "But we told our district superintendent that we had problems of conscience about paying what the denomination set for World Service dues from our church. He told us we had to pay or leave. He also told us the UMC Discipline [church law] is above the Bible."
• In Monroe, North Carolina, Pentecost Sunday saw the first worship service of Unity Christian Fellowship. Pastor of the new church is ex-United Methodist Bill E. Poole. He pastored two UMC churches in the vicinity and left the denomination "with about two families from each parish." Unity Christian Fellowship has quickly attracted worshipers from varied religious backgrounds, he said. Now an average of 50 people meet for worship and Sunday school in an office building owned by one of the church members.
• In Saint Joseph, Missouri, Pastor Forrest B. Williams left the Deer Park United Methodist Church with a number of members to form a new church. In a congregational letter dated August 26, 1981, Williams announced he had quit the denomination voluntarily after informing the bishop and cabinet of changed viewpoints which, all agreed, said Williams, "would make his continuance and that of like-minded church members impossible."
• In Perryopolis, Pennsylvania, "the church at Strickler's" meets in an auction barn. It was formed early this year when two young pastors, both graduates of Gordon-Conwell Theological Seminary, were removed from their six churches, then excommunicated by the bishop and elders of the Western Pennsylvania Annual Conference of the UMC (CT, April 10, p. 60, and July 17, p. 82). Ordered out of their parishes, Alex Ufema II and John Finkbeiner, Jr., began worshiping as "Methodists in exile" with almost 100 members of their former congregations.
The two clerical expatriates were denied a church trial. The reason for their ouster, the two men believe, was their unwillingness to urge church members to pay World Service.
Following A Trend
The trend in church pullouts had already begun in 1978. Christ's Church, for example, began in 1979 when a group left the large UMC church in Arlington, Texas. Friction over use of official UMC Sunday school literature plus deep-rooted theological differences caused the split, said Ron Hanna, an American Airlines pilot. He left the UMC to become a charter member of the new congregation, which worships in a motel setting and has about 220 adult members.
A shopping center houses Church of the Savior, which broke away from the local UMC in Mathews, North Carolina. Since April 1980, membership has reached 130, said C. E. Strickland, pastor of the new group.
"Since we left the UMC our people have a stronger sense of personal responsibility for the church and its ministry," Strickland said. "In the UMC, many people and pastors develop a passive dependency on the system. We can't praise God enough for our new freedom!"
In June 1978, about 300 people left the 1,200-member First United Methodist Church in Loveland, Colorado, with their pastor, Glenn Brown. The Church of the Good Shepherd now numbers about 440 members.
"God's hand was in the formation of this new church," said Brown. "Now there seems pretty basic consensus on the things that really matter. We are united as a church in our desire for salvation-centered missions. Social issues are involved, but on a secondary basis. Now we are free to be led by God's spirit."
Richard M. Sprague, pastor of the Asbury Covenant Church in Tavares, Florida, retired out of United Methodism—into a new church and denomination. After 20 years as a UMC pastor, he left in 1978 because, "… the UMC has left us and a high percentage of its people as it moves to the liberal left, wasting time with ERA, gays, World Council, et cetera, et cetera." So he founded a new church, affiliating with the Evangelical Covenant denomination. "We feel very fortunate and blest to be part of a Bible-believing and warm-hearted evangelical group," he commented. Asbury's weekly worship attendance averages 120, with up to 750 people during the winter tourist season.
Another Florida pastor who moved out of United Methodism is John B. Bass. In 1973 he left the denomination of his Methodist fathers—his great-great grandfather was Methodist Bishop James O. Andrew—to become pastor of the Church of North Dade in North Miami. Since then the church has affiliated with the Church of God, Anderson, Indiana.
One of the best known orthodox preachers in United Methodism left in 1978. His departure had a "ripple effect," with at least three other split-out congregations drawing guidance from Roy C. Putnam, pastor of Trinity Church, Greensboro, North Carolina.
As a young Methodist preacher in 1955, Putnam founded Trinity Methodist Church in Greensboro. Its nucleus was new converts from a Billy Graham crusade. The church became one of the most vital in the Western North Carolina United Methodist Annual Conference.
But in 1978, 320 of its members turned their backs on a church built with their own money. They bought a synagogue in Greensboro and invited Putnam to become their pastor.
The split was the result of growing realization, in the words of one leading layman, that "we want to be a scriptural church and United Methodist affiliation seems to be more of a liability than an asset." The breaking point came when United Methodist Bishop L. Scott Allen refused the leaders of the church a voice in who would become their new pastor (Putnam was scheduled to be moved to another appointment after 23 years at Trinity). Trinity Church, no longer United Methodist, now has 475 members and is growing steadily.
Putnam is uneasy about remaining without denominational affiliation. He said several people have suggested the need for some sort of federation for groups and churches leaving mainline churches.
A highly publicized church split occurred early in 1980 in Jonesboro, Arkansas. Worth Gibson, a known charismatic, was suddenly ordered to move to another church after serving over 10 years as pastor of the local 1,600-member UMC church. He felt no leading to move. So he and his two associate ministers, together with about 300 members of his congregation, quit the denomination to establish Trinity Church.
A church trial in 1979 led to the excommunication of David Whitington, pastor of Minter's Chapel United Methodist Church in Grapevine, Texas. The ire of the hierarchy was aroused, Whitington told the Dallas Morning News, because he showed two motion pictures in his church, The New World, featuring Hal Lindsey, and Rapture, by David Wilkerson. "Rev. Jack Riley, superintendent of the Brownwood District … was very emphatic about not wanting any 'Dallas Theological Seminary charismatic stuff in his district," Whitington said.
United Methodist Bishop W. McFerrin Stowe ordered Whitington to move to a different church. Because the congregation wanted him to stay as their pastor, Whitington said no. This led to his ouster from the denomination—and the birth of Christ Our King Church.
The largest congregation known to have quit United Methodism since 1978 is the Red Lion Evangelistic Association in Bear, Delaware. It began in May 1978, when 506 members of the Red Lion United Methodist Church voted to leave.
The rupture developed as leaders of the Red Lion congregation became aware of denominational support for abortion, liberation theology, and new morality standards. They were particularly upset with the UMC's unwillingness to reject the idea that practicing homosexuals should be kept out of the clergy.
The Red Lion church was running three services each Sunday and had to build. But Red Lion leaders, including the Rev. Irv Pusey, questioned the wisdom of spending millions of dollars on new facilities—only to find that living with the denomination (which owned the property) was impossible. So the majority decided to leave. "It was the crunch of ownership of this property that made us face up to the fact our theological differences were going to catch up with us and we would be without a church," Pusey told Newscope, the denomination's newsletter.
Today, Red Lion Evangelistic Association has 1,000 members.
A graph of the congregation's giving would "go way off the top of the chart," said Pusey. "Before we left the United Methodist denomination, our people were giving about $2,000 per week. As soon as we declared our independence, giving climbed to $4,500 per week. Now it is $7,000 per week not including more than $50,000 given annually to missions, $150,000 for the Christian school, and $12,000 annually to support our radio gospel outreach on three stations."
How are United Methodist church officials responding to the latest exodus of churches from the fold, particularly those leaving in protest over payment of World Service funds? "I am not aware of any churches actually leaving the denomination over this," said Bishop Ellis Finger, president of UMC's Council of Bishops. "Some members have left, but as far as churches or actual congregations leaving, it's more a matter of individual action rather than congregational action."
He continued, "There are as many as 40,000 different congregations in the United Methodist Church, and of these, only one or two where an appreciable number of a given congregation have chosen to leave a particular parish church. These instances, however, have been very minuscule."
Fingers said UMC church members had freedom to continue their involvement in the church or to discontinue it. "The church is eager to maintain its interpretive ministries to all its constituencies," said the bishop, "particularly the world ministries of the church supported by the World Service Fund. There are differences of opinion among the membership at times, however, as to the use of some of these funds. That's not unexpected in a church as large as the United Methodist Church with a constituency that does have diversity within its ranks.
"But the decisions as to how the World Service funds are deployed," he said, "are reached by representatives of all of the annual conferences who are involved in these decisions. There is an appreciable amount of democratic procedure and precedent for these decision-making entities."
Houston's Bishop Finis Crutchfield, president-designate of the Council of Bishops, said he knew about people and churches that had quit paying their money to World Service, but did not know of any churches that had withdrawn from the UMC denomination because of that issue.
He said he knew little about churches outside of Texas ("I'm not president yet, but president-designate"). As for churches in his own state, he said, "No churches in the Texas conference have withdrawn from the denomination, and I don't believe any will. They're too loyal for that. Eighteen congregations have pinpointed what they consider to be the problem and have quit paying their World Service funds, but nobody's withdrawing."
Crutchfield added, "I can understand those congregations that in loyalty want to make their point by not supporting programs they cannot in good conscience support. But to withdraw? It's a cowardly thing to withdraw."
CHARLES KEYSOR
Have something to add about this? See something we missed? Share your feedback here.
Our digital archives are a work in progress. Let us know if corrections need to be made.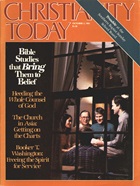 This article is from the October 2 1981 issue.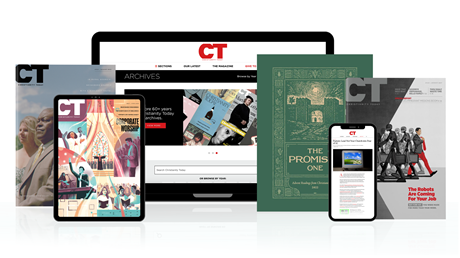 Subscribe to Christianity Today and get access to this article plus 65+ years of archives.
Home delivery of CT magazine
Complete access to articles on ChristianityToday.com
Over 120 years of magazine archives plus full access to all of CT's online archives
Subscribe Now
Exodus from United Methodist Church Accelerates
Exodus from United Methodist Church Accelerates