But Jim Bakker now may have to contend with the Justice Department.
Broadcast regulators have decided not to make a federal case out of a three-year-old investigation of Jim Bakker's PTL Club, much to the talk show host's relief.
Without making its reasons public, the Federal Communications Commission (FCC) sent to the Justice Department results of its inquiry into whether Bakker used money donated for missions to pay debts at home. The FCC also permitted Bakker to transfer his Canton, Ohio, television station to a new owner.
This could be either a victory for PTL or a precursor to criminal charges. By approving the Canton transfer, the FCC placed Bakker safely out of its reach, since it may take discliplinary action only against station owners, not broadcasters. Bakker is a broadcaster, beaming his Christian variety show nationwide from an organization called Heritage Village Church in Charlotte, North Carolina. His foray into station ownership began and ended with WJAN, a UHF station in Canton.
Bakker's hand-picked successor there, the David Livingstone Missionary Foundation, will continue to present religious broadcasting and will assume $1.4 million in debts that the station accrued.
At PTL, the mood is one of cautious euphoria. A spokesman said, "Bakker is extremely pleased that the FCC investigation is over and that the transfer was made possible by a four-to-three vote," but he had no comment on the possibility of a Justice Department investigation or on alleged financial mismanagement at PTL.
Ben Armstrong, executive director of National Religious Broadcasters, sees the decision as a complete vindication of the beleaguered Bakker. "If there were a serious problem, then the FCC would have taken it up. The charges didn't warrant further hearings. If the FCC didn't think it was worth pursuing, then the Justice Department won't either," Armstrong said.
But the three FCC commissioners who dissented attempted to give Justice all the cannon fodder it needs. Arguing that PTL remains "under a cloud of serious misconduct," the dissenting commissioners say the FCC shirked its duty by not examining the charges itself. Allowing a station transfer to take place in this situation, they say, implies to broadcasters that they can skate out from under FCC scrutiny or comply only marginally with its standards.
PTL first attracted FCC attention in 1979, after a page-one article in the Charlotte Observer said Bakker raised funds on the air for a mission project in Korea, in which Paul Yonggi Cho was to start a broadcast ministry with PTL assistance. Instead, the article said, Bakker used the money to pay off large debts at home. The Observer did not tell the whole story. Bakker managed to raise nearly $300,000 of the $400,000 he needed to send start-up equipment to Cho. But he discovered that duty fees would double his costs. While Bakker was trying to resolve the problem, Cho went public, saying the money never arrived. Bakker believes he fulfilled his mission obligation by diverting the money to a project in Japan. He said he did not use the money for debts at headquarters, but this apparently was not easy to show. All transactions at Heritage Village took place out of a single checking account, and until 1982 there was no budget.
According to PTL officials, Bakker has recently tightened up his $5.2 million operation, with each department operating on a strict "pay-as-you-go" basis. He also has abandoned the practice of soliciting funds for a single designated purpose on "The Jim Bakker Program" (formerly the PTL Club). Spokesman Brad Lacey said a telethon last March to pay off debts on the network's satellite was the last pitch for a specific project that viewers will get from Bakker. The 1979 confrontation escalated when Bakker claimed First Amendment protection and refused to comply with FCC subpoenas to testify and provide financial information. Because PTL is incorporated as the Heritage Village Church and Missionary Foundation, Bakker and his attorneys believed the FCC inquiries were violating church and state separation. But the FCC said Bakker lost his church protection when he was awarded a license to operate a television station.
One reason for the strong reaction from the three dissenting FCC commissioners was the potential contribution of this case toward resolving a recurring question: How strictly must a donor's wishes be followed when his money is spent? Nonprofit organizations are technically entitled to use donated money in any way they choose, according to Internal Revenue Service standards. But courts have ruled that the expressed wishes of donors must be respected. So far "no case has definitively reconciled the two concepts," according to Arthur Borden, director of the Evangelical Council for Financial Accountability (ECFA)
PTL'S activities have not occasioned much concern at ECFA, which Bakker joined in April 1981 after what Borden called "extensive checking" into PTL finances. "We don't know of anything now that would send us back to investigate," Borden said.
Because of the unresolved difference between the letter of IRS law and the spirit of court interpretation about donor wishes, it appears the FCC confined its investigation to whether PTL acted "in the public interest." Differing interpretations of what this means led to the split among the commissioners. The majority, in voting to dismiss the matter, weighed practical considerations more heavily than the need to set a new precedent, and are said to be sympathetic toward religious broadcasting in general. The decision was based on the observation that PTL would not benefit financially from the station transfer; programming on WJAN in Canton would not be disrupted; and the FCC could avoid the expense of lengthy hearings.
Whether public FCC hearings should have been held was debated long and hard, according to an FCC source. The dissenters were particularly reluctant to let the case go, since this is the first time a prominent religious broadcaster has tangled so intensely with the FCC.
For now, Bakker is in the clear. Whether he remains there depends on the Justice Department's inclination to pursue the matter, and on his willingness to keep improving the financial management at PTL.
BETH SPRING
Few issues have triggered the letter-writing energies of Christians as has Madalyn Murray O'Hair's plot to end all religious broadcasting. But after several million dollars in postage, the widely circulated rumor is no truer than when it first made the rounds in 1974.
No such plan by atheist O'Hair ever existed, according to the Federal Communications Commission (FCC) and the National Religious Broadcasters (NRB). Attempts by both organizations to get to the root of the rumor have been unsuccessful, and NRB official Robert Niklaus finds the continuing letter crusade irritating.
At the FCC in Washington, letters arrive in waves, clogging clerical procedures. The load peaks in the early months of each year. This year is no different. FCC consumer assistant Eileen Chaney said letters and calls are again on the upswing, beginning with 100 telephone inquiries in November. Chaney's office averages 25,000 letters per week during peak times, and the number received since 1974 totals 13 million.
"We did attempt to get to the bottom of it, but it was impossible," she said. "The original petition had no name or date on it. We couldn't track it down. The fact that there is no date on it seems to keep it going."
The one-page appeal says O'Hair was "granted a federal hearing in Washington, D.C.," in support of petition 2493. If she prevails, the letter says, "all Sunday worship services being broadcast either by radio or television will stop."
But O'Hair never even requested a hearing and had nothing to do with the obsolete petition. Filed by two Californians in 1974, petition 2493 asked the FCC to investigate the operating practices of noncommercial radio and television stations, which include many of the nation's religious broadcasters. The two petitioners requested the FCC to accept no new applications from religious groups until the study was completed.
On August 1, 1975, the request was denied, and the FCC said it would continue to "treat religious and secular organizations alike in determining who is eligible for broadcasting channels."
At about the same time, O'Hair was making headlines because of court battles over the influence of religion in public schools. Somehow, Chaney conjectures, the two issues became entangled in the minds of a few confused and fearful people.
The FCC responds to each letter with a form reply, assuring the writers that the FCC has no authority to interfere with the content of broadcast programming. Meanwhile, NRB'S affiliates across the country, along with other Christian communicators, attempt to spread the word: the rumor is—and always was—false.
A symbol of the moderate theological movement in the Lutheran Church-Missouri Synod will fade late next spring when Concordia Seminary-in-Exile in St. Louis, popularly known as Seminex, awards diplomas to its final class of graduates, and disperses most of its faculty to other Lutheran schools.
The change is one sign of the end of an era in the Lutheran Church-Missouri Synod, a 2.6-million-member denomination once wracked by theological and political strife. Enrollment at Concordia Seminary is now about 700, the level it was before moderate professors and students abandoned the school in 1974, under attack from synod conservatives, and formed Seminex.
With the majority of the nation's 9 million Lutherans moving towards the merger tentatively planned for 1988, the Missouri Synod has remained firmly in the hands of those who won the political battles of the 1970s and shows few signs of shifting from its staunchly conservative course. The synod has a new $10 million headquarters building, and, under the presidency of Ralph Bohlmann, is trying to maintain a conservative course while not aggressively moving against remaining synod moderates.
The doctrinal controversy between conservative and moderate theologians in the denomination reached its hottest point in 1974 when synod president J. A. O. Preus fired John Tietjen, then president of Concordia Theological Seminary in St. Louis, the synod's most prominent school for clergymen. Prior to the firing, Concordia Seminary had been under attack by synod conservatives for a whole range of views on Scripture and church doctrine that conservatives considered unacceptable to the church.
To protest the firing, 45 of Concordia's 5550 faculty members and about 400 of its 600 students walked off the campus into what they called "exile." A few weeks later the exiled professors were also fired and the dissidents formed Seminex.
"I don't see how we could have done anything else," said Tietjen in an interview recently. Having led Concordia through the bitter struggle and headed Seminex since its founding, Tietjen still finds it hard to talk about the controversy. Most of the professors who staked their jobs on faculty solidarity and commitment to their moderate theology stayed with Seminex.
At the end of this year, however, many of them will be assigned to other Lutheran seminaries, although Seminex will continue to pay their salaries. Some will remain in St. Louis, and a few, including Tietjen, will go to the Lutheran School of Theology at Chicago to oversee the work that remains for Seminex. About 25 students will graduate from Seminex this academic year, and the remaining students will transfer to other schools. Seminex will continue to offer a doctor of ministry for those currently enrolled in advanced studies.
Although Seminex graduates were offically barred from synod pastorates unless they underwent a rigorous period of examination, students kept coming to Seminex. Since its formation, the seminary in exile has graduated about 700 students, some of whom are serving Lutheran Church-Missouri Synod parishes.
Most, however, are in congregations of the Association of Evangelical Lutheran Churches, the denomination founded by the 100,000 Missouri Synod Lutherans who left over the doctrinal strife. Others have entered the ministry of the American Lutheran Church and the Lutheran Church in America.
The synod strife and the formation of Seminex was one of the "two or three most important events in the history of American Lutheranism," said August Suelflow, head of Concordia Historical Institute in St. Louis. It also assured that for at least the next generation, American Lutheranism will move along two tracks: the conservative path of the Missouri Synod, and the more moderate-to-liberal road taken by the rest of the Lutherans in the United States.
RELIGIOUS NEWS SERVICE
Membership losses by many mainline Protestant bodies in the past decade have been staggering. In 1980 alone, the United Methodist Church lost 69,000 members; the Episcopal Church, 55,000; the United Presbyterian Church. 53,000; the United Church of Christ, 9,000; and the American Lutheran Church, 9,000.
Citing those figures in a talk to the Minneapolis Ministerial Association, United Methodist Bishop Emerson S. Colaw offered four reasons for the decline: the white Anglo-Saxon birthrate has slowed to about zero growth; the nation's population is growing older; there has been a failure to develop an effective urban strategy by the churches has had a negative effect; and last, there has been a shift in some denominations away from lay evangelism to dependence on a professional clergy.
In Minnesota, Bishop Colaw noted, the United Methodist Church has lost about 20,000 members from its all-time high. If this rate continues, United Methodists, who now have 437 churches in the state, will close the last one by the year 2100, he said.
The bishop said studies have shown that half the nation's unchurched view themselves as potentially responsive to the churches if they could find an institution seriously concerned about working for a better society, could find good preaching, and could discover a good religious education program for their children.
What should mainline Protestantism do to reach them? Bishop Colaw suggested four approaches:
• Emphasize hope. The New Testament, he pointed out, "is a book of hope, based on resurrection theology. This is not Pollyannish, but the conviction that our ultimate destination is in God's hands.… Our role is not to echo the anxiety [found in secular society] but to hold up the possibilities in human existence. Don't be afraid to talk about spiritual matters: conversion, prayer, grace, divine guidance, healing. We're in the faithing business. Strike the notes of courage, assurance, and trust."
• Emphasize community. "We are the body of Christ," the bishop said. "Use body language.… The electronic church [radio and television religion] may continue for a considerable period of time, but it will not seriously impact the local church because it cannot offer the one thing that the human spirit most hungers for and that is human touch.…"
• Emphasize ethnics. "In Minnesota," the bishop said, "there are 35,000 Native Americans, 27,000 Asian Americans, 32,000 Hispanics, and 54,000 blacks. By 1988, there will be 62 million ethnics in America.… Start new churches among the ethnics. That, said Bishop Colow, is where the population growth will take place.
• Emphasize the Holy Spirit. "The Spirit is the spirit of surprise," the bishop said. "We don't know when or where God will renew the church but we do believe it will happen. It is happening in unexpected places," such as in the Southern Hemisphere where it is predicted there will be a billion Christians by the year 2000—more than in North America and Europe.
RELIGIOUS NEWS SERVICE
Among states intent on curbing drunk-driving tragedies, Maryland has been a pacesetter. State legislators voted to raise the drinking age to 21; police officers may randomly stop motorists for sobriety check-ups; and U.S. Congressman Michael Barnes of Maryland led the way when Congress passed national legislation giving states more highway funds if they strengthen drunk-driving laws.
Much of the momentum began, as it usually does, with a life-shattering tragedy. Now that momentum may gather anew because of a recent court sentence that the citizen activists saw as shockingly lenient. It was no ordinary drunk-driving case that served to galvanize their crusade a year ago.
The incident occurred Christmas Eve, 1981, when Martha Proctor was driving to church with two sons, a daughter, and three baby grandchildren. As her Volkswagen Rabbit rounded a curve, a station wagon in the oncoming lane veered left and struck the Proctor car head-on. At the hospital, after she was treated for a fractured skull, Martha learned that the only other survivor was her daughter Tanya.
The station wagon's driver, Kevin N. Cooper, is a 27-year-old carpenter who admitted drinking seven beers at a Christmas party just before the crash. One month before the first anniversary of the incident, Cooper was sentenced to six months in jail, served concurrently with 500 hours of community service on a work-release program. He will be on probation for five years, which means an automatic arrest if he is caught with any alcohol on his breath.
The sentence sent shock waves through Maryland's well-organized citizen groups that combat drunk driving. Tom Sexton, director of Maryland Mothers Against Drunk Driving (MADD) said, "The sentence took us totally by surprise. It is a clear indication that the judicial system in Maryland has yet to get the message." MADD organized a protest march at the courthouse where the sentence was pronounced and has urged people to write letters expressing their outrage.
It has also caused MADD to become more aggressive in seeking heavy punishment for drunk drivers. For the first time, MADD is endorsing the idea of mandatory sentencing for all drunk drivers involved in a serious accident, rather than just for repeat offenders.
In Cooper's case, the maximum sentence for automobile manslaughter would have been three years for each count of homicide, or 15 years total. But Judge Donald Gilmore says the light sentence is fair because Cooper is a first-time offender who claims he was not intoxicated—a claim the jury believed.
More than an hour after his arrest, Cooper's blood-alcohol level was .12 percent. In Maryland, the legal limit is .13, but most experts agree that a person is not fit to drive after blood alcohol reaches .10 percent.
Getting the legal limit reduced is a key step toward easier arrests and convictions, and it is required by new federal legislation before extra highway funds are distributed to states that want to conform to stricter standards.
A county task force in Maryland, chaired by Loren Gisselbeck, pastor of the Proctors' United Methodist church, is lobbying hard to get state legislators interested in the national incentive program so that they will lower the allowable blood alcohol level.
Gisselbeck's task force (CT, March 5, 1982, page 50) produced 52 recommendations for legislative changes and better community education. One of the biggest problems prosecutors face in Maryland is a rule allowing a defendant to disregard a district court decision if it is unfavorable and begin his defense again in a higher court.
The Proctor family has not been deeply involved with citizen efforts in Maryland to change the laws because they moved to Pennsylvania to begin life again. Martha, who Gisselbeck described as "a real snap-back kind of person," is fully recovered from her physical injuries. Daughter Tanya lost all three of her baby daughters in the crash and is now attending college.
Gisselbeck, who received news of the fatalities by telephone just before his church's Christmas pageant (planned by Martha) began, finds life is different for him too. "I've become less tolerant of people with drinking problems," he said. "Now I am more insistent that they see what they are doing to themselves."
BETH SPRING
Personalia
In an entry to this column in the December 17 issue concerning the appointment of David Mehlis as chief executive officer at David C. Cook Publishing Company, it was not made clear who owns the company. A family business until 1950, it is now owned by the Cook Foundation. Mehlis is the first chief operating officer from outside the Cook family.
The Salvation Army's 1982 award for community service has gone to Timothy Johnson, a health columnist and an associate pastor of an Evangelical Covenant church. Johnson was described as "the nation's most successful communicator of health-care information for mass consumers." He authors a daily column in more than 90 newspapers and has appeared on ABC'S "Good Morning, America."
Deaths
Leon Jaworski, 77, a Houston lawyer, a prosecutor at the Nuremburg trials of the Nazi war criminals, the second of three special prosecutors of the Watergate affair, and a committed Christian; December 9, 1982, at his ranch near Austin, Texas; of pancreatic cancer.
Have something to add about this? See something we missed? Share your feedback here.
Our digital archives are a work in progress. Let us know if corrections need to be made.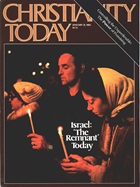 This article is from the January 21 1983 issue.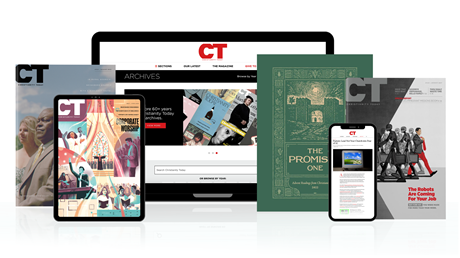 Subscribe to Christianity Today and get access to this article plus 65+ years of archives.
Home delivery of CT magazine
Complete access to articles on ChristianityToday.com
Over 120 years of magazine archives plus full access to all of CT's online archives
Subscribe Now
FCC Ends Its Investigation of the PTL Organization
FCC Ends Its Investigation of the PTL Organization