My publisher was outmaneuvered by narrow minds.
A funny thing happened to me on the way to the bookstore. My book got banned.
Actually, it wasn't my book, it was someone else's. But the local bookstore was participating in a nationwide boycott of the "guilty" publisher—my publisher—and a few bystanding authors got caught in the crossfire.
Now, it was no great affront to me personally. My book, about rock music and pop culture, had been around awhile. And I have to admit that clearing it off the shelves was hardly a setback to the furtherance of Christian thought and belief. I was just a little surprised, though, to hear that it was no longer available to anyone who happened to want a copy.
Quite a few other books were not available either: Paul Little's Know Why You Believe and How to Give Away Your Faith, John Stott's Basic Christianity and J. I. Packer's Knowing God, Calvin Miller's Singer Trilogy; and books by the likes of John White, H. R. Rookmaaker, Os Guiness, Rebecca Manley Pippert, and Walter Trobisch, to mention only a few.
I found myself in some pretty good company, but it was of no real consolation. These authors have something important to say and deserve to be heard. And yet patrons of the boycotting bookstores were deprived of a listening—all because one book was deemed sufficiently noxious that the publisher's entire catalog had to be tossed out.
That's the trouble with restricting other views: there are bound to be regrettable consequences. In this case, someone decided a point had to be made; that a particular strain of thinking was so harmful, so spurious—so threatening?—that it could not be expressed. No matter that such evangelical luminaries as theologian Carl Henry and philosopher Arthur Holmes saw value in the book. It had to go—and that was that. You can't make an omelette without breaking a few eggs, and you can't promote narrow thinking without breaking a few legs. Figuratively speaking.
Such are the tactics of those who fear the free contest of ideas so much that they have to fix the match. And fixing the match can lead to some decidedly nasty practices. It might start with boycotting a book, but if the author persists in making himself heard, what then? In this instance, of course, we'll never know. InterVarsity bowed to all the pressure and withdrew the book in question.
In retrospect, maybe they acted too quickly. Maybe their decision was based more on potential loss of support than on a concern for the marketplace of ideas. Maybe. But one thing is certain. InterVarsity was outmanuevered by narrow-minded invective and left waiting for evangelical support that never came. And that's another consequence of censorship: even close friends keep a safe distance.
So who or what will it be next time? Will it be my next book? Or yours? Or maybe it won't be a book at all. Maybe it will be a speech or a sermon. Regardless, once would-be censors are allowed to have their way, no one is immune; anyone who wishes to debate controversial topics in the arena of public opinion can become a target.
In the meantime, the four-month-long boycott is over and all the books by all those authors I mentioned earlier, including my own, are back on the shelves. All, that is, except one—the one that started the controversy in the first place. Was Brave New People filled with such menace and danger that the reading public had to be protected from it?
That is something you will never have the chance to decide for yourself. The book has been burned—figuratively speaking.
Mr. Lawhead is an accomplished author whose most recent title, The Sword and the Flame (Crossway Books, 1984), is the final book in his widely acclaimed Dragon King Trilogy.
Have something to add about this? See something we missed? Share your feedback here.
Our digital archives are a work in progress. Let us know if corrections need to be made.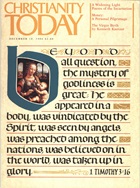 This article is from the December 14 1984 issue.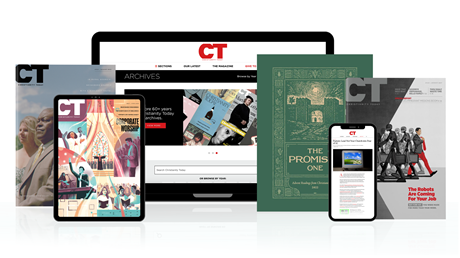 Subscribe to Christianity Today and get access to this article plus 65+ years of archives.
Home delivery of CT magazine
Complete access to articles on ChristianityToday.com
Over 120 years of magazine archives plus full access to all of CT's online archives
Subscribe Now
Speaking out: What? Ban My Book?
Speaking out: What? Ban My Book?