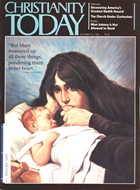 This article is from the December 12 1986 issue. Subscribers can read all of CT's digital archives.
At Christmas, most Protestants are tolerant enough to allow Mary limited access onto our greeting cards and into our crèches and carols. But the rest of the year she is a victim of simple neglect. In bending over backwards to avoid certain excesses of veneration, we have abandoned Mary to a kind of evangelical limbo.
Yet it could be different if we avoid both extremes, and look at Mary clearly enough to see the woman shown us in the Bible. Not only was she a simple mortal, unpretentious enough for us all to identify with, but she nudges our self-centered "me generation" toward the path of the God-centered, the faithful, the obedient. If we read Mary into each one of the Beatitudes, we will not falsify her character.
From Mary we may also learn about the courage to say yes, especially as we are faced with challenges from God that may seem to us nearly as impossible or outrageous as the angel's demand.
It seemed too much to ask
of one small virgin
that she should stake shame
against the will of God …
and it seems much
too much to ask you, or me,
to be part of the
different thing—
God's shocking, unorthodox,
unheard of Thing,
to further heaven's hopes
and summon God's glory.
Mary said yes to God. Perhaps God chose her body and her spirit as the venue for Christ's arrival on our planet because he knew it was her habit of life to say yes to her father and her Father.…
We have seen the studies, sepia strokes across yellowed parchment, the fine detail of hand and breast and the fall of cloth—Michelangelo, Caravaggio, Titian,
El Greco,
Rouault—each complex madonna positioned,
sketched, enlarged, each likeness plotted at last
on canvas, layered with pigment, like the final
1
Yes to Shame and Glory