An interview on Amsterdam '86 and the future of world evangelism
The turnout for your first itinerant evangelists' conference, Amsterdam '83, was surprisingly strong. Will this summer's conference be equally well attended?
The conference in 1983 was a complete surprise to me because we don't have many evangelists in America. Participants in Amsterdam '83 came from India, Pakistan, Africa, and Latin America—thousands of evangelists from all over the world.
We expect about 10,000 people at Amsterdam '86, including 8,000 evangelists and 2,000 observers, staff, and press. We will have to turn away between 10,000 and 20,000 others because we've already reached our quota. According to the United Nations, there will be more territories and more countries represented at Amsterdam '86 than at any conference ever held, secular or religious. We were also told it will be the largest conference of any kind ever held in the history of Europe.
What is your budget for the meeting, and how is that money being raised?
The conference is going to cost us about $20 or $21 million, and that's far more than we ever dreamed we could raise. We are encouraging churches to sponsor scholarships for Third World people.
Tell us about some of the people you will be training in Amsterdam.
Many of them are what we call "barefoot evangelists." They have no visible means of support (unless they are a pastor of a church). They feel their primary ministry is to hold evangelistic campaigns, and most have very little education. Only about one-third have a college or university degree. A few have seminary or Bible school degrees. And others have not been to school at all for higher education.
Still, these people are on the cutting edge. They are out in the jungles and the deserts and the hard places. Many of these people have suffered and have been imprisoned for their faith. Many have been beaten.
Few have ever traveled on an airplane or visited a Western city. And, as we discovered at the first conference, many participants had never seen indoor plumbing.
What will be happening at Amsterdam?
Most of all, we will be teaching. In addition, we are trying to encourage these evangelists to continue learning on their own, using the mechanical helps received at the conference—and with the help of the Holy Spirit. Amsterdam is a training session that will cover between 110 and 120 subjects in seminars that provide opportunity for discussion.
Have you continued working with the evangelists who attended the 1983 meeting?
As a follow-up, we held 14 similar conferences in Latin America, and some of these were attended by as many as 1,000 people. Other conferences were held on the east and west coasts of Africa. To assist evangelists in these areas, we've sent bicycles and motorcycles to meet transportation needs, and tape recorders on which they can play instructional tapes. We've also given film projectors to some, and clothes to hundreds of others.
My son Franklin got some shops in Holland to donate these clothes, and he's going to do the same thing this time around. A lot of the evangelists come dressed in rags. Last time all kinds of stories circulated about how they would get their new shoes mixed up and have one size on one foot and a different size on the other foot. But they didn't care. They were just so tickled to get a pair of shoes.
The purpose of the conference is to stimulate evangelism and encourage evangelists from all over the world. What does it take to be an effective evangelist today? What skills are required?
The main thing is prayer and study of the Word, backed by a personal life of integrity. That hasn't changed. An evangelist needs to proclaim the gospel without favor or fear, and with boldness. I think people are hungry for that sort of thing.
The evangelist must also respond to the gifts and calling of God. When it comes to methodology, there is no telling what the future may hold. Last year from Sheffield, England, we sent our crusade meetings by satellite to 51 other cities. Zambian television, for example, picked them up and ran them every night. Christians in that African nation talked to the powers that be, and they, in turn, took it right off the satellite.
It's amazing to consider what the future may hold technologically to reach people in ways I couldn't even dream of now. We are just touching the hem of the garment, however, because it's people like these evangelists and missionaries who slog away day after day, week after week, who make the real difference. With one message, a person can be saved, but he needs growth within the church and the community of believers. There is so much more to it than just the preaching.
The early church didn't have printing presses, radio or television, or fast planes to take them from city to city—and yet they touched the world. I think the main thing people are looking for is what an Indian told me years ago. He said, "I would become a Christian if I could see one," and he was looking right at me. That is one of the greatest sermons I've ever heard preached. People want to see a Christian. It's not just accepting Christ, but being a Christian every day—all the time, constantly, consistently—that makes a difference.
Is it possible to evangelize the whole world?
I'm not sure I could know when a place has been evangelized, because every place needs evangelizing every generation. I'm not sure you could say we've evangelized America. We have and we haven't. The gospel is available to everybody in America, but how many have really been confronted with Christ and made a decision? I don't know. When the missionaries left China, there were two to three million Christians. Now, observers believe there are between 30 and 50 million. People say we ought to pray that China will open. I'm not so sure it isn't.
Now that you've had increased exposure and ministry opportunities behind the Iron Curtain, how do you view evangelism in those countries? Will any people from these countries attend the Amsterdam conference?
When I first went to the Soviet Union in 1951 as a tourist, I remember sitting in Lenin Stadium in Moscow, praying that God might send me to preach in the Soviet Union if it be his will. When I first went to preach in the Soviet Union, I thought they would tell me what to say and what not to say—even though they said they wouldn't. They kept their word. And interest has grown to such an extent that I think the work we have been doing in Eastern Europe is well-known to every believer. In the fall, we had 25,000 to 30,000 people each night in Romania. In Hungary they used a big sports arena. You're not supposed to speak outside of church property, and here we were in a brand-new, gorgeous arena.
We hope to have representatives from all the countries in Eastern Europe at Amsterdam '86. And we've invited several from China who plan to attend.
Do you ever get discouraged at the immensity of the task of evangelism?
There was a time I would have answered that question with an unequivocal yes. When I first started out, I had visions that the whole world would turn to Christ—that it could be done. Today, however, I don't get discouraged, because I think the Scripture teaches that God is calling out a people for his name among all the nations of the world.
I'm the same gospel preacher I used to be on the streets of Tampa, preaching the same type of message. In some parts of the country and the world, they expect Billy Graham to bring revival. Their expectancy is so high. This just frightens me. I go crawling on hands and knees, begging the Lord to help me. And as I get older, I feel more and more inadequate—and more and more dependent on the Holy Spirit.
What do you find most encouraging about world evangelism?
It's the thousands of young people who are involved in it. When we started out, there were hardly any so-called parachurch groups. Youth for Christ was just starting. Inter-Varsity had just started in this country. Today, we have Bible classes, Bible study groups, youth choirs—everywhere. You never thought of a football star talking about Christ in those days. You never thought about some of the things that we take for granted today. And no one was bringing to evangelicalism a more sophisticated, more intellectual understanding. Now, we have centers of learning like Harvard University establishing a chair for evangelical studies.
Have something to add about this? See something we missed? Share your feedback here.
Our digital archives are a work in progress. Let us know if corrections need to be made.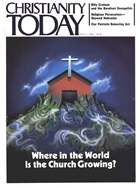 This article is from the July 11 1986 issue.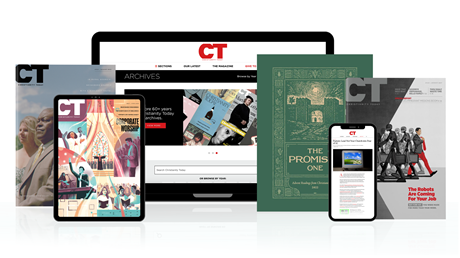 Subscribe to Christianity Today and get access to this article plus 65+ years of archives.
Home delivery of CT magazine
Complete access to articles on ChristianityToday.com
Over 120 years of magazine archives plus full access to all of CT's online archives
Subscribe Now
Billy Graham and the Barefoot Evangelists
Billy Graham and the Barefoot Evangelists