You hear it once, you hear it a thousand times: The Koreans are people of prayer. And indeed they are. As one elder confessed between services at the Hallelujah Bible Church in Seoul, "CT will have to excuse me if I make little sense. I've been in prayer all weekend."
Predawn prayer sessions, all-night prayer meetings, and numerous prayer mountains call literally tens of thousands of people like this tired elder to seek God's face in a way and intensity little seen in the West. And it is this intensity, say the faithful, that has brought blessing to the church.
To quantify the specifics of Korea's penchant for prayer and fasting, the Korea Evangelical Fellowship surveyed 300 pastors about the prayer habits of their congregations. About 100 ministers responded.
Daybreak prayer
One hundred percent of the ministers responding said they engage in daybreak prayer, with about 80 percent spending up to an hour in personal prayer following the corporate session. In most cases, the pastor (or in certain instances the assistant pastor) leads the prayer meeting, which usually begins between 4:30 and 5:00 A.M. About 10 percent of the congregation regularly attend, which means attendance of 250 to 300 is not unusual.
All-night prayer
Fifty percent of the ministers said they engage in overnight prayer once a week, usually on Friday. Times for this all-church session, on the average, range from 10:00 P.M. to 4:00 A.M. with upwards of 20 percent of a congregation attending. During the course of the evening, it is not uncommon for some from the congregation to leave and go up to a prayer mountain, where they then continue their often vocal supplications before God.
Among the multiple benefits of all-night prayer, said the ministers, are its spiritual impact on the person praying and the close spiritual fellowship developed in the early morning hours. There were negatives cited as well, however: the tendency to produce spiritual arrogance, and, not surprisingly, simple physical exhaustion.
Fasting
Many ministers acknowledged they fasted, with a few reporting fasts of up to 40 days. The major reasons given for prayer and fasting were: (1) to cultivate a deeper faith; (2) to solve family problems; (3) to receive (for oneself or someone else) physical healing; and (4) to solve a problem.
By Harold B. Smith and Kim Myung-Hyuk, general secretary of the Korea Evangelical Fellowship.
As to the perceived immorality of the Chun administration, Dong said the Korean view of government is one of maintaining justice and morality. Chun has failed to keep this twofold purpose, said Dong; instead, he has gained great personal wealth as Korea's leader and given family members key government positions.
"The morality question is especially critical to the church," Dong said. And indeed, it was the moral question that motivated the Catholic church in Korea to issue the Myondong Declaration (named after the Catholic cathedral in Seoul) earlier this year. It states that if the church is unable to resist Chun politically, we can resist morally."
Needless to say, the government is watching this political morality play with intense interest. While the Roman Catholic Church and the politically liberal Protestant churches represented by the Korean National Council of Churches (made up of seven denominations) persist at being a daily nuisance to the Chun administration (demonstrations, head shavings, hunger strikes), it is the growing evangelical church that has the government particularly edgy. They know rightly that evangelical political influence would undeniably have an effect on what kind of reforms—indeed, what kind of government—Korea would have during this last year of Chun's administration and the initial days of a new government.
To The North: Signs Of Hope
It is a standard part of every church service: prayer for reunification, and for the Christian community in the North—or what's left of it.
Since the Communist takeover of the North following the Second World War, the government of Kim Il-Sung has methodically removed all evidences of religious faith and heritage. What was once a hotbed of Christian activity (with some cities, like the capital, Pyongyang, claiming a population of upwards of 75 percent Christian) is now a secularized state—with Kim and his family the objects of idolization and admiration once preserved for deity alone.
Thus far, attempts to contact individual Christians or take the gospel surreptitiously into the North have proven fruitless. Yet the passion to reawaken the church there remains strong. The prayers continue unabated; and some people, like Chung Hyeon's Kim Chang-In, are actively training missionaries in both Bible and basic survival techniques for that day when they will cross the 38th Parallel.
And that day may come soon, with the North opening its borders for the first time to host selected events for the 1988 Seoul Olympics. According to many who have prayed for just such an opening, this opportunity is but another indication that God may indeed be laying a groundwork for the return of his gospel to the North. Other situations fueling South Korean optimism include: (1) A North Korean law requiring every home to have a radio. Done for propaganda purposes, the law nevertheless has opened every home to Christian radio broadcasts coming from the South; and (2) The burgeoning Christian community in China. The Chinese are free to cross into North Korea (which borders Manchuria to the north); with some have come words of encouragement from the South, as well as Bibles and other Christian literature.
"My father wanted me to return to Pyongyang," Ro Bong-Rin told us, as he stood on a hill in the Demilitarized Zone. As he looked across the barbed wire into the North, he said, "He wanted me to establish a church. He wrote that wish in my Bible.
"He made me promise I would."
Whether or not Ro will ever have the chance to keep that promise remains to be seen. But for the first time since the end of the Korean War, there are signs that his father's hope—indeed, the church's hope—will prove one day to be more than a pipe dream.
In the meantime, the church in the South continues to pray, confidently, expecting God to answer sooner than later.
By Harold B. Smith.
Have something to add about this? See something we missed? Share your feedback here.
Our digital archives are a work in progress. Let us know if corrections need to be made.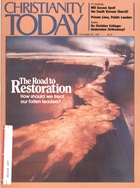 This article is from the November 20 1987 issue.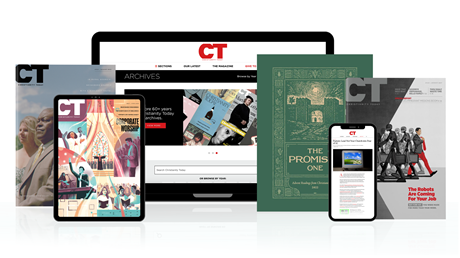 Subscribe to Christianity Today and get access to this article plus 65+ years of archives.
Home delivery of CT magazine
Complete access to articles on ChristianityToday.com
Over 120 years of magazine archives plus full access to all of CT's online archives
Subscribe Now
A Lot of Tired Prayer Warriors
A Lot of Tired Prayer Warriors