Journey Continued: An Autobiography, by Alan Paton (Scribner's, 308 pp.; $22.50, hardcover). Reviewed by Irving Hexham, associate professor of religious studies at the University of Calgary, and author of two books on South Africa.
Alan Paton was catapulted to fame in 1948 by the publication of his novel Cry, the Beloved Country. By reading the story of a simple black pastor's search for the son who rejected faith for a life of crime and murder, the Western world was able for the first time to see the tragedy of South Africa. The novel ends with a black's prophetic words: "I have one great fear in my heart, that one day when they turn to loving they will find we are turned to hating."
But despite the late author's past courage in giving voice to the ugly side of life in his own country, today it is chic to scorn Paton's liberalism. For example, another reviewer of this autobiographical volume noted that Paton's "heroes were all white men" and snidely observed that his "deep revulsion" for an act of sabotage by the white radical group African Resistance Movement, which killed an old white woman, "contrasts strikingly with his description" in this book "of the 1960 Sharpeville massacre, which verges on an apologia for the policemen who killed 69 black protesters." But such interpretations that see Paton as some kind of "sellout" seriously distort his life and work, as a fair reading of this story will show.
Truth Telling In South Africa
Paton was no armchair revolutionary but a practical reformer deeply committed to justice. The first volume of his autobiography, Towards the Mountain (Scribner's, 1980), which should be read in conjunction with this one, tells the story of his early life, religious pilgrimage, and remarkable work at Diepkloof Reformatory for young black delinquents. This latest volume brings the story up to date, although it concentrates on the 1960s.
Paton captures the pathos of his times in a way that tears the heart. His biting comments on fellow South Africans and people revered for their "stand" against apartheid will no doubt irritate many who want saints for heroes rather than men and women of flesh and blood. One cannot accuse Paton of sour grapes or a desire to glorify himself, however, because his ruthless honesty extends to his own life. Few authors are as candid in describing their own strengths and weaknesses. Anyone who wishes to understand modern South Africa must read these moving books.
What most North American critics overlook are the Christian values that Paton held sacred and that informed his actions. They cannot understand why he rejected calls for sanctions and commended what he saw as good in South African President P. W. Botha's hesitant reforms. By judging him on superficial criteria, they miss the main point: that Paton courageously labored to ensure that the world knew what was happening in South Africa, thus preventing the success of apartheid.
In this book we see Paton's attempt at mounting a credible, popular movement that would fight apartheid from within the country's legitimate structures. Thus his genuine "revulsion" at the violence of the African Resistance Movement was not out of some sentimental love for whites. Rather, he expresses emotion because young white radicals betrayed his trust, and through their inept, futile actions created a spiral of violence. What hurt him was that romantic revolutionary ideas harmed the cause of blacks by providing white reactionaries the excuse they needed for further repression, thus undermining opposition to the South African government.
Similarly, when writing about the Sharpeville massacre, Paton sets the tragedy in context to enable his readers to understand the depth of white fear that is the curse of South Africa. He then observes "the first shots had been fired in panic, but that panic had been followed by the desire to kill."
Pilgrim And Model
For Christians, Paton's autobiographical works are a feast to be savored—alongside his devotional works Instrument of Thy Peace (1968) and Kontakion for You Departed (1969). They show a man who took Christ's words seriously and sought to be a pilgrim. Without offering easy evangelical solutions or escapes into the romantic visions of liberation theology, Paton reveals a life of struggle, a frightening honesty, and a firm commitment to principle.
At a time when many Christians are looking for ways to express their faith in the marketplace, Alan Paton offers a role model. He prized individuals, a sense of community, the rule of law, justice, and freedom. Paton's success as a writer, his example as a political activist, his clarity of thought, his depth of commitment, his genuine Christian principles, and his admission of all-too-human faults make him an example to be held high in our churches. His name should be remembered as one of the great Christians of the twentieth century.
God the Evangelist: How the Holy Spirit Works to Bring Men and Women to Faith, by David F. Wells (Eerdmans, 128 pp.; $6.95, paper). Reviewed by Charles S. Gaede, assistant professor of biblical studies at Southwestern Assemblies of God College, Waxahachie, Texas.
In 1985, a group of evangelicals and charismatics from around the world assembled at Oslo, Norway, to present papers and consult on the work of the Holy Spirit and evangelization. Fortunately for those who could not make it to Oslo, the many rich insights produced by the consultation have been collected, given structure, and commented on by David Wells, professor of theology at Gordon-Conwell Theological Seminary. In God the Evangelist, Wells acts as both author and editor in a way that captures both the excitement and the depth of thought that permeated the meeting. The result is a well-balanced statement of the role of the Holy Spirit in evangelization.
J. I. Packer's introduction alone is worth the price of the book. His question, "Do we take the Holy Spirit seriously enough?" will startle many Christian readers. He suggests that to take the Holy Spirit seriously means to see "worship, evangelism, and suffering" as a natural part of the Christian life. His thoughts motivate the reader to explore the remainder of the book.
"God is his own evangelist in our evangelism." This is the unique thesis that Wells develops. God is at work through the Holy Spirit, making effective our efforts to evangelize. Wells proposes three major functions of the Holy Spirit in evangelization: "He exhibits the truth, he engenders holiness, and he exercises divine power." The Holy Spirit's personality and deity are seen in those functions. Furthermore, the Spirit performs them in a Christ-centered manner. He is firmly anchored in Christ and is not an independent agent.
Using a global perspective, Wells next spotlights the material, mental, and nonreligious forms of idolatry that evangelization must confront in First, Second, and Third World cultures. Worldliness is defined as "that collective lie which validates our personal sin."
The gospel message, then, confronts idolatry in all its forms and worldliness in all its subtleties. The work of the Holy Spirit is indispensable in that encounter: "Outside of the supernatural working of God's Spirit, unbelief is invincible, cultures are impenetrable, and doors are closed," Wells says.
Wells's analysis of the signs-and-wonders movement is helpful in that he reminds us that regeneration itself is "the most basic of all power encounters." He also provides a provocative rationale for the periodic appearance of signs and wonders. He argues that their presence or absence is not reflective of a certain "spiritual temperature." Rather, "it seems more biblically accurate to see the 'rise and ebb' of spiritual manifestations as something controlled by God's purposes rather than as a reflection of the 'rise and ebb' of spiritual life."
While there are many equally interesting ideas in this book, one final thought stands out for its timeliness and sobering influence for modern Christians. Wells reminds us that "evangelism must … emerge from a context of personal authenticity in the evangelist, for the Spirit who is the Spirit of truth is also the Spirit of holiness." Those who read God the Evangelist will be sure to gain new insights into how the Holy Spirit works in our world and in our evangelism.
One Nation Under God? Christian Faith and Political Action in America, by Mark A. Noll (Harper & Row, 211 pp.; $14.95, hardcover). Reviewed by Richard V. Pierard, professor of history at Indiana State University, and the coauthor of Civil Religion and the Presidency (Zondervan).
Since evangelicals in the United States have in the last quarter-century bought so heavily into "godly" politics, we have witnessed an outpouring of literature exalting America's Christian heritage and character. There is one person, however, historian Mark Noll of Wheaton College, who has helpfully chosen to swim against the tide. He gently but firmly cautions his brothers and sisters not to assume that America is necessarily a Christian nation.
Although Noll insists that theology and history are against seeing America as having had a unique relationship with God, he does concede that some aspects of the nation's history stand out as exemplary. He suggests that a country's governmental structure may embody principles in accord with the general norms of the Bible and that its actions at certain times may in fact benefit all humanity.
In the American case, this would include its tradition of democratic liberty; its work in liberating peoples from Axis tyranny in World War II; its role in the modern missionary movement; and its holding high the ideals of economic, political, and religious freedom for all to see.
Nevertheless, these must be understood as inferences from our reasoning, not revelations from God, and our military strength and material prosperity should not be misinterpreted as special blessings from God. Further, the nation has failed on numerous occasions, such as the virtual extermination of native Americans, acceptance of black slavery, promotion of materialistic consumerism, fire bombings in World War II, and political misjudgments and atrocities in Vietnam.
From Belief To Reform
The author argues that America's "Reformed Christian heritage" profoundly shaped its history. The key idea here is that Americans moved in a straight line from personal belief to social reform, from private experience to political activity. The public sphere was the forum in which to promote the virtues defined by the religion (or substitute religion).
The crusading mentality was generalized and held that all of life could be reformed. Noll develops his thesis by examining the political involvement of Christians in the American Revolution, the process of drawing up the Constitution, the religious issue in the election of 1800, Abraham Lincoln's faith, and abolition and prohibition as models of Christian reform. He concludes by drawing "lessons" from the history of Christian political activism and showing how the Bible can be used to sustain contemporary action.
As for the lessons of history, Noll argues that the creation of Christian political parties has always ended in failure, but reform efforts have a much better record, although even here problems exist. He cites instances where the issues selected were quixotic, where benefits were overestimated, where failure resulted in disillusionment, where Christian goals were pursued with unchristian means, and where the faith was sold out to the political needs of the moment.
Today's evangelical activists would do well to reflect on his analysis of the 1800 election. He brings out that the church is greatly damaged when Christians identify with one political party. Christians need to examine public positions as well as personal beliefs, since the political process is far more complex than the "either-or" style that Christian thinking recognizes. He also points to Lincoln's deep faith, which expressed itself in a prophetic type of civil religion that held the nation up to transcendent judgment and showed how thoroughly the good and evil intermingled in our heritage.
At one point, however, I differ with Noll. Regarding contemporary church-state relations, I am not so certain that as sharp a separation of religion and public life exists as he feels is the case. The question is whether in a pluralistic age the government should foster any particular form of religion (such as school prayer). I am convinced that it should not, and I wish he had had the space to address this matter in his excellent, well-conceived book.
Slaves of Desire
Addiction and Grace, by Gerald G. May (Harper & Row, 195 pp.; $16.95, hardcover). Reviewed by James Alsdurf, a forensic psychologist, and coauthor with his wife, Phyllis, of the soon-to-be-released book, Battered into Submission: The Tragedy of Wife Abuse in the Christian Home (IVP).
Addiction, according to psychiatrist Gerald May, is "giving ourselves over to things that, in our deepest honesty, we really do not want." May sees addiction as a process of attachment, "that which 'nails' our desire to specific objects" with the result being a state of enslavement of a person's will and desire.
May asserts that the same processes that are responsible for addiction to "alcohol and narcotics are also responsible for addiction to ideas, work, relationships, power, moods, fantasies, and an endless variety of other things." And, warns May, "we are all addicts in every sense of the word.… Our addictions are our own worst enemy."
May raises the issues of free will, responsibility, and choice early on in this highly readable and challenging book. Unlike much of the literature on addictions, Addiction and Grace does not dismiss choice and responsibility as part of the "disease process."
In an attempt to explore the full-orbed nature of addiction, May rightfully focuses his attentions on its spiritual implications. May denounces addiction as the "most powerful psychic enemy of humanity's desire for God" because it "attaches desire." Thus addiction "makes idolators of us all, because it forces us to worship these objects of attachment, thereby preventing us from truly, freely loving God and one another. Addiction breeds willfulness within us, yet, again paradoxically, it erodes our free will and eats away at our dignity."
May sees addiction as destructive to one's spiritual life, but also as an opportunity to appreciate God's grace, because addiction can "bring us to our knees." May reaffirms the "liberation of desire," which is available through God's grace. And it is here that May is so very helpful. In letting us discover with him that our addictions need not destroy us but lead us to a deep appreciation of grace, we come to a new experience of the "most powerful force in the universe."
Have something to add about this? See something we missed? Share your feedback here.
Our digital archives are a work in progress. Let us know if corrections need to be made.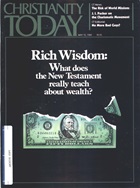 This article is from the May 12 1989 issue.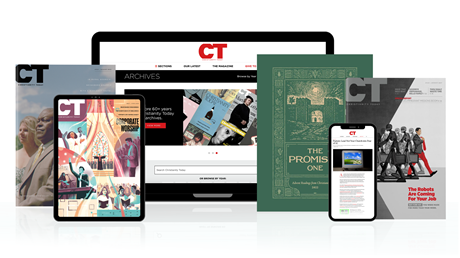 Annual & Monthly subscriptions available.
Print & Digital Issues of CT magazine
Complete access to every article on ChristianityToday.com
Unlimited access to 65+ years of CT's online archives
Member-only special issues
Subscribe
Paton's Place in South Africa
Paton's Place in South Africa