Controversy surrounding the book Satan's Underground, the testimony of Satanic worship and ritual abuse told by author Lauren Stratford, has caused Harvest House Publishers to "cease publication" of the book. Their action came approximately two months after an article in Cornerstone magazine alleged Stratford's story was "fantasy." A second Stratford book, I Know You're Hurting, was also withdrawn.
In Satan's Underground, which has sold more than 130,000 copies since its release in 1988, Stratford describes a life filled with sexual abuse, pornography, prostitution, and eventually Satanism. Among her most shocking revelations: Two children she bore were killed in "snuff" films, a third was sacrificed in her presence in a satanic ritual.
Stratford eventually became a Christian and met Johanna Michaelsen, who wrote about her own past involvement in the occult in The Beautiful Side of Evil, published by Harvest House.
Names, Dates, And Places
In the Cornerstone article, anticult researchers and apologists Bob and Gretchen Passantino, writing with Cornerstoneeditor Jon Trott, present evidence that contradicts the life story of Lauren Stratford, the pen name for Laurel Rose Wilson. The Passantinos, directors of the Costa Mesa, California-based ministry Answers in Action, said they became suspicious of Satan's Underground after noting a lack of specific names, dates, and places in the story. In the fall of 1989, having heard concerns from other cult researchers about the veracity of the story, they decided to investigate further, with the help of Trott and others.
"Our intent was either to expose the rumors [that questioned Stratford's story] as lies, or to confirm the documentable evidence she claimed to have to support her story," said the Passantinos in an interview with CHRISTIANITY TODAY. They assembled the testimony of Stratford's relatives, former friends, pastors, and roommates, as well as public records. During the process, they contacted Stratford three times, asking for documentation of her story, and were turned down, they said.
The writers conclude they could find no evidence, for example, to corroborate Stratford's claim of three pregnancies. They also point to numerous contradictions involving people and dates, including the date of Stratford's father's death, a turning point in her life.
The Passantinos say they do not believe the alleged fraud was committed for financial gain. Nor are they denying that ritual abuse takes place, or that people may have been helped by Stratford's testimony. But because her story is not true, her qualifications as an expert and counselor are "nonexistent," Bob said. "As Christians, we believe that you don't do evil that good may come. The end doesn't justify the means."
Some of their harshest criticism falls on Harvest House, the book's publisher, for not checking out Stratford's story more thoroughly. "In all our contacts, people said we were the first to talk to them," Gretchen said. "Nobody had contacted the significant people in [Stratford's] life [who knew her] during the years in which all of these things supposedly happened."
Harvest House editor-in-chief Eileen Mason told CT that while the editors did not contact family members and others from Stratford's early life, they felt the credibility of her story had been established through other means.
Stratford came to Harvest House through Michaelson, whom they trusted as an expert in the field of the occult, Mason said. She also pointed to the consistency of Stratford's testimony over several months of talking with different editors at Harvest House. Her story "matched up with what other experts told us was true" of such cases of abuse. Those experts "felt her knowledge could not be gained by just reading," Mason said.
In a statement released on January 26, Harvest House Publishers said they "believed that the risks involved in publishing a story like Satan's Underground were more than offset by the importance of the information" Stratford presented. "Unfortunately, neither the approach used by the [Cornerstone] journalists [n]or Harvest House conclusively established the complete truth regarding the life of Lauren Stratford," the statement continued, noting that "objective evidence is frequently unavailable" in cases of child and ritual abuse.
Reconstructing Memories
In an interview on Detroit radio station WWCM, conducted after the release of the Cornerstone article, Stratford admitted she had lied about incidents in her life and that she continues to reconstruct memories. But her confusion, she said, is typical of victims of abuse. "That does not discredit the book," she said.
Stratford's supporters, such as pediatrician Lyn Laboriel, have been critical of the Passantinos' methods and motives, as well as their conclusions. Problems with memory gaps, sequence of events, and, indeed, story telling are characteristic of victims of abuse, she said. "If I did not see that kind of pattern, I would have a more difficult time believing the story is true," Laboriel said.
Laboriel also fears that the public scrutiny of Stratford's story will drive other victims of abuse into hiding. "If we set the standard of proof so high, we are cutting off for ourselves information and understanding [about abuse] that can come no other way than through its victims."
By Ken Sidey.
CAPITAL CURRENTS
Capital Currents is a periodic feature highlighting news from CT's Washington office.
Prolife labor pains
The prolife movement is deeply concerned that the nation's largest labor organization may soon adopt an official position in favor of legalized abortion. The Washington-based AFL-CIO, a coalition of 90 labor unions with a total membership of more than 14 million, will reportedly consider an abortion resolution sometime before May.
Sources at the National Right to Life Committee (NRLC) say the resolution may recognize the right of individual members to dissent. Still, the NRLC fears the net effect "will be to unleash the AFL-CIO's massive organizational resources in support of the proabortion cause."
The AFL-CIO has strong political clout, and an official position would allow the group to lobby Congress on prochoice legislation and work for the defeat of prolife candidates. In an attempt to forestall such a formidable political enemy, prolife groups have been trying to marshal grassroots union members to oppose the move.
Emigration red tape
Reacting to a storm of protests from Christian and Jewish groups, the Immigration and Naturalization Service (INS) has agreed to alter its proposed guidelines to a new law passed by Congress to help Soviet Jews and evangelical Christians immigrate to the U.S.
The law defines Soviet Jews, evangelicals, Ukranian Catholics, and Orthodox Christians as having "well-established histories of persecution" that would qualify them for political refugee status. However, religious groups charged that the INS guidelines, released last month while Congress was in recess, would, in effect, have nullified the legislation. According to the groups, massive bureaucratic regulations would make it difficult for religious minorities to obtain refugee status.
About one week after the guidelines were released, INS commissioner Gene McNary announced additional provisions, which he said should satisfy the concerns. McNary also said that "certainly Soviet Jews in almost every case and evangelical Christians" will be granted refugee status.
Dealing with families
Profamily activists say Sen. Edward Kennedy (D-Mass.) is planning to push through the Senate in the next few weeks two bills that could have far-reaching implications for family planning, teen pregnancy, and abortion.
The first measure would extend the federal government's family-planning program to include funds for unspecified "contraceptive research" and "community-based" family-planning programs. Profamily and prolife groups fear this would mean government money for American research on RU 486, the so-called abortion pill, and for school-based health clinics that would distribute contraceptives to teenagers. Kennedy's second measure would overhaul the government's teen-pregnancy-prevention program, which currently features the promotion of abstinence, to include emphasis on contraception.
Word on Capitol Hill is that Kennedy, a consummate political deal maker, already has verbal promises from 60 senators who have agreed to cut off debate in opposition to his legislation.
Points of light
President Bush has assigned a role for churches in the shaping of his vision for "a thousand points of light" in national volunteerism and community service. Last month, Bush received the first recommendations from his Advisory Committee on the Points of Light Initiative. The group, headed by former New Jersey governor Thomas Kean, suggested the establishment of a foundation that would begin with private money and eventually receive public funds.
The foundation would be composed of about 20 board members and would seek to support community-service programs addressing such problems as illiteracy, school dropouts, drug abuse, teen pregnancy, homelessness, hunger, suicide, and AIDS. According to the program plan, churches can help by making service to others and volunteerism a key part of their religious mission.
Aiding the war on drugs
National drug czar William Bennett has received some ammunition for the war on drugs from Christian college students. The students, participants in the Christian College Coalition's American Studies Program, evaluated antidrug efforts in Washington, D.C., one of Bennett's priority areas. Their report, "One Community's War on Drugs: An Assessment of Ward Six, Washington, D.C.," looked at the work of government and law-enforcement officials, business and civic groups, schools, health-care services, mass media, and religious institutions. It also analyzed values and attitudes contributing to drug abuse. Student representatives personally presented the report to Reggie Walton, the associate director of the President's Office of National Drug Control Policy.
Art objections
The National Association of Evangelicals (NAE) is calling for the resignation of National Endowment for the Arts director John Frohnmayer because of his approval of a federal grant to an AIDS exhibit in New York City, which contained what the NAE considers offensive material. The NAE particularly objected to one piece of the exhibit, which the NAE said "looked like a bust of Christ in drag, with breasts."
"An art exhibition can be as debased as its sponsors wish, but funded with private money, not with the tax dollars of millions of God-fearing Americans who are outraged by anti-religious art," the NAE said. The group requested Frohnmayer's resignation in a letter to President Bush.
Have something to add about this? See something we missed? Share your feedback here.
Our digital archives are a work in progress. Let us know if corrections need to be made.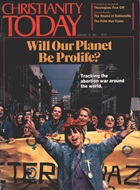 This article is from the February 19 1990 issue.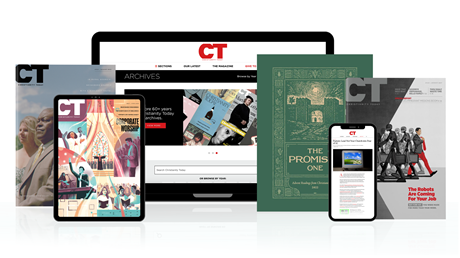 Subscribe to Christianity Today and get access to this article plus 65+ years of archives.
Home delivery of CT magazine
Complete access to articles on ChristianityToday.com
Over 120 years of magazine archives plus full access to all of CT's online archives
Subscribe Now
Publisher Withdraws Satanism Story
Publisher Withdraws Satanism Story