Willow Creek is not a Fortune 500 company, although its sleek, glasswalled building, winding lake, and carefully manicured landscape might suggest it. Nor is it a civic center, although its 5,000-seat auditorium and state-of-the-art audio-visual trappings would provide the perfect setting for a symphony performance or Broadway show. Instead, Willow Creek is a church. In fact, with 15,000 people attending its services each week, the South Barrington, Illinois, congregation has become the second-largest Protestant church in America.
Many attribute Willow Creek's success to the fact that it does not look or feel like a traditional church. They call this approach seeker sensitive.
Bill Hybels, 42, Willow Creek's senior pastor, also goes against pastoral stereotype. His high-energy style and entrepreneurial spirit give him the air of a corporate CEO. His youthful demeanor and fresh tan make him look more like a veteran California surfer than a spiritual leader. But upon meeting him, it does not take long to realize that his heart is set on catching far more than waves.
What Hybels has been catching recently is the ire of several Christian leaders who question the legitimacy of the seeker-sensitive/megachurch movement—of which Willow Creek Community Church is the undisputed prototype. Books such as John MacArthur's Ashamed of the Gospel, Douglas Webster's Selling Jesus, Os Guinness's Dining with the Devil, and John Seel's Evangelical Forfeit all portray the seeker-sensitive movement (and sometimes Willow Creek in particular) as a negative force within the church that needs to be combated.
CHRISTIANITY TODAY contacted these authors to gather their assessments. The overarching concern, common to almost all the critics, is that seeker-sensitive churches compromise the gospel by tailoring their messages to non-Christians; that the use of polished entertainment, feel-good sermons, and marketing techniques subtly alters the gospel that is being communicated.
The author of two critical works on the state of the evangelical church—"No Place For Truth" and "God in the Wasteland"—theologian David Wells told CT, "I honestly believe [Hybels] doesn't think he's compromising the gospel by using cultural devices, but he seems blinded to the fact that culture is not neutral."
John MacArthur agrees. He writes, "The simple reality is that one cannot follow a market-driven strategy and remain faithful to Scripture. Preachers who concern themselves with user-friendliness cannot fearlessly proclaim the whole counsel of God."
Os Guinness fears potential chaos when the church embraces the tools of "modernity." He writes, " Totally planned, professionally orchestrated, single-purposed environments' may be as 'effective' for evangelism in megachurches as they are for selling in megamalls. But when everything is controlled ... who controls the church and who controls the controllers?"
The homogeneous-unit principle popularized by the church-growth movement is another aspect of the seeker model that is raising eyebrows. "Theoretically there are many groups to choose from," writes Douglas Webster, "including the poor, the aged, students, Afro-Americans and Hispanics, but practically, church marketers exclusively target white, middle-class, college-educated baby boomers" Willow Creek sits amidst upscale homes in one of Chicago's most affluent suburbs.
Earlier this year, Bill Hybels invited CT to visit Willow Creek for an interview so he could deal head-on with the hard questions the critics were raising. So, on a chilly spring afternoon, managing editor Michael Maudlin, project editor Edward Gilbreath, and Kevin Miller, editor of LEADERSHIP journal, spoke with Hybels about the controversial movement that he helped birth. Our team found Hybels to be an able defender of his church and, at moments, tearfully impassioned about the business of reaching unbelievers with the gospel.
WHAT IS THE SEEKER-SENSITIVE MOVEMENT?
It is nothing more than a growing awareness among thousands of church leaders that local churches lost their evangelistic effectiveness many decades ago and that something should be done about it.
YOU HAVE SAID THAT WILLOW CREEK IS A PURER FORM OF THE NEW TESTAMENT CHURCH THAN THE TRADITIONAL MODEL IT IS BEING COMPARED TO. WHERE DO YOU BELIEVE TRADITIONAL CHURCHES FALL SHORT?
I find most traditional churches are not organized according to spiritual gifts. They don't have a discipleship and small-group emphasis. I find that most traditional churches do not understand or practice biblical worship. I see most traditional churches as teaching centers that seek to influence people primarily for an hour a week, as opposed to a biblically functioning community that has a full-orbed approach to bringing people to Christ, assimilating them into the body of Christ, discipling them, helping them find their spiritual gifts, and sensitizing them to the needs of the world.
THAT SOUNDS RATHER HOSTILE TO THOSE CHURCHES WHO DO NOT CONSIDER THEMSELVES PART OF THE SEEKER-SENSITIVE MOVEMENT.
I don't mean it to sound hostile. I think the reality is more like a continuum than polar opposites. Some traditional churches are seeker-hostile and very narrow in the scope of their ministry. There are also many traditional churches that are effective in evangelism and have well-rounded ministries, without necessarily being contemporary and seeker driven.
WHAT ARE THE BIBLICAL MARKS OF A HEALTHY CHURCH?
One way we describe it is that the church exists for the four-fold purpose of exaltation, evangelism, edification, and social action. Then there's the Acts 2 model, where the first-century church devoted itself to teaching, fellowship, prayer, and Communion. Sometimes we just go down these grids looking for those marks of a biblical church, then we keep lining Willow Creek up against them to see how we're doing.
WHY DO YOU THINK THE AUTHORS OF THESE CRITICAL BOOKS—ALL INTELLIGENT, RESPECTED MEN—SEE THE SEEKER CHURCH AS FALLING SHORT OF THESE MARKS?
First of all, I think there are many people who have observed our methods and have taken them to an unhealthy extreme. That's why, when I'm asked how I feel about the criticisms against the seeker-sensitive movement, I say I appreciate them because they're good for the church. One of my early mentors said to me, "Bill, just remember this: Sometimes your critics are your best critics." I thought that was profound.
The second reason I think some of those books come about is my hunch that they are written by men and women who have not spent a lot of time doing evangelism themselves. I wonder if these people have really had a close relationship with a hell-bound man or woman, because they make winning lost souls sound so clear-cut. To get a hearing for the gospel today, there needs to be a personal investment of a Christian into the life of someone outside the body of Christ. These people are looking for a halfway house where they can go and remain anonymous and not have to commit the minute they walk in the door. The seeker movement has grown out of the experiences of those who are in the trenches of personal evangelism every day.
The third thing is that most of these people who have written critiques really don't know us that well.
ONE RECURRING CONCERN IN THESE BOOKS IS THE CHURCH'S USE OF MARKETING TECHNIQUES.
That's a mischaracterization, especially at Willow Creek. We have a $15 million annual budget; less than a fraction of 1 percent is spent on any form of marketing. We don't do advertising blitzes. We don't use radio or television spots. We don't put signs on billboards. We don't pass pamphlets through the neighborhood. We just don't do marketing. My feeling is that if you have to resort to marketing, you're probably overlooking fundamentals that deserve more attention.
SOME POINT TO THE DOOR-TO-DOOR MARKETING SURVEYS YOU DID WHEN YOU WERE STARTING WILLOW CREEK.
That's something that has been misunderstood. We had moved 20 miles when we were planting the church, and I wanted to get a feel for the people in the community. The presenting question was, "Do you actively attend a local church?" If they said yes, that was it. If they said no, I asked them if they would help me understand why they stopped going to church.
SOME HAVE SAID THAT YOU FOUND OUT WHAT NONCHURCHED PEOPLE LIKED SO THAT YOU COULD SPOONFEED IT BACK TO THEM.
I just smile when I hear that because it is so far from the truth that it doesn't even sting. I had no intention of following whatever I heard, because you don't ask people outside the family of God how to put a church together. What I was more interested in was the sensitivities, the bruises, and the disillusionment that these people had experienced from churches they had attended in the past.
When I discovered that the number-one reason people gave for leaving churches in the past was that the churches were always asking for money, I didn't say to myself I will never collect an offering. I just noted that there's a sensitivity in this community to churches that get too aggressive with their fundraising.
And then they said that the services were just boring. That sent a signal to me: whatever we do biblically in our services, let's at least add some variety so that people won't die of boredom.
ANOTHER FREQUENT CHARGE IS THAT BY EMPHASIZING ENTERTAINMENT, BY USING DRAMA, AND BY USING PROFESSIONAL STANDARDS FOR YOUR MUSIC YOU ARE WATERING DOWN THE GOSPEL AND MAKING NO REAL DEMANDS ON YOUR LISTENERS.
The word entertainment, of course, is emotive by its nature. And yes, we do use drama, contemporary Christian music, and multi-media presentations. But they are never used for the sake of titillation. I think it's good to ask: Who was the master composer? Who created the arts? Whose idea was it to communicate the truth through a wide variety of artistic genres? I think it was God.
Then why has the church narrowed its options and selected a talking head as its only form of communicating the most important message on the planet? Even though preaching is the primary way the truth of God has been and should be communicated, we add texture and feeling and perspective to it through the use of music and media and drama. And anyone who has witnessed our presentations would never use the words "mere entertainment."
DOESN'T THE FORM OF ENTERTAINMENT END UP SHAPING OR EVEN TRUNCATING THE MESSAGE DESPITE GOOD INTENTIONS?
I disagree. Those criticisms tend to be leveled by those who do not understand or who have never experienced Spirit-anointed drama, multi-media, and contemporary Christian music. They should sit in our auditorium, next to several thousand churched and nonchurched people, and experience our music and drama package. I guarantee they would retract every single word they've ever written about it.
*************************
Nigel M. De S. Cameron is chair of the Department of Systematic Theology at Trinity Evangelical Divinity School in Deerfield, Illinois
ctjul94mrw4T80185619
Have something to add about this? See something we missed? Share your feedback here.
Our digital archives are a work in progress. Let us know if corrections need to be made.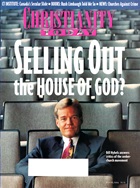 This article is from the July 18 1994 issue.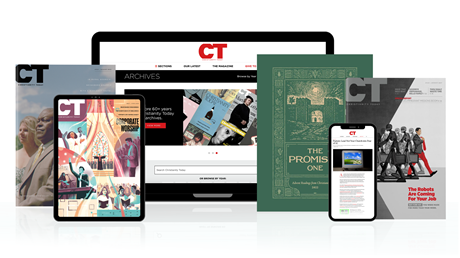 Annual & Monthly subscriptions available.
Print & Digital Issues of CT magazine
Complete access to every article on ChristianityToday.com
Unlimited access to 65+ years of CT's online archives
Member-only special issues
Subscribe
Selling Out the House of God?, Part 1
Selling Out the House of God?, Part 1