EUTYCHUS: Letting the Boat Out of the Bag
Nothing has ever stirred the Skyland Independent Church like the recent challenge of providing a new boat for Abe and Florence Higgins, our missionaries to Zaire. Raising the money wasn't a problem, but dealing with the details almost wrecked the church, beginning with choosing a name.
The young people wanted to call it The African Queen, an idea quickly vetoed by the board. The only boat name we found in the Bible was Castor and Pollux (Acts 28:11), but Ken Johnson, our resident mythology expert, zapped that in a hurry. He reminded us that Castor and Pollux were the two sons of Zeus by his mistress Leda, and the church had no business getting involved in that kind of stuff. Displaying his own erudition, Pastor Glenn told us that Castor and Pollux ended up as the constellation Gemini, which prompted the young people to suggest we call the boat Gemini Cricket, eliciting another board veto.
Somebody said we ought to work out an acronym using the name of the church. Everybody looked at Martha Wilson, who spent most of every sermon doing word-search games hidden in her study Bible. She suggested Skyland INdependent Church, United States; but when Pastor Glenn wrote it on the blackboard, it spelled SINCUS—hardly a good name for a boat.
Hiram Penner, our oldest trustee, wanted to know if the boat would be christened by somebody breaking a bottle of diabolical alcoholic beverage on its prow.
The congregation finally referred the matter to the board to decide. In honor of our two Zaire missionaries, the board called the boat Abe and Flo.
THE SCOURGE OF THE CHURCH
As is my practice monthly, I sat down during specifically allotted time to read CT cover to cover. I failed. I was brought up short (as is also my experience monthly) by John Ortberg's article, "Why Jesus' Disciples Wouldn't Wash Their Hands" [Aug. 15]. This article was a stellar treatment of and response to what has become the scourge of the church and one of the most significant obstacles to evangelization (from the inside) that history has ever seen. How often we drop the ball in the church for failure to focus on the basics, the essentials, or the "center" as Ortberg terms it.
I, for one, tire of spending so much time in ministry dealing with people, conveying the truth, and troubleshooting in general on the basis of the penchant to live by the "boundary markers." We so habitually decide on directions and philosophies in our lives based on conjecture, opinion, style, trends, or some other peripheral and temporary maxim. Though it may seem more odious when that tenet has a secular source, it is not really much less objectionable when we follow the call to those within the kingdom who have their focus on other than the Source.
Thanks to Pastor Ortberg for redirecting us to him who matters the most, for affirming the value of conviction and knowledge of the truth, and giving us the warning to live in the truth and not use it as a weapon.
- David R. King
York, Pa.
********************
I agree with Ortberg's warnings about legalism. However, those of the unsaved world need to see high standards of living among Christians in order to become aware of their failure to live up to God's standards-a major factor leading to conversion. Church leaders ought to set high standards for their flocks. Godly living, coupled with humility, devotion, and love, will open the channels of light the world desperately needs, and bring honor and glory to the holy name of Jesus. If the world sees no difference in the way we Christians live, we should be setting our standards much higher.
- Barry L. Ives
Binghamton, N.Y.
********************
Ortberg laments the fact that in presenting the gospel we have too often replaced "Follow me" with "Are you clear about how to get into heaven when you die?" Prior to this he asserts, "The great gap in the Bible is not between those who hold correct and incorrect ideological positions; it is between sinful creatures and a holy God."
It seems to me that sin and holiness are ideas about which it is essential to be correct in order to follow Christ. Correct ideology is the basis of the gospel. Our holy God has provided eternal life for sinful creatures through the atonement of Christ's death. We must be clear about these ideas in issuing the call to follow Christ.
- Peter Schmurr
Beaverton, Oreg.
THE QUESTION OF GUNS
Thanks to CT and fellow sociologist Caleb Rosado for an excellent examination of the plague of violence raging across our land ["America the Brutal," Aug. 15]. To his perceptive analysis of the various causes, and to his proposed solutions, let me add just one more in the form of a plea to fellow CT readers.
As Christians, let's stop electing and supporting political leaders who still practice Teddy Roosevelt's big stick policy, invading tiny nations like Cuba, Grenada, and Panama (Haiti?) whenever we are displeased with their leaders' actions. Let's stop pressing our leaders to use guns, even in the name of restoring democracy. Otherwise, should we really be surprised when disadvantaged minority youth follow the example of powerful white men in the Oval Office
- Michael L. Yoder
Orange City, Iowa
********************
Rosado describes many good things that are happening and a lot of bad things, but his desire for gun control is not biblically based. In Luke 22:36, Jesus said to his disciples: "Let him who has a purse take it along, likewise also a bag, and let him who has no sword sell his robe and buy one."
Peter had a sword in his possession after traveling and being discipled by Jesus for three years. My point is that if Jesus did not believe in self-protection, he would not have allowed a disciple to carry a weapon, probably. Human nature hasn't changed in 2,000 years, so self-protection is just as important now as it was then.
The news media and the entertainment media have created hysteria and confusion about guns. The media never report the incidents where guns are used to prevent violence and to protect innocent people. The problem is not with guns, it is the moral breakdown of our society. History shows that gun control is one of the first steps toward dictator-type governments.
- Wayne Yargus
Fairfield, Iowa
********************
"America the Brutal" made an excellent connection between the violence this country was founded on, and the violence that is destroying it now. Too many Christians and other conservatives insist on the purity and innocence of America's history, as well as modern economic situations, and place all blame on "liberalism" and other non-Christian philosophies, and the cultural revolutions of the past three-and-a-half decades.
Rosado's explanation of the modern causes of despair, such as rejection by society and the powerlessness that helps cause macho aggression, is also excellent. We need more Christian voices that tell the whole truth and bring understanding to a country and a church that are largely asleep in a sea of self-righteousness, fingerpointing, and indifference to others' needs.
- Eric Bolden
Queens, N.Y.
********************
The article seems to blame the misuse of guns on gangs, drugs, and criminals in general. In fact, most crime and murders occur among people who know each other. The greatest danger is the gun in the home. More people die by the gun than die by all drunk drivers, and certainly guns don't make us safe. America is the world's most violent nation.
Your solutions are too little and too late. First, we must totally ban the private ownership of all guns. The countries cited in your article have a low gun death rate and much lower crime rate because they severely control access to guns. America must abandon its obsession with and love of guns.
- Robert Dyck
Sylmar, Calif.
********************
The author's intent to demonize the right to bear arms, which is guaranteed under the Second Amendment, rather misses the point regarding who, exactly, is the decision-maker, the gun or the gun's user. Guns do not kill people. In fact, guns don't even encourage violence. The only thing guns do by themselves is rust.
- W. T. Hinds
Alexandria, Va.
DEATH CULTURE LOGIC
Bravo to Peter Bernardi for "Dr. Death's Dreadful Sermon" [Aug. 15], regarding the logic of the death culture. It is the logic of America's flirtation with atheism. The Bible teaches that "to be carnally minded is death" (Rom. 8:6) and "whoso findeth me, findeth life" (Prov. 8:35-36). The argument of free choice is Satan's guile. For man without God chooses sin and the way of death. It is by God's grace alone that we are capable of choosing life and goodness.
- Matthew R. Chapperon
Chicago, Ill.
"CHRISTIAN GHETTO" NOT ACCURATE
While I appreciate the helpful information, insightful analysis, and the reference to integrity in the article regarding Christian talk radio, "Mixing Politics and Piety" [Aug. 15], I want to express my disappointment at the "Christian ghetto" quote attributed to me. This term is not one used by me or by my fellow employees at the Moody Bible Institute and did not represent the gist of the 20 minutes I spent talking with the interviewer. Our primary goal is to encourage godly living in believers whom we highly value and enjoy serving.
- Jim Warren, Host/Executive Producer
Prime Time America,
Chicago, Ill.
********************
If Christian radio is the third most-common format on the dial, why do we garner less than 2 percent of the overall audience? Perhaps the real story is why we aren't doing a better job. We need to ask the hard questions: what criteria do we use to determine our effectiveness? How can we improve?
- Don S. Otis
Sandpoint, Idaho
********************
Your Special Report was helpful in many ways. Now, we await the rest of the story. My guess is that the present emphasis of much of Christian radio will result in the further isolation of Christians from the rest of society. The extreme result, of course, would be the religious wars seen in other countries and societies. My hope is that our Christian leaders, including many on Christian radio, will not lead us away from the "grace" of God.
- Don Lanier
Rockford, Ill.
********************
Contrary to the news report in the August 15 issue, the National Religious Broadcasters association stipulates: "Non-profit organizations (501.c.3) with annual broadcast-related incomes and/or expenses of $500,000 or more must be members of ECFA to remain/become members of NRB. Non-profit organizations (501.c.3) with annual broadcast-related incomes and/or expenses less than $500,000 fall under the jurisdiction of the NRB Ethics Committee."
- Sarah E. Smith
National Religious Broadcasters
Manassas, Va.
NO HYPOTHETICAL SCENARIO
William Bennett in a Speaking Out column ["Stop Bashing the Christian Right," Aug. 15] decried broad-brushed generalizations about evangelicals or the Christian Right. Name calling "is not political discourse," he writes. "It is argument by invective. It is worth reflecting on how liberals and the mainstream media would respond if similar things were said by conservatives about, say, homosexuals. Or feminists. Or blacks. Or Jews."
Unfortunately, such a scenario is not hypothetical. Radio talk-show host Rush Limbaugh, who contends that his viewpoint is suffused by his adherence to Christian traditional values, regularly stoops to the personal invective against gays, lesbians, and feminists. He also adheres to the worst stereotypes about African-Americans and Jews.
But we needn't go outside the Christian tent for examples. Jerry Falwell and Milwaukee radio host Vic Eliason have tried to ostracize Tony Campolo for having the audacity to suggest that homosexuals should not be mistreated or injured. Pat Robertson has consistently maintained that no one can be both Christian and pro-choice. Why, some evangelical denominations equate ordaining women with moral decline!
Many Americans expect African-Americans to distance themselves from the invective of Nation of Islam leader Louis Farrakhan. Until we evangelicals do the same with our fringe element, the broad-brushed generalizations will continue.
- Ivonne Rovira
Louisville, Ky.
THE AUCAS' MOTIVE
Thanks for the missions news item on the apparent discovery of the airplane used in the 1956 attempt to reach the Aucas ["Martyrs' Lost Plane Recovered in Ecuador," Aug. 15].
The use of the word murder in this otherwise helpful article resurrected an old question in my mind: Has anyone done any research to determine if the Aucas believed they were acting in self-defense? I recall hearing a report that the Auca decision to attack the missionaries was based, at least in part, on fears that the five white men were armed invaders.
In the interest of historical accuracy and mission strategy, information on this question should perhaps be gathered while the sources of information are still living.
- Merle Brubaker
Dillsburg, Pa.
********************
The article overlooked one of the most important books that have told this story. Olive Fleming Liefeld's Unfolding Destinies is an important autobiographical narrative by the widow of Pete Fleming. Her honest reflection recovers the humanity of those through whom God works and frees the story from its prison of hagiography. Further, the dramatic ending solves the mystery of why the missionaries were killed by giving the Aucas' point of view.
- Daniel Barth Peters
Claremont, Calif.
WOMEN'S ORDINATION IN THE CRC
In regard to the News report "Vote Overturns Women's Ordination" [Aug. 15], the "women's ordination" issue reveals differing approaches to the Bible. Those favoring women's ordination either base their view on what the Bible does not say or on what the Bible is made to say. Those not in favor base their view on what the Bible does say. The basic issue, therefore, is hermeneutical.
It was said when the 1993 decision to permit women's ordination was made that it was arrived at in a context of Spirit-motivated love and understanding. But CT reported the 1994 decision was arrived at following "two days of contentious and often emotional debate." Was there no evidence of the Spirit's presence when the silent majority in the church became vocal?
- Gerard Van Groningen, Sr.
St. Louis, Mo.
SOUTH AFRICA STILL NEEDS PRAYER
As a young South African, I want to say amen to Michael Cassidy's editorial "Behind South Africa's Miracle" [Aug. 15]. Indeed, if it were not for all the prayers for my country these last few years, who knows where we would have ended up. Yes, prayer did play a huge part in what has happened and especially during the elections of April 1994. It was a historic moment for all South Africans, and with the help of our Lord Jesus Christ everything went smoothly. Praise our God Almighty!
But that is not the end. Has the world already forgotten South Africa, so soon after achieving the goal of a democratic government? That is only the beginning. All South Africans need to learn to live together in an entirely new way. We are facing tremendous hurdles and difficulties; yet some who daily covered the events leading up to the elections seem to have lost interest.
Although things seem to be all right, they are not. Now is the time that my country needs the prayers of all Christians and churches around the world. If we want to see the miracle last, we need to continue to take South Africa to Jesus Christ in prayer.
- Loela Barry
Maryland Heights, Mo.
CORRECTION
Reformed Believers Press Service reported that the Christian Reformed Church denomination has 15 member churches with women elders, not women ministers, as was indicated by a news report [Sept. 12, p. 70]. CT regrets the error.
********************
Brief letters are welcome; all are subject to condensation. Write to Eutychus, Christianity Today, 465 Gundersen Drive, Carol Stream, Illinois 60188; fax: (708) 260-0114. E-mail: ctedit@aol.com.
Have something to add about this? See something we missed? Share your feedback here.
Our digital archives are a work in progress. Let us know if corrections need to be made.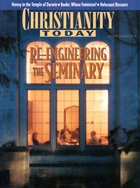 This article is from the October 24 1994 issue.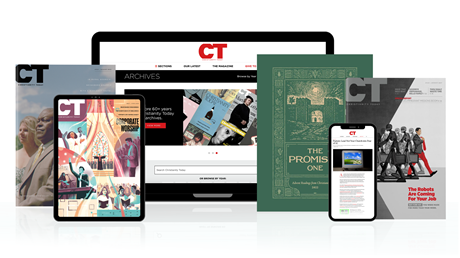 Annual & Monthly subscriptions available.
Print & Digital Issues of CT magazine
Complete access to every article on ChristianityToday.com
Unlimited access to 65+ years of CT's online archives
Member-only special issues
Subscribe
LETTERS TO THE EDITOR: Letting the Boat Out of the Bag
LETTERS TO THE EDITOR: Letting the Boat Out of the Bag