On an unseasonably warm February day in Bulgaria, a speeding vehicle dodges gaping potholes and belching trucks as it heads into the heavily wooded mountains outside Sofia, the East European nation's capital city.
The driver, Pavel Ignatov, pastor of a large, evangelical congregation in Sofia, heads off on a wild ride through the countryside to attend Sunday morning services at a church that he founded for Gypsies in the village of Samokov.
"I love these people," says Ignatov of the Gypsies. It is a remarkable comment, given that Gypsies are a widely despised minority, making up about 10 percent of the country's population. Tsigani, a Slavic name for Gypsies, means "untouchable."
Bulgaria is one of the poorest areas of Europe, and the Gypsies are frequently the poorest Bulgarians, living mostly in isolated ghettos on the fringes of the largest cities. Gypsies, who trace their heritage to India, have experienced centuries of discrimination, including the Gypsy Holocaust during the Second World War, in which about 500,000 died.
A DESPISED MINORITY
Ignatov himself is keenly aware of how it feels to be part of a hated minority, and that awareness deeply motivates his ministry to Gypsies. Members of his denomination, the Church of God, which has Methodist roots and is not affiliated with the Church of God in the United States, were sharply persecuted during the communist years, which ended in 1989. During part of that time, Ignatov was punished for his evangelistic activities with internal exile to a small, rural village.
Ignatov's work among the Gypsies first began at that troubled time. "A well-known Gypsy musician repented in our church," explains Ignatov. "After that, our church's image was improved in the eyes of the Gypsies." Starting with the family of the converted musician, Ignatov began ministry among them.
Today, many of those converts now belong to one of several churches Ignatov and his congregation built in communities heavily populated by minorities. "We build churches for the poor, but we don't divide them into Bulgarians and Gypsies," notes Ignatov. "In my own congregation, you can see a professor sitting next to a poor Gypsy."
It was the rapid growth of his own congregation that led Ignatov to begin planting offspring churches in surrounding communities. With up to 3,000 parishioners attending services in Sofia's National Palace of Culture, it was becoming impossible to gather in one place. So the Church of God in Sofia divided itself into 25 districts and launched efforts to plant small churches in neighborhoods.
NOTHING PRODUCTIVE?
As the Samokov church finally emerges from the surrounding countryside on this Sunday morning in February, Ignatov pulls his vehicle up in front and quickly steps inside, ready to preach.
For years, the church had but a handful of members. In 1991, only four women attended services on a regular basis. Then Pastor Ignatov decentralized his Sofia congregation and assigned a Gypsy pastor to work among the minority community in Samokov. Attendance began to explode.
Inside the church's modest building, some 400 worshipers, with hands uplifted, sing zestfully in Bulgarian. Later, Ignatov's preaching matches the fervor of the worship. Stabbing the air with his finger, he passionately challenges his listeners to respond to their own suffering as Christ did in taking up the cross.
As Pavlov invites individuals to come for prayer, scores of dark-haired worshipers surge forward around him. Some wail loudly as they hold up sick infants, and many others weep. While moving among them, he places his hand on a head here, a shoulder there, calling aloud to God for blessing and healing.
This outreach to the Gypsies is remarkable not only because they are so widely shunned by almost everyone in Bulgaria, but also because many Bulgarian churches fail to reach out to them.
Sam Kamaleson, a World Vision vice president who works in Central Europe, says, "The Bulgarian church at large still seems to think nothing productive will be achieved by working with the Gypsies." Church leaders ministering among the Gypsies say they have been discouraged by the group's emotionalism and a resistance to long-lasting change.
Joseph Tson, president of the Romanian Missionary Society and a pastor in Romania, says, "The main challenge in evangelizing the Gypsies is not so much resistance to the gospel, but emotionalism.
"Gypsies respond very quickly, but it's hard to know if they've responded because they've been really affected by the gospel or if they've just been touched by emotion."
BUILDING TRUST
Yet, Pastor Ignatov has seen the life-changing power of the gospel among the Gypsies. "We have seen a deep change in the believers," says Ignatov. As Gypsies begin to attend church, new converts begin to refocus on personal disciplines. They dress better, start working, and send their children to school.
At the end of Sunday services, Ignatov departs the vibrant congregation in Samokov, but he pauses briefly to look back over years of ministry. He believes that outreach to Gypsies has succeeded by establishing trust, showing respect for Gypsy tradition, and responding to their unique needs. Years ago, he earned their trust when he refused to expel them from his church after the Communist police had ordered him to do so.
Though outreach to Gypsies is still in its infancy, there may be a core of as many as 10,000 new converts since 1990. The growth of evangelicalism among Gypsies has been so significant that World Vision, the international relief-and-development organization, in 1994 held a three-day conference in Bucharest, Romania, in which leadership development programs were initiated.
Ignatov says, "We don't treat the Gypsies as second-class citizens. We visit their homes, have meals with them, respect them, ask their advice. If they came into the rigid atmosphere of many very conservative churches, they wouldn't stay.
"I allow them to sing, dance, come in and go out. They have a childlike faith. So I preach to them as children." At the same time, the Church of God is offering practical help to many Gypsies by teaching them to read and write and helping them find jobs.
CONSEQUENCES OF INACTION
The nascent evangelical movement among the Gypsies is not without religious rivals. Bulgaria, with Turkey on its southeastern border, is home to more than one million Muslims.
If Christians do not reach out to the Gypsies, warns Ignatov, the Muslims will. "Islam is growing among poor people here."
Ignatov believes men are the key to continued church growth in the current environment. "The Christian churches are full of women," he says. "When a poor man can't support his family, he walks into a mosque and feels manly. To work with the poor, we have to start involving the men."
Although Ignatov sees the growth of Muslims as a long-term threat, he asserts, "The Cross is stronger than the crescent." Having witnessed the collapse of communism and having seen a powerful gospel change many lives, he is a man with good reason for hopefulness.
ctcurrmrw5TA012595y
Have something to add about this? See something we missed? Share your feedback here.
Our digital archives are a work in progress. Let us know if corrections need to be made.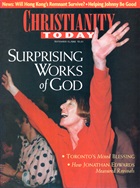 This article is from the September 11 1995 issue.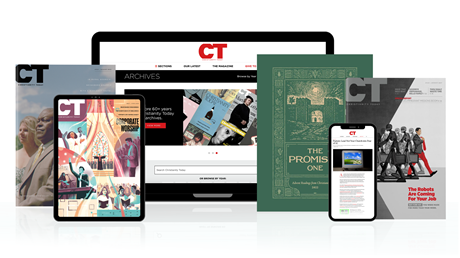 Subscribe to Christianity Today and get access to this article plus 65+ years of archives.
Home delivery of CT magazine
Complete access to articles on ChristianityToday.com
Over 120 years of magazine archives plus full access to all of CT's online archives
Subscribe Now
Ambassadors to the Gypsies
Ambassadors to the Gypsies