In August, less than a month after the second cease-fire took hold in Northern Ireland, thousands of Presbyterian pastors and lay leaders gathered in Belfast to make a historic public recommitment to peacemaking between Protestants and Roman Catholics.
Michael Cassidy, a South African evangelical influential in producing open elections and the end to apartheid in South Africa, challenged them to a new level of personal responsibility for bringing about reconciliation and tolerance. At his invitation, nearly two-thirds of the 3,000 in the audience stood up to signal their pledge to peacemaking. Earlier this year, the Anglican Church of Ireland took similar steps when its general synod voted to condemn the presence of sectarian views within their denomination and to conduct an inquiry to determine how severe the problem is.
"Many of my friends are now becoming leaders in the movement of reconciliation. Some are working on the commission on marches, some in mediation," says Cecil Kerr, an Anglican priest who founded the Christian Renewal Center, one of several reconciliation groups that minister to the survivors of the sectarian violence, which has been responsible for 3,225 deaths since 1969.
RESTARTING PEACE TALKS: As religious leaders concentrate on personal efforts at reconciliation, official talks began September 15. For the first time since 1921, the British government is allowing Sinn Fein, the political counterpart to the Irish Republican Army (IRA), into multiparty political discussions on the future of the six counties that make up Protestant-dominated Northern Ireland, which was created by partition from the Republic of Ireland 76 years ago.
Ray Burke, Irish foreign minister, called on Northern Ireland's pro-British leaders to take a "leap of faith" in participating in the official negotiations on a political solution as well as the surrender of guns, bombs, and other weapons.
But already two of three leading pro-British political groups are hesitant, including the Democratic Ulster Party, headed by conservative politician Ian Paisley, the renowned fundamentalist Presbyterian minister and prolific author. However, the largest of the pro-British parties, the Ulster Unionists, as of early September was willing to participate in "proximity talks" in which differing parties are in separate rooms, while intermediaries shuttle between them.
ONGOING BLOOD FEUDS: The climate for the talks has slowly improved despite ongoing brutalities and killings. In July, the Protestant Orange Order, under extreme public pressure, agreed to reroute marches away from Catholic areas. These marches, commemorating the 1690 Battle of the Boyne military victory of Protestant William of Orange over Catholic James II, each year revive long-standing sectarian animosities. In 1996, two people were killed and hundreds of vehicles and buildings destroyed in the wake of the Protestant marches (CT, Dec. 9, 1996, p. 69).
For some Northern Irish people, the terms Catholic or Protestant are essentially tribal labels. But by no means are church leaders indifferent to the struggle over Northern Ireland's fate. "The churches on both sides of the divide want to have political power and want the state to reflect the ethos of their religious and theological convictions," says David Porter, executive director of the Evangelical Contribution on Northern Ireland (ECONI), a leading peace organization based in Belfast.
Although both the IRA and pro-British paramilitary groups are abiding by a cease-fire, personal blood feuds endure. In July, a Catholic teenager was murdered in her Protestant boyfriend's home, apparently by an anti-Catholic militant. In June, a gunman shot and killed Robert Bates, reformed member of the Shankill Butchers gang responsible for murdering 19 Catholics in the 1970s. Bates, who served 19 years in prison and had become a born-again Christian, was working at a Belfast ministry in prisoner rehabilitation when the fatal shooting occurred. "Bates was trying to help young people in the Shankill to give up violence," notes Sam Burch, active in the Cornerstone reconciliation group. "This was a vengeance killing." Authorities suspect a murder victim's son carried out the killing.
Violent conflict in Northern Ireland takes other forms as well. The number of arsons involving churches and Orange lodges has escalated resentment between Protestants and Catholics. About 50 churches have been torched since mid-1995. Starting in late 1996, Protestant youth each Saturday evening harassed Catholic worshipers on their way to mass in Harryville, Ballymena. After 41 tense weeks, the local priest suspended the Saturday service until this fall.
Meanwhile, Sinn Fein and the IRA, after abandoning an initial cease-fire in 1996, have purposefully followed a bullets-and-ballots strategy in which Sinn Fein has gained political ground by winning political office for its candidates even as IRA operations persist, including the murders of two Ulster police officers in July. Voters earlier this year elected Sinn Fein leaders Gerry Adams and Martin McGuinness to the British Parliament.
A TAINTED WITNESS? Among Northern Ireland's Protestants, the evangelical community is predominant. Patrick Johnstone, a missions demographer and author, notes in Operation World that the greater Belfast area may have a "higher concentration of evangelical churches than possibly anywhere in the world."
Indeed, public announcements of revival services and evangelistic crusades are commonplace in newspapers and on billboards, and they often draw large, enthusiastic crowds. "You can't walk down the street without a preacher pushing a tract into your hand," says David Bruce, a Belfast leader for Scripture Union, a leading publisher of Sunday school curriculum in the United Kingdom.
But long-standing sectarian hostilities blunt the impact of evangelistic outreach. Bruce recalls a recent tent revival that focused on an impoverished Catholic neighborhood. After threats of arson, organizers hastily erected a chain-link fence around a 3,000-seat tent and hired security officers. During the revival, 800 Protestants nightly were bused in from their own neighborhoods to attend the revival, but few Catholics visited. "It was a fiasco," Bruce says. "I'm ashamed to have been a part of it."
The origin of conflict between Roman Catholics and Protestants dates to the Protestant Reformation era and English attempts to colonize Ireland with plantation settlements. After the conquest of Ireland by the English, the fate of Irish Catholics and religious nonconformists worsened during the period of the Penal Laws (1690-1829), which severely discriminated against religious groups outside the established Church of Ireland.
Catholics were not allowed to vote, own land, or train priests. The enduring legacy of anti-Catholicism has a deep hold on Northern Ireland, leading to widespread segregation of housing, education, and employment. Tom Hannon, a Catholic lay leader in Belfast's Springfield Road area, says unemployment in some Catholic neighborhoods reaches nearly 70 percent. "Young men see no future," he says. "The discipline of work is gone. A lot of people [are] going around with little or no hope. It lends itself to a gang situation."
DYNAMIC MIDDLE EMERGES: Since the outbreak of violence in 1969, small-scale efforts at reconciliation between Catholics and Protestants have taken root. They have borne meager fruit, but that may change provided the official talks make concrete progress.
As individual Christians have labored intensively and persisted in seeking reconciliation, they have carved out a growing and dynamic middle ground where Catholics and Protestants rebuild relationships and honestly discuss their differences. Some of these efforts have concentrated on children and feature programs in which youth are sent to the United States during the summer (see "The Kids Are the Candles," below).
Two well-established efforts are the Corrymeela Community (www.corrymeela.org.uk), founded in 1965 and winner of the international Niwano Peace Prize, in the rural northeast and the Christian Renewal Center, started in 1974, in Rostrevor.
Both communities aim to bring Protestants and Catholics onto more neutral sites and away from their sectarian surroundings in hopes of stimulating discussion and reconciliation.
The beautiful village of Rostrevor, sheltered by the mountains of Mourne and in Ireland's northeastern corner, lies on the shores of Carlingford Lough between the border town of Newry and the fishing village of Kilkeel.
The Christian Renewal Center faces Carlingford Lough and has been a place where many have found peace and encouragement.
But the signs of conflict are not far away. A British naval gunboat can often be seen patrolling offshore. The white, green, and gold Irish tricolor is flying from a mast in the center of the village, which is mainly Nationalist. Opposite the flag is a dilapidated Royal Ulster Constabulary police station, with its windows bricked up and painted red, a Loyalist color.
The center principally works with individuals and families who have been touched by violence. In 1987, a bomb exploded in nearby Enniskillen, killing 11 people, injuring 16 others, and causing extensive property damage. Bert Armstrong, a retired Methodist pastor, lost a brother and a sister-in-law in the bombing. While grieving his loss, Armstrong says he realized his own need to forgive the killings. "I knew that if I did not do that," he says, "I could not stand in the pulpit and preach again."
Armstrong has been able to counsel and speak publicly to many of the families devastated by the deaths. In another instance, a school headmaster who was injured in the bombing has been in a coma for ten years, but his wife has spoken out eloquently about forgiveness.
"There's no recrimination in her even though she daily suffers. There's no bitterness in her heart," says Cecil Kerr, the center's founder and director. "I believe that those people are the future. If there's to be a future for peace, it will be built on those blocks of forgiving love."
ON THE PEACE LINE: Other peace-minded Christians have centered by design on reconciliation at the front line of the conflicts.
The modest, two-story Cornerstone community house lies on the Peace Line between the Protestant Shankill and the Catholic Springfield Road. Although called the Peace Line, it is composed of barbed wire, gates, and 20-foot-high iron fences. As an armed police vehicle passes by with "Crimestoppers" and a telephone number painted in bright red on its gray sides, Cornerstone's Burch points out the railings where the kids from each side throw stones at the other side. But there are no British army soldiers walking around now. It has been quiet since the latest IRA cease-fire.
Nearby, there are row upon row of red brick houses, all Protestant homes. At the end of each row, the windows are boarded up because any window that is close to the Catholic side is shattered by stone-throwing youths.
Cornerstone's members sponsor clergy lunches for Protestants and Catholics, visit families who have lost children or parents in violent clashes, and hold joint prayer services.
Their work has had many setbacks. Burch has found that youth from ages 5 to 11 are generally untainted by sectarian prejudice. "The young kids are still at an age when they're not tribalized," he says. Yet, by the adolescent years, youth become much more antagonistic toward each other. Cornerstone and other groups, such as the nearby Clonard Catholic monastery, usually work with single-identity groups. "We try to mix them, but in very carefully controlled situations, because it can get out of hand," Burch notes. "They can end up attacking each other verbally or physically."
Part one of two parts; click here to read part two
Have something to add about this? See something we missed? Share your feedback here.
Our digital archives are a work in progress. Let us know if corrections need to be made.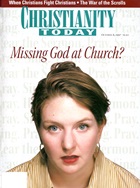 This article is from the October 6 1997 issue.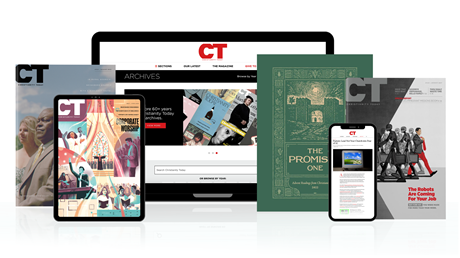 Annual & Monthly subscriptions available.
Print & Digital Issues of CT magazine
Complete access to every article on ChristianityToday.com
Unlimited access to 65+ years of CT's online archives
Member-only special issues
Subscribe
Northern Ireland: For God or Ulster? Part 1
Northern Ireland: For God or Ulster? Part 1