DATA
AGE
42
POSITION
Henry B. Wright Professor of Theology at Yale Divinity School and visiting professor at Evangelical Theological Faculty in Osijek, Croatia. At present he is on sabbatical at the Center of Theological Inquiry at Princeton.
NOTABLE BOOKS
Exclusion and Embrace: A Theological Exploration of Identity, Otherness, and Reconciliation (Abingdon, 1996)
After Our Likeness: The Church As the Image of the Trinity (Eerdmans, 1998)
If Richard Hays sees his vocation primarily in terms of pastors and the church, Miroslav Volf has a wider agenda: he wants to write theology that is rooted in the church but speaks to the world. When I met him in his Fuller Seminary office, he was in the final week of considering professorial positions at Duke, Yale, and Heidelberg, Germany—likely the first time that a professor at an evangelical institution has been sought by Duke, Yale, and Heidelberg. He eventually chose Yale, because he thought it represented the best chance to address a wide audience.
Volf is a slender man who speaks with a slightly formal, Old World politesse. Nevertheless, I had a sense in conversation that I was following him on the trail of something elusive and exciting. Volf, Duke's Greg Jones told me, has "a remarkable gift for illuminating vexing issues in theologically fruitful ways."
Volf's reputation has risen like a summer moon, huge and golden, particularly since publication of Exclusion and Embrace, a book that grew out of his experiences teaching seminary in Croatia during the wars that engulfed the former Yugoslavia. In the fall of 1991, Volf's entire seminary had to escape from its home in Osijek to live in exile, "crammed into one Reformed parsonage in a remote corner of Slovenia," Volf remembers. "[My wife] Judy and I lived with students, six or seven of them crammed in one room. We could see on tv the destruction of our own homes in a war that was raging some 100 miles away. The experience of working in a seminary in exile and of the war that made exile necessary shaped me profoundly."
Those years of warfare raised profound questions about how a Christian should live in a fractured world. "I was very disturbed how a whole set of commitments [from his traditionally pacifist Pentecostal church] were thrown out of the window by some of my Christian friends on both sides when the war came. The commandment to love the enemy, which we practiced more or less in relation to the Communists, did not apply when the enemy was our Serbian or Croatian neighbor. … I would ask my students, 'Who is closer to you, your Croatian neighbor who's not a Christian, or your Serbian brother or sister in Christ?' It was not at all clear how the answer would go. Pretty soon it became obvious that's not a Croatian question. It's the dilemma of the church and the world."
The result is a book that meditates on Christian belief in antagonistic situations —Croatia, Los Angeles, a divided family. Exclusion and Embrace starts with the Bible—with Cain and Abel, with Abraham, preeminently with the cross—but it doesn't say, "This is the distinctive way to live for those who accept Christian faith." Rather it says to anyone who cares to listen, "See whether this vision of life resonates with what is best in us as human beings." Volf offers theology not as the exclusive province of Christians, but as an appeal to the whole world.
His approach is distinctly postmodern—to present a way of life whole. An older, rationalistic approach began with fundamental presuppositions and built upwards. One had, for example, to establish the possibility of miracles before one could discuss the Resurrection, and only after establishing the credibility of Jesus' resurrection might one go on to discuss its relevance to contemporary events. Volf, by contrast, refuses to isolate the plausibility of Jesus' resurrection from a discussion of its significance for our lives.
Volf says, "I don't do systematic theology which then gets to be applied. I saw immediately that I couldn't explicate the theological content of forgiveness without engaging the social practice of it. It's the same with the doctrine of God. I don't talk about it in abstraction from how the presence and activity of God impinges on the way you live your life."
"I think evangelicals would do better if they concentrated less on bolstering the formal authority of the Scripture— which I certainly would want to affirm—and more on displaying how biblical texts can shape lives."

—Miroslav Volf
I asked whether a fruitful theological discussion is difficult with those who aren't committed to the authority of Scripture. "I don't feel that at all," he replied. "I think there are people who affirm the most strict understanding of scriptural authority but find zillions of ways of transgressing theologically and personally against it. The question of authority is important, but the central question is how the Bible functions in theology and life. I think evangelicals would do better if they concentrated less on bolstering the formal authority of the Scripture—which I certainly would want to affirm—and more on displaying how biblical texts can shape lives in salutary ways, how they are fruitful texts, how they are texts one can live according to. I think that would do more to establish the authority of Scripture than the formal assertion of the authority of Scripture."
Volf grew up in a Christian family facing a hostile, atheistic world. He remembers being confronted with this at the beginning of every fall school term. Each student in the former Yugoslavia would stand before his classmates to answer the teacher's basic questions. One was: What work does your father do? Since Volf's father was pastor of the Christ Pentecostal Church, there was no avoiding the mockery that followed. "Out of 3,500 students in my high school, I was the only openly professing Christian kid. Obviously there were challenges. 'Only old and stupid people believe . …' I suppose my first intellectual work, my first work of scholarship, was trying to answer those questions."
Volf says he was a poor student until he became a Christian at the age of 16. Then he became a straight-A student in civil engineering. He also met Peter Kuzmic, who was dating his older sister. Kuzmic, a multitalented figure who is now professor of missions at Gordon-Conwell Theological Seminary, took an interest in Volf and began to give him books to read. The first was a translation of Wisdom of the West, Bertrand Russell's introduction to philosophy. Kuzmic also suggested that Volf teach himself English, then Greek—which Volf promptly did. Volf read Paul Little's Know What You Believe but soon graduated to more sophisticated theology.
"I remember as a teenager complaining to Peter, 'How come all these evangelicals, they don't know how to write?' I thought, The evangelicals are saying the right things, but they don't know how to say it. Why was I so much more interested in how Bultmann was saying things?" Not until Kuzmic introduced him to C. S. Lewis did Volf find orthodox writing he could admire.
"Peter was never doctrinaire. He was unafraid to let me read nonevangelical writers. I had a sense of the boundary of evangelicalism, but I never had the sense that you never cross that boundary. Peter would give me books, discuss them with me, and share his concern if he thought I was going too far."
After finishing high school, Volf enrolled simultaneously at Kuzmic's newly formed Biblical Institute (where Volf would later teach), and at the University of Zagreb, where he studied philosophy. He routinely studied until two o'clock in the morning, then rose at seven to begin studying again.
It's clear that Kuzmic was the formative intellectual influence in Volf's early theological development. Increasingly, however, he credits the home atmosphere created by his parents and his nanny for the grace at the heart of his theology. "It provided a true alternative. Just as my home environment was not adversarial to the adversary, that became crucial for my theological orientation. We were supposed to love our enemies. We were not to harden our position toward the adversaries, but to win them over by the love of Christ."
Fuller Seminary offered Volf an opportunity for further study. He was accepted, ironically, on aca-demic probation. While at Fuller he took a class from visiting professor Orlando Costas, who recommended him to Jurgen Moltmann for doctoral studies. Volf was uncertain how his evangelical convictions would fly at the University of Tubingen, but Moltmann "accepted me for who I was. He knew that I was an evangelical and he was not bothered by it. I encountered openness to who I was."
When I asked Volf what obstacles evangelicals face in academia, he shrugged off the question. "There are ideological entrenchments on both evangelical and nonevangelical fronts," he told me. "The more important resistance is the kind of shifting smorgasbord of culture that we live in, in which everything is interesting and nothing really matters. In which even 'god' is concocted out of a mixture of fleeting desires. In which there is no such thing as the good past on which one draws, and there's no such thing as a bright future for which one hopes, but there's always an ambiguous present in which one lives. Global markets and the media have helped create a short-memory culture in which we live with shifting images. For Christian faith, that presents a major problem. The content of our faith is drawn from ancient texts, and we walk toward the celestial city. But the words that describe these realities have become part of what Claude Levi-Strauss called 'cold memory'; they do not exert a strong claim on our contemporaries because nothing exerts a strong claim on them.
"How does one engage a culture of shifting images? How does the Christian faith become a hot memory that shapes lives? We have empty words all around. How do we fill words so that they speak?"
Volf grew up surrounded by failed modernity—the world of crumbling Marxism. In that shattered world, where the church was a tiny splinter, Volf learned to see Christian faith making sense precisely in the way it engaged the world. For Volf, theology is a way of continuing that witness. He simply cannot imagine theology as irrelevant.
"Doing theology ought to be a way of participating in God's redemptive work. Theology is not only about understanding the world; it is about mending the world. If we say that theology is 'faith seeking understanding,' as I think we must, then we should also add that that understanding itself is a part of the practice of faith. This makes the question of truth so much more urgent, because what is at stake is not simply how to think truthfully but how to live truthfully."
Volf has several immediate projects before him, but his mind is already leaping past them to the work that excites him most: a book on God. I asked him how you write a book about God.
"I'll tell you how I do my lectures," he said. "I start with, 'We have killed God. … What happens when God is dead?' " Volf takes up God from the view of the modern world. He considers our use of various God-substitutes. He studies God's attributes as they interact with worldly attractions. "I want to explicate the doctrine of God in such a way that that claim of God on our lives is part and parcel of the explication of who God is. Because that's what the concept of God is. To affirm that God is God is to want to live in a particular way."
Have something to add about this? See something we missed? Share your feedback here.
Our digital archives are a work in progress. Let us know if corrections need to be made.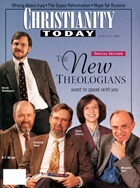 This article is from the February 8 1999 issue.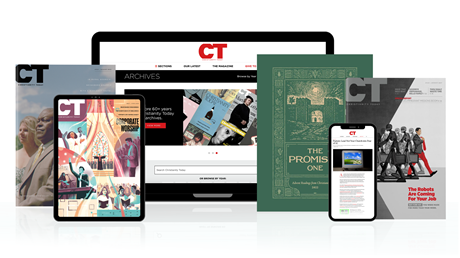 Subscribe to Christianity Today and get access to this article plus 65+ years of archives.
Home delivery of CT magazine
Complete access to articles on ChristianityToday.com
Over 120 years of magazine archives plus full access to all of CT's online archives
Subscribe Now
Miroslav Volf: Speaking truth to the world.
Miroslav Volf: Speaking truth to the world.