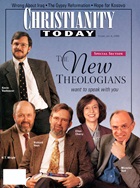 This article is from the February 8 1999 issue. Subscribers can read all of CT's digital archives.
DATA
AGE
40
POSITION
Research Professor of Systematic Theology, Trinity Evangelical Divinity School
NOTABLE BOOKS
Is There Meaning in This Text?: The Bible, the Reader, and the Morality of Literary Knowledge (Zondervan, 1998)
While American evangelical culture can claim only limited credit for Richard Hays or Miroslav Volf, Kevin Vanhoozer is a born-and-bred American evangelical. He grew up in an evangelical church, and he proceeded through Westmont College and Westminster Seminary. Stepping out of the evangelical world for a few years to complete a doctorate at Cambridge University, he returned with his first teaching job at Trinity Evangelical Divinity School in Deerfield, Illinois. From there he made an unusual jump, landing a teaching post at the University of Edinburgh.
Vanhoozer is less well known than the other theologians I talked with, but that may change with the recent publication of Is There Meaning in This Text?, a scholarly engagement with postmodern critiques of biblical truth. Timothy George, dean of Beeson Divinity School, calls Vanhoozer "a premier evangelical theologian" and "one of the most promising scholars of this generation."
When I met Vanhoozer he was about to move back to Trinity from Edinburgh, which was one reason I wanted to talk to him. Most theologians only dream of a tenured position at a premier research university. Why would he leave it for Trinity, which most scholars would consider a far less brilliant light?
Vanhoozer's choice seemed even more unusual to me as I walked under showers of cherry blossoms from his family's Victorian-era apartment to the dark spires of New College, overlooking the grand valley of Princes Street and a long stone's throw from the looming massif of Edinburgh Castle. ...
1
Kevin Vanhoozer: Creating a theological symphony.
Kevin Vanhoozer: Creating a theological symphony.