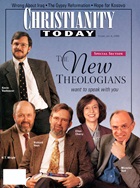 This article is from the February 8 1999 issue. Subscribers can read all of CT's digital archives.
DATA
AGE
52
POSITION
Margaret W. Harmon Associate Professor of Systematic Theology at Princeton Theological Seminary; associate editor, Theology Today
NOTABLE BOOKS
By the Renewing of Your Minds: The Pastoral Function of Christian Doctrine (Oxford, 1997)
When I told various scholars that I would be visiting Ellen Charry at Princeton Seminary, they invariably brightened: "Oh, you'll like Ellen." Charry possesses a passionate intellect and an incandescent personality. She is a pert wom-an whose words seem to come out of her mouth entangled with her whole life. You can't listen to Charry for long without noticing that she is very smart, but not showoff smart. She seems to care about everything and everybody—especially about how God helps people.
Her past has something to do with this. She was already the mother of two children when she embarked on theology as a second career. Well, no, that is not quite right: Charry never planned a second career. She discovered it while searching for God.
Charry came to Christ as an adult and with no Christian upbringing. She was a social worker in New York and Philadelphia who became dissatisfied with the purely practical nature of her work. Searching for a way to "put my feet and my head together," Charry found her way to Temple University's Department of Religion. She must be one of the very few persons in all the modern world won to Christ through the reading of theology.
Charry's lack of Christian background made her read theology as a life option, not as a set of theories. She began with Karl Barth. "Barth just undid me . …Barth said God is at the top and at the center. Barth enabled me to first taste that God is a reality and not an idea. I couldn't argue for that. I may still ...
1
Our digital archives are a work in progress. Let us know if corrections need to be made.
Ellen Charry: Reclaiming spiritual nurture.
Ellen Charry: Reclaiming spiritual nurture.