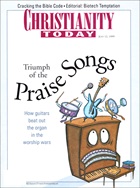 This article is from the July 12 1999 issue. Subscribers can read all of CT's digital archives.
Growing up in Windsor Terrace, one of Columbus, Ohio's poorest and most dangerous neighborhoods, James A. Brown had one desire—a safe place to play. "Especially if you had violence in the family, you needed a place you could holler and scream because things were too tense at home," he says.
But many inner-city playgrounds have become havens for drug dealing, gang warfare, or sexual solicitation rather than for kids gliding down slides.
With hopes of establishing an urban playground as a child- and faith-friendly place, Brown is working with Urban Concern (UC), a ministry founded by Xenos Christian Fellow ship. The quarter-acre playground will be located on 13th Avenue on what used to be one of the city's most drug-infested corridors. The youth haven will be fenced in, accessible only by key, and supervised by adult UC members and neighborhood residents, according to Jim Swearingen, UC director. Financing for the outdoor recreation area has been provided primarily through a corporate grant of $100,000 from United Parcel Service and will be completed by the end of the year.
TRANSFORMING A NEIGHBORHOOD: Nine years ago, Swearingen and Dennis McCallum, cosenior pastor at Xenos, realized that their church could be doing more to fulfill the scriptural command to serve the poor. Xenos, an evangelical church of 2,500 mostly white middle-class members, contacted Rhema Christian Center, an inner-city African-American church, to discuss forming a partnership. At the time, Brown was an evangelist at Rhema.
When Swearingen asked about the best place to start an inner-city work, Brown immediately thought of his old neighborhood.
"Windsor Terrace was the most crime-ridden place in Columbus at the time," Brown says. But in 1984 Brown had ...
1
Our digital archives are a work in progress. Let us know if corrections need to be made.
The Ministry of Safe Play
The Ministry of Safe Play