Two Christians were beaten to death in Hazaribagh, Bihar, India, April 4 for being "enemies" of a Hindu extremist group. The Times of India reports a "people's court" tied the Christians' hands and feet with rope and they beat them with laths until they died.
"Like many who start out as political gadflies, Christian activists are blurring into the mainstream," writes Hanna Rosin. "Where once pollsters found solid agreement among those who identify themselves as religious right, they now find disagreement, even on fundamental questions such as prayer in schools. Where once they found a single-issue focus, they now find distractions; religious conservatives define their top priorities for candidates as anything from their morality to their education policy to their tax plan. They still care about abortion, but many care about other issues more."
Though dissent continues in the Evangelical Lutheran Church in America over the doctrine of historic episcopate, the denomination's Church Council voted overwhelmingly to enter full communion with the Episcopal Church.
Jerry Falwell, who initiated ties with the Southern Baptist Convention three years ago, is donating $250,000 to a proposed Southern Baptist megachurch in Long Grove, Illinois. His Thomas Road Baptist Church will also send several teams missionaries to get the church off the ground. The SBC's North American Mission Board will also contribute $250,000. (A subsequent article in the Chicago Tribune says Long Grove is "flattered" by the idea.
About 47,000 people have de-registered themselves from the Norwegian Lutheran State Church during the ten-year period 1989 to 1998," reports The Norway Post. Less than 30 percent of these have joined other Christian faiths. Still, as the Church of Norway's Web site points out, "Most Norwegians (87 percent) belong to the Church of Norway."
"Across the country, groups are turning to pagers to provide 24-hour support to those they believe are in need of prayer," reports The Associated Press's Lisa Singhania. Some churches have provided pagers to the ill, and parishioners beep them to let the ill know they're being prayed for. Other churches have provided pagers to youth pastors so students can buzz them when they need prayer.
The Han Munhwa Movement Federation have placed 369 statues of Tangun, the country's mythical leader, on the grounds of primary schools and public parks—at a total price of 1.5 billion Won (US$1,355,000). The Christian Council of Korea is protesting the statues, saying they encourage paganism and teach incorrect history. Thirty-eight of the statues have been beheaded, and police blame Christian Council members.
A Republican Oklahoma Representative denounced a painting of a pope with a patch over one eye as "very anti-Christian." The painting, O. Gail Poole's "Popepourri," does not depict an identifiable pope—just a one-eyed man in papal vestments. "It's just a shame that people can't just look at a piece of art and enjoy it," Poole tells The Associated Press. By the way, the name of this Republican lawmaker accused of being blind to art? Tim Pope.
Related Elsewhere
See our past Weblogs: April 10 April 6 | 5 | 4 | 3 March 31 | 30 | 29 | 28 | 27 March 24 | 22 | 20 March 17 | 16 | 15 | 14 | 13 March 10 | 9 | 8 | 7 February 18 | 17 | 16 | 15 | 14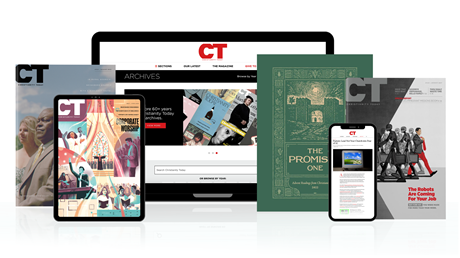 Annual & Monthly subscriptions available.
Print & Digital Issues of CT magazine
Complete access to every article on ChristianityToday.com
Unlimited access to 65+ years of CT's online archives
Member-only special issues
Subscribe
Two Indian Christians Beaten to Death
Two Indian Christians Beaten to Death