From Wednesday August 23 through Saturday August 26, some of the world's leading scholars of animal behavior gathered at the Peggy Notebaert Nature Center in Chicago for a multidisciplinary discussion of "Animal Social Complexity and Intelligence." The conference, presented by the Chicago Academy of Sciences in conjunction with the Living Links Center at Emory University and the Jane Goodall Institute, offered a state-of-the-art glimpse of a field that is producing results with profound implications for our understanding of ourselves and our place in the natural order.
Jane Goodall herself was there, a charismatic presence and the center of media attention. The last day of the conference was devoted to her 40 years of work at Gombe, Tanzania, where her research with chimpanzees made her a familiar face throughout the world. Her appearance at the Chicago conference was one of a series of events between April 2000 and July 2001 in which she is making the case for increased awareness of the links between humans, other creatures, and the earth they share.
The substance of the conference was to be found in the papers given by Frans de Waal, Meredith West, Jan van Hooff, and many other eminent scholars, with subjects ranging from Laurence Frank and Christine Drea's study of "Social Cognition and Cooperation in the Spotted Hyena" to Peter Tyack's "Dolphins Learn Individually Distinctive Whistles to Maintain Individual-Specific Social Relationships." And while such titles may suggest tedious fare that would appeal only to specialists, the lectures were for the most part not only quite accessible but frequently entertaining.
It is impossible to hear a number of such papers—reporting on research among various species—without reflecting on the commonalities between humans and other animals. Naturally that was a theme considered by many of the lecturers, though more often in the background than in the foreground. As the research programs presented here mature, the implications for an understanding of human behavior will be more emphatically addressed—as indeed many scholars are already doing, under the rubric of evolutionary psychology, for example, without the modesty that was the keynote of the Chicago conference.
For Christians the challenge will be twofold. On the one hand, we must fully acknowledge our kinship with other creatures. Theologians and philosophers such as Stephen Webb, Andrew Linzey, and Alasdair MacIntyre—to name only three among many—are seeking to work out the implications of that imperative. At the same time, we must maintain the traditional understanding that there is a difference in kind (not merely in degree) between humans and all other creatures.
It is easy to emphasize one of those truths at the expense of the other. So, for example, confidence in human "specialness" has all too often underwritten callous mistreatment of animals; and so, on the other hand, recognition of the "complexity" and "intelligence" of animals too often underwrites an explaining away of human distinctives. These are distortions, equally destructive and equally inadequate to the magnificently messy reality we inhabit: a reality that was richly on display last week in Chicago.
John Wilson is Editor of Books & Culture and Editor-at-Large for Christianity Today.
Visit Books & Culture online at BooksandCulture.com or subscribe here.
animalsocialcomplexity.org gives more information about the conference, including abstracts of the papers presented there. See also the Web sites of the sponsors: the Jane Goodall Institute, Chicago Academy of Sciences, and Emory's Living Links.
For more on animals and Christianity, see Stephen Webb's " Do All Good Dogs Go to Heaven?" which appeared in the January/February 1999 issue of Books & Culture, and Preston Jones's review of Webb's On God and Dogs. The review, " Lord of the Pets," appeared in the September/October 1998 issue of Books & Culture.
Media coverage of the Animal Social Complexity and Intelligence conference includes:
Talk Like the Animals | Scientists Gather in Chicago to Discuss Animal Intelligence—Reuters (Aug. 24, 2000)
Goodall pleads for chimpanzees' future – Chicago Sun-Times (Aug. 26, 2000)
Changing the World | How Pioneer Jane Goodall Rewrote History – Chicago Tribune (Aug. 25, 2000)
Scientists Gather to Discuss Animal Intelligence – Associated Press (Aug. 24, 2000)
Animal Intelligence New Call of Wild – Chicago Tribune (Aug. 22, 2000)
The September 1999 issue of Dog Fancy magazine looked at the animal theology debate with a variety of religious leaders.
Books & Culture Corner appears Mondays at ChristianityToday.com. Earlier Books & Culture Corners include:
Cardinal Mahony's Baloney Sandwich | The public face of Catholic social teaching. (Aug. 21, 2000)
In Praise of Miscegenation | Racial categories don't mean what they used to. Hallelujah. (Aug. 14, 2000)
"Give 'Em Hell, Harry!" | Looking back at the 1948 presidential campaign. By Elizabeth Jacoway (Aug. 7, 2000)
Roaring Lambs | The Evangelical Culture of Euphemism, Part 3. (July 31, 2000)
The Evangelical Culture of Euphemism, Part 2 | Should we distinguish between public and private discourse? (July 24, 2000)
The Culture of Euphemism | A dispatch from the Christian Booksellers Association convention. (July 17, 2000)
Get Outta My Face! | The most troublesome word in religion today. By John Wilson (July 10, 2000)
It Takes a Village to Raise a Child … | But for an abortion, you only need a doctor and a nurse or two. By John Wilson (July 3, 2000)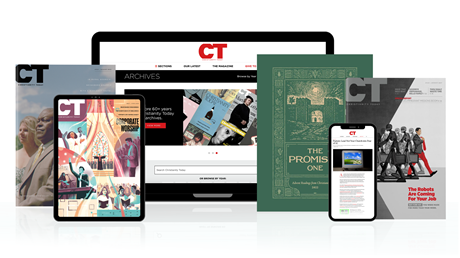 Subscribe to Christianity Today and get access to this article plus 65+ years of archives.
Home delivery of CT magazine
Complete access to articles on ChristianityToday.com
Over 120 years of magazine archives plus full access to all of CT's online archives
Subscribe Now
Humans and Other Animals
Humans and Other Animals