Today's big religion story is Clinton's appearance at Willow Creek Community Church. See our coverage here for links to articles in the mainstream press on the speech.
Church of St. Ann and the Holy Trinity, an Episcopal church in Brooklyn Heights, New York, had a great idea: partner with a performing arts center. It could raise money to restore the church, publicize the parish in the community, and even help get some public funding. And for a long time, it worked--until the art got too edgy. "St. Ann's was a venue for artists who would sometimes fall between the cracks, who might not be rock-and-roll club artists, and not concert hall artists, which makes them alternative, whatever," former Talking Heads lead musician David Byrne tells The New York Times. "For some artists, playing there meant they could exercise their creative freedom, do something a little out of the ordinary." Sometimes too out of the ordinary. "It has been a very, very difficult situation for many years," says the church's rector, Joade Dauer-Cardasis. "People keep forgetting that this is an Episcopal church, that this is a sacred institution, not a secular institution." So Arts at St. Ann's is no longer at St. Ann's.
Don Marxhausen, the Lutheran minister who performed Dylan Klebold's funeral after Klebold and Eric Harris went on a shooting rampage at Columbine High School, is resigning as pastor of St. Philip Lutheran Church. Marxhausen said that the congregation was getting ready to vote on whether he should stay, and that even if he won the vote, "I would always be associated with pain." Congregants complained that the funeral was held in the church, and that Marxhausen didn't pay enough attention to them. Marxhausen, by the way, was one of the Littleton-area ministers who complained that the Columbine memorial service was too evangelical. "I felt like I'd been hit over the head with Jesus," he told the media.
The Columbine shootings were invoked several times in the Colorado debate over posting the national motto "In God We Trust" in schools and other public buildings. (Colorado Governor Bill Owens, for example, toldThe New York Times, "Columbine has certainly caused us to take a closer look at the relationship between values and culture and our society.") Despite the Colorado State Board of Education's best efforts, the only place the motto will be seen is on teachers' and students' coins. The Jefferson County School Board voted unanimously not to post "In God We Trust" in classrooms. "We don't want our schools engulfed in controversy," said Jon DeStefano, president of the Jefferson County school board. (Isn't it too late for that?)
"Who is taking over, and why are they not given the opportunity to do things?" a Baptist workshop leader from Ghana asks the Associated Press, complaining about the average age of 65 among plenary conference speakers at the massive international gathering. AP writer Richard Ostling also notes that women, non-Westerners, and other groups were apparently shortchanged: "Intra-Christian relations saw no breakthroughs at the gathering. Even the prospering Pentecostals and Charismatics, who are part of evangelicalism, got little platform time." The conference for preaching evangelists "was a nostalgic final bow on the world stage for those who jump-started evangelicalism after World War II," says Ostling.
"Our mission is different," Women of Faith president Mary Graham tells the Chicago Tribune as 17,700 women nearly sell out Chicago's United Center for the latest conference. "They were calling men to action. We take a much softer approach to women. We are not so much challenging women as we are encouraging them where they are." The Tribune's Barbara Brotman notes, "There are other significant differences. Promise Keepers is a non-profit organization that has grappled with controversy over its belief that men should be the leaders of the family, and with financial difficulties [Note Graham's speaking of Promise Keepers in the past tense … ]. Women of Faith is a successful for-profit concern that takes no thorny stands." That's not completely true. Barbara Johnson, who has a gay son, criticized Christians for not showing homosexuals unconditional love. But as a general rule, Women of Faith founder Steve Arterburn says the organization says "women can figure out what's right and wrong. We didn't come in with this agenda to teach women what the right position was on some controversial theological issue. … They're able to find out what the truth is; they don't need to be told by an organization."
The church hasn't been allowed to own newspapers, broadcasting stations, or other media for years, but Vicente Fox, a Roman Catholic who became president July 2, said during his campaign that he wanted to change that. He has also said he wants the church to be more a part of Mexico's national and civic life. Until recently, Catholic priests couldn't even wear clerical collars. (See a similar Reuters story.)
"I thought this is the dumbest thing I've ever heard," Willie Aames tells The New York Times about hearing the original pitch for Bibleman, Pamplin Entertainment's superhero video series. Actually, what he thought was dumb was how it was based on Superman. He thought a Batman approach would be more appropriate. The last eight installments have sold about 75,000 copies each. The ninth, Shattering the Prince of Pride, is out this week.
See our past Weblogs: August 10 | 9 July 27 | 25 | 24 July 21 | 19 | 18 | 17 July 13 | 12 | 11 | 10 July 7 | 5 | 3 June 30 | 29 | 27 June 23 | 22 | 21 | 20 | 19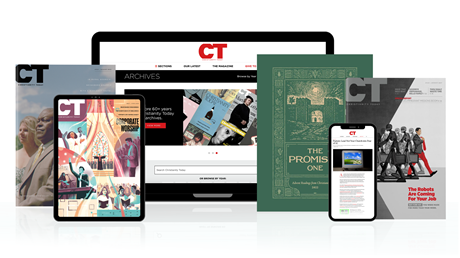 Annual & Monthly subscriptions available.
Print & Digital Issues of CT magazine
Complete access to every article on ChristianityToday.com
Unlimited access to 65+ years of CT's online archives
Member-only special issues
Subscribe
A Church's Art Program Goes Too Far in New York City
A Church's Art Program Goes Too Far in New York City