U.S. District Court Judge Henry Morgan Jr. ordered the Internal Revenue Service to refund $169.26 the Christian Coalition paid in taxes in 1990 after the IRS said that the group was tax-exempt that year after all. The debate continues over whether or not political activity by the group in other years warrants denial of the organizations' tax-exempt status (the American Center for Law and Justice's press release is also available).
"I think the purpose of this is not secular, but I think it is religious,'' said U.S. District Judge Joseph Hood of the massive 6-foot-2-inch icon. The monument, donated to the state by the Fraternal Order of Eagles in 1971, hasn't been on display since 1988, when it was removed for construction. No word yet if Kentucky will appeal. (see more coverage from the Lexington Herald-Leader and The [Louisville] Courier-Journal.)
"As new information about the events that morning [Michael Carneal shot a prayer group at Heath High School in West Paducah, Kentucky] is starting to emerge because of a civil lawsuit, some people here are openly challenging the portrait of [Ben] Strong as a hero who rushed up to a killer as he was firing and persuaded him to drop the gun he had used to kill three girls and injure five other students," writes William Glaberson in a New York Times article that's received coverage elsewhere. "In a brief interview recently, even Mr. Strong acknowledged for the first time to a reporter that the heroic picture of him might have been inaccurate." For the first time? Even in a November/December 1998 Campus Life article (Campus Life is a Christianity Today sister publication), Strong denied he was a hero. "Not me," he told the magazine. "I was just reacting to what was happening." Is Glaberson trying for a Cassie Bernall debunking redux?
As Hindu fundamentalism continues to rise in India, Hindu seminaries are preparing Brahmin missionaries to reconvert expatriates who may have been "influenced" by Christianity. "It is not only Hinduism the priests are taught, but also other religions to enable them to counter Christian arguments," seminary head Shashi Sham Singh tells the BBC. The Vishwa Hindu Parishad (World Hindu Council) established an organization in South Africa to defend "the rights of Hindus against conversion". Other missionaries will be travelling around the United States, Singapore, and other locations.
The Papua New Guinea Churches Council (one figures it's the same as the Papua New Guinea Council of Churches) and Catholic agency Caritas Papua New Guinea are fighting efforts by some government ministers to legalize prostitution in the country. "Sexual expression is never intended to be a commercial commodity," says PNGCC secretary Sophia Gegeyo. "In fact the government will only be opening a floodgate in which more problems will enter and breed."
After a Christian was hit by a car outside a Cairo church, Christian observers became violent, attacking a bus, dragging its Muslim driver inside the church and beating him. Muslims then retaliated by throwing bricks at the church and setting fires. Hundreds of riot police descended on the melee, rescued the bus driver, and controlled the violence. Besides the driver, two other Muslims, two police officers, and 15 Christians were injured.
"As home-schooled students reach college age, some … are choosing to continue their educations at home," writes The Washington Post's Milton D. Carrero Galarza. Donald and Michael Staddon are two students whose professors are their teachers. "I know what college did for me," their mother tells the newspaper. "I think they have a better opportunity than college. There are decisions that people make in college that should not be made with the opinion of their peers. I feel like if my children are learning at home, they are going to make those decisions with good counselors." The article doesn't ask the Staddons if they considered Patrick Henry College, the first college designed for home schooled students (and located only 40 miles or so from the Staddons' home in Manassas, Virginia). Elsewhere, the Associated Press notes the rise in home schooling, quoting estimates that between 1.3 million to more than 2 million children are educated exclusively in the home.
See our past Weblogs: July 25 | 24 July 21 | 19 | 18 | 17 July 13 | 12 | 11 | 10 July 7 | 5 | 3 June 30 | 29 | 27 June 23 | 22 | 21 | 20 | 19 June 15 | 14 | 13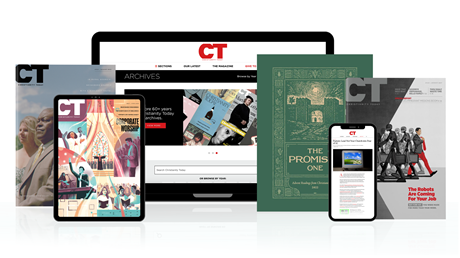 Annual & Monthly subscriptions available.
Print & Digital Issues of CT magazine
Complete access to every article on ChristianityToday.com
Unlimited access to 65+ years of CT's online archives
Member-only special issues
Subscribe
IRS Oredered to Refund Christian Coalition's Taxes
IRS Oredered to Refund Christian Coalition's Taxes