After the dizzying hopes and bitter disappointments of the last year, prospects for peace in Northern Ireland seem caught between realistic possibility and foolish delusion. The Good Friday agreements remain in place and retain the support of hereditary antagonists like Sinn Fein's Gerry Adams and the Ulster Union Party's David Trimble, but there is evidence aplenty of the thick residuum of hate that remains all too near the surface of the province.Because of the sad identification of Northern Ireland's historical warring tribes with the labels"Catholic" and"Protestant," Christians from other parts of the world have multiple reasons to pray for the soon coming of peace. They also should be curious about how active Christian believers in Northern Ireland carry on day-to-day religious life and also about how such believers regard the"troubles" in their land. For such curiosity, a book called Them and Us?: Attitudinal Variations Among Churchgoers in Belfast, by Frederick W. Boal, Margaret C. Keane, and David N. Livingstone, is a godsend. Sponsored by the Community Relations Unit of the United Kingdom's Northern Ireland Office, funded in part by the European Economic Union, and published under the auspices of the Institute of Irish Studies at the Queen's University, Belfast, Them and Us? (the question mark is important) grows out of a lengthy survey administered to 3,176 Catholic and 2,079 Protestant Belfast churchgoers in the fall of 1993. (It is poignant to read that the survey date was postponed for about a month when two acts of extreme violence occurred just before the originally scheduled Sunday.)To some degree, the survey results confirm outside perceptions of a divided society. Thus, only a tiny percentage of those surveyed wanted to see an increase in Catholic-Protestant marriages; Protestants overwhelmingly backed the Unionist political parties and defined themselves as either British or Northern Irish; Catholics overwhelmingly backed the nationalist political parties and defined themselves most often as simply Irish.Other results of the survey showed why the antagonisms of the region are so enduring: a very large percentage of the Catholics and a substantial proportion of the Protestants have been directly affected by the"Troubles," either intimidated in their areas of residence or knowing personally someone killed or wounded in sectarian violence.Yet the survey also revealed that the myth of a society completely riven by bipolar antagonism is overstated. A large majority of both Catholics and Protestants, for example, expressed a desire to see the religious integration of residential and work places, and nearly half of both group thought the same about education. While Protestants tended to be more middle class and Catholics more working class, actual social and economic differences between the two groups were not as striking as often thought.Perhaps more important, the notion of two internally monolithic communities simply does not fit the facts. On many questions of religious faith and practice, as well as on most issues of political and social policy, a fairly wide range of opinions existed among the Catholics, and a very wide range among the Protestants.The researchers, who present the survey results in a learned, but also accessible style, find these internal differences the most significant finding of their study. To them, the fact that these differences within religious groups exist suggests that the Northern Irish community as a whole could actually tolerate more internal differences between religious groups than observers regularly imagine.Belfast is one of the most churchgoing cities in the Western world, with about three-fourth of its Catholics and only slightly fewer of its Protestants attending church at least once a week. What this survey reveals in addition is that both the Catholic and Protestant populations of Belfast retain a striking commitment to traditional Christian beliefs, especially with respect to orthodox views of God, the need for salvation, and the authority of the Bible. (Thirty-five percent of the Catholics even reported an experience of conversion, or about half the number of Protestants.)The researchers as social scientists do not draw theological conclusions. But their survey offers at least the hope that, despite the scarring violence of Northern Ireland's sectarian past, the balm of a sturdy Christian faith is standing by, if often slightly off the stage, as a medication for the land.
Mark Noll is McManis Chair of Christian Thought at Wheaton College.
Related Elsewhere
Visit Books & Culture online at BooksandCulture.com or subscribe here.Two weeks ago, Mary Cagney also wrote a Books & Culture Corner on Northern Ireland. Them and Us? can be purchased at Amazon.com and other book retailers.Last week, as Northern Ireland's Catholic-Protestant government was resurrected, 513 Protestant and Catholic clergy and lay leaders in Northern Ireland sent out a statement titled,"Faith in a Brighter Future":We … are men and women who are committed to Jesus Christ and wish to share our deepest convictions at this time. We believe that in the providence of God, Protestants and Catholics, Unionists, Nationalists and others have been placed here together. For generations we have lived mainly in separation, rivalry and conflict. In these last few years the opportunity has been given to us to travel together in a new direction in order to create a healthier and more harmonious society. Many of us have begun this journey. It has involved us in painful change but also in new challenges and enriching friendships.The political process is just one expression of this journey, but a vital one. The difficulties we face are real, but one way or another we have got to overcome them. There can be no turning back. This week is a significant moment. Our doubts and fears must not be allowed to strangle our vision.We are committed to continuing this journey towards the healing of our divided society.The statement was published in the Belfast Telegraph, Irish News, and other publications.For more on the Northern Ireland peace process and the latest news stories, see the BBC, the Irish Independent, Irish Times, Irish News, and Belfast Telegraph.Books & Culture Corner appears Mondays at ChristianityToday.com. Earlier Books & Culture Corners include:Barna & Bailey | The Greatest Research Show on Earth? By John Wilson (May 22, 2000) Peacemaking in Northern Ireland | Former U.S. Senator George Mitchell considers the long, often painful process. By Mary Cagney (May 15, 2000) Our Bodies, Our Selves? | Facing the discomfort we have with our physiques. By John Wilson (May 8, 2000) True West | Three excellent museum shows—not to mention our magazines—reexamine the American frontier. By John Wilson (May 1, 2000) Defending Faith and Learning | Baylor University's Polanyi Center comes under fire from the university's faculty. By John Wilson (Apr. 24, 2000) Lie Is Beautiful | Dante understood irony's use as a weapon against intellectual arrogance. By Andrew Jones (Apr. 17, 2000) Who in Hell? | Theologian John Sanders considers the eternal fate of non-Christians. By John Wilson (Apr. 10, 2000) My Cab Ride With Gloria | Meeting a legend, tearfully. By Frederica Mathewes-Green (Apr. 3, 2000) I Read the News Today | Finding the most important story in headlines' sum. By John Wilson (Mar. 27, 2000)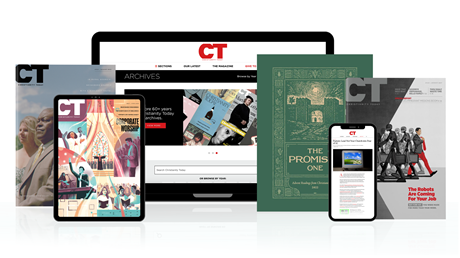 Subscribe to Christianity Today and get access to this article plus 65+ years of archives.
Home delivery of CT magazine
Complete access to articles on ChristianityToday.com
Over 120 years of magazine archives plus full access to all of CT's online archives
Subscribe Now
Beneath the Orange and Green
Beneath the Orange and Green