The PBS docudrama Bonhoeffer: Agent of Grace airs tonight on PBS. The Associated Press calls it "respectful" and "chilling," pointing out that the moments it takes liberty with historical facts are few and justified (the film has him being executed alone instead of with two coconspirators because a triple execution risked echoing Christ's crucifixion).
Kirk Cameron, who stars, doesn't want it called such. But Rebecca Eckler of Canada's National Post (the film is being shot in Toronto) writes, "The 'bad idea' may not be calling Left Behind a Christian film, so much as believing that Christian films only appeal to Christians." That's the trick. "I'm lost just reading the storyline," she writes. The Post has some interesting quotes from several folks working on the film, most of whom are Christians. But perhaps the most interesting are from the film's director, Victor Sarin, who's not a Christian and hasn't even read Tim LaHaye and Jerry Jenkins's book. "'I'm an outsider," he says. "I didn't want to be biased with the so-called Christian look. It's OK to have a message as long as that message is delivered with integrity and gives people food for thought. We all know that it's a message film. What matters is how that message is delivered. I don't want it to be preachy."
[When was the last time we could comment on three very different Christian films?] Something to Sing About, the Billy Graham Evangelistic Association's first film aimed at an African-American audience, premiered at the Acapulco Black Film Festival. It gets attention in this week's Newsweek, which says the film inspired "black filmmakers … [to] see a possible activist role for black churches to play in expanding opportunities for African Americans in Hollywood." The film "drew nearly universal raves," reports Johnnie L. Roberts.
"We didn't want politics to totally define who we are. The last six years have been the best years of our lives," said former U.S. Senator John C. Danforth of the decision he made with his wife not to run for the vice presidency. As previously noted in the ChristianityToday.com Weblog, Danforth is a prolife Episcopal priest who was reportedly at the top of George Bush's running mate list. World magazine's June 10 issue contained a pro-Danforth column by Cal Thomas, who wrote, "Bush could hardly do better."
Three armed men, one wearing a military uniform, were seen attacking and killing Isidore Uzcudun. Police say the murder was "motivated by ordinary robbery."
"Born again Christians have the same rate of adoption of modern technology as do adults who are not born again," says pollmeister George Barna in the press release about his latest study. "It is possible to argue persuasively that many Christians have been seduced by the power of the tools they have acquired. Born again adults spend an average of seven times more hours each week watching television than they do participating in spiritual pursuits such as Bible reading, prayer, and worship. They spend roughly twice as much money on entertainment as they donate to their church. And they spend more time surfing the Net than they do conversing with God in prayer. We have to regularly ask who is in control, and what kind of life do they produce?" … and often in new ways
Meanwhile, the Associated Press notes how much gadgetry has entered the church. "At church services, worshipers are not just feeling the power of God these days," writes May Wong. "They also witness the power of technology." Microsoft PowerPoint seems to be more of a church necessity than hymnals these days.
David Williams, a computer guy at a Virginia oil refinery, is recording what's apparently the first audio Bible in MP3 format on the Web. But, like everyone else involved in the MP3 world, he had copyright problems: he had to record it using the World English Bible translation since most of the other popular ones (NIV, NLT, NRSV) are still copyrighted. Nearly 50,000 people have reportedly downloaded the files from his site. "I put a copyright on it, but I kind of regret that," Williams tells Wired News. "I don't care how anyone uses the downloads. I'm not trying to make a business out of it. People are just grabbing this off the Internet because it's free, and that is how this should be."
Eight months after his tragic death, Payne Stewart is everywhere
The Golf Channel premiered a 90-minute documentary on the champion (reviewed extensively by USA Today), The Scotsman wrote a retrospective, Christian publisher Broadman & Holman is just out with its "Authorized Biography" (written by his widow) and articles and tributes are as common as they were when his plane crashed in October (see here, here, here, here, and here for more). The reason, of course, is the start of the U.S. Open, which the Christian athlete won last year. "For the first time in half a century," notes The New York Times, "there will be no defending champion."
McDonald's wants young Jews in Israel to work on the Sabbath, and has taken out advertisements calling for an end to "religious coercion" by the Israeli government forbidding them to do so. It's not the first time McDonald's has caused grimaces in the country: its cheeseburger has come under attack there for explicitly breaking kosher rules against eating dairy and meat products together.
Related Elsewhere
See our past Weblogs:
June 13 June 9 | 8 | 7 | 6 | 5 June 2 | 1 | May 30 May 26 | 25 | 24 | 23 | 22 May 19 | 18 | 17 | 16 | 15 May 12 | 11 | 10 | 9 | 8 May 5 | 4 | 3 | 2 | 1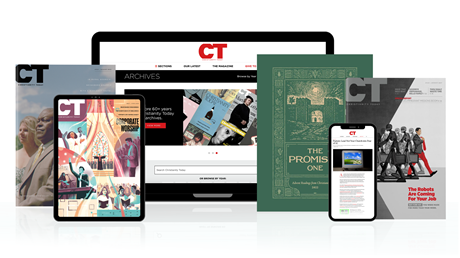 Annual & Monthly subscriptions available.
Print & Digital Issues of CT magazine
Complete access to every article on ChristianityToday.com
Unlimited access to 65+ years of CT's online archives
Member-only special issues
Subscribe
Christian Films are Suddenly Everywhere
Christian Films are Suddenly Everywhere