Two comedies, one foul and one fowl, tied for the top spot at the box office this weekend. Christian critics detested the raunchy humor of first-place finisher Me, Myself, & Irene (although they found the story interesting). Story wasn't the strong suit of runner-up Chicken Run, but its dry wit and colorful characters won high acclaim.
What's Hot
While Jim Carrey's Me, Myself, & Irene placed first at the box office, the weekend was hardly a victory for the comedian. Audiences forked over only $24.2 million, perhaps because Carrey's teen fan base was excluded from the R-rated film. The U.S. Catholic Conference says that, yes, Carrey's usual "manic physicality" is on full display here, but he's overshadowed by the "new lows in aesthetic offensiveness, with its gross body-fluid sight gags and racial stereotyping." Crosswalk.com's Michael Elliott, too, highlights Carrey's "physical contortions and degree of intensity" while disapproving of the "prosthetic sexual devices, toilet humor, and constant references to the anal cavity." Movieguide finds such gripes too weak, positing Irene as "the candy-coated destruction of Western civilization." (Those who stocked up for Y2K have a head start on the rest of us.) The plot, however, elicited some interesting discussion. Carrey plays Charlie Baileygates, a mild-mannered and pride-swallowing Rhode Island state trooper whose bottled-up anger manifests itself in a second, vulgar personality named Hank. "The message here is that it is dangerous to keep emotions and problems bottled up inside you," writes the Dove Foundation. Hollywood Jesus agrees, calling these emotions "the demons of kindness, politeness and self-abasement that can be conquered only through "unconditional love [that] never brings shame, guilt or contempt." John Adair of Preview instead admires Charlie, whatever his struggles, for having "served his state with pride, helpfulness and a genuine love for people." The story didn't resonate with Crosswalk.com's Holly McClure, though, who felt that "this one lacks the sweetness of the Farrelly brothers' last hit [There's Something About Mary]. … In the middle of the bizarre humor and gross jokes, there was still something, or someone, to relate to. This movie began that way for me, with some of the funniest scenes at the beginning involving Charlie and his boys, but by the end of the movie, I stopped caring."
The creators of Chicken Run can breathe a sigh of relief: their gamble of making the first feature-length Claymation cartoon (while retaining its British humor, no less) has paid off. The film, which spoofs escape movies by chronicling chickens' attempts to fly the coop before ending up as pot pies, has escaped the recent disinterest in animated fare like Return to El Dorado and Titan A.E. Critics are excited about such an original vision. "The expressive faces (chickens with teeth—is that great?), the pacing, adventure and witty dialogue make for a fun family movie outing," says the Dove Foundation. "With enough visually going on to keep little ones enthralled, it also contains sly, pun-riddled humor to keep the most anti-animated adult amused." Worldmagazine agrees, saying the "endless imagination make this several notches above the usual. The action scenes, including a daring escape from a chicken pie-making machine, are something to see." The story, though, left something to be desired. "While the animation is enthralling," says GreenLake Reflections' Jeffrey Overstreet, "the script is a bit formulaic. Chicken puns come at us fast and furious. I wondered if the movie might have been funnier if they had backed off from the obvious jokes and concocted funnier situations or personalities." The U.S. Catholic Conference also mentions that "the story line lags in parts, and some jokes may go over children's heads." Hollywood Jesus' guest reviewer Annette Wierstra, however, saw in the oft-tread story a parallel to a spiritual reality. Ginger, the leader of the brood, "is a hen of great faith. Her longing for freedom can be compared, not only to the story of Exodus but to our longing for heaven. No matter what happens, she believes that there is freedom and a paradise, even though she's never seen it." Preview's John Adair finds a second spiritual lesson: "According to this movie, honesty is always the best policy. One chicken in particular misleads the others and, once found out, is not only reprimanded, but the effects of the lies are also seen." Movieguide picks up on its theme of loyalty. Oddly, none of the family-focused sites echoed what Entertainment Weekly's jocular Jim Mullen noted: "And you think your kids are finicky eaters now?" Even fast-food tie-ins at Burger King (where the chickens encourage patrons to eat a Whopper instead) recognize the link between the poultry onscreen and off. This isn't accidental, as Chicken Run has its origins in the day director Nick Park spent in a slaughterhouse, horrified at the live chickens hung up by shackles and pecking away at their restraints. If Chicken Run lacks the power to even raise the issue of animal rights, how can Me, Myself & Irene possess the ability to destroy civilization?
What's New
Jesus' Son, a film based on a collection of short stories by Denis Johnson about '70s drug culture, depicts an aimless young addict struggling his way back into the realm of the sober. Despite the provocative title, the film has little to do with substantive faith, says the U.S. Catholic Conference: "Lacking a cohesive plot, director Alison Maclean's episodic film of pathetic characters fails to make a connection between sporadic religious iconography and the lead character's vaguely redemptive pilgrimage." The Dove Foundation found the drama more arresting—presenting "the ecstasy of first love, the agony of loss, the sadness of substance abuse and the starkness of sudden sobriety"—but difficult to watch as a result. "To view a person shooting up is one of the most disturbing images I can remember. They melt away, losing their humanity and becoming soulless rag dolls while momentarily escaping their pain. … It is difficult to sit through a film, where we are subjected to 110 minutes of lives going down destructive routes." In a review not published online, Movieguide praises the film for being "humorous, dramatic, and satirical," and notes that "although the Christian worldview of this movie is not developed as fully as it should be, the movie ends with a song talking about leaving your sins behind, turning to God and flying to heaven. These positive elements are undercut, however, by … immoral behavior."Kenneth Branagh returns to Shakespeare once again, choosing to direct the breezy, lesser-known comedy Love's Labour's Lost after the massive undertaking of his 1996 uncut Hamlet. The twist he applies here is to intercut '30s musical numbers with the Bard's original text. Movieguide says Branagh's idea is good, "but the execution leaves something to be desired. … Most of the numbers are extremely short, with only some perfunctory dancing. While it's nice to hear great music from people like Cole Porter and Oscar Hammerstein, fewer and longer musical numbers, preferably with more dancing, would have been more enjoyable." Preview's Paul Bicking recommends it nevertheless, saying "audiences will enjoy this unusual take on Shakespeare [whether they are] familiar with vintage musicals or not," adding that it's idea for families as "a virtually offense-free production."
What's Noteworthy
Two new reviews for Shaft wrestle with the question of the title character's vigilantism. Jeffrey Overstreet of GreenLake Reflections says "while it compromises the integrity of the law to celebrate heroes who see themselves as 'above' the law, Shaft's errors are more well-intentioned, more honorable than most. In a time when minorities are up in arms about prejudice in the police force and in the courts, Shaft is the right kind of hero. … While the film oversimplifies the problem, it's still a problem worth considering, and any action movie that makes you think as much as this one does earns my vote." But the Phantom Tollbooth's J. Robert Parks says the deck is stacked to keep mainstream America on Shaft's side. "Summer blockbusters are designed to remove anything that might offend. Which might be why Shaft doesn't shoot a single white person. … Yet the audience is clearly supposed to cheer for Shaft as he mows down the Latino drug lords with upwards of 41 bullets. So are we cheering for police cruelty? Or is it just OK because this time a black man's the one dishing out the brutality [instead of a white police force]?"Steve Lansingh is editor ofthefilmforum.com, a weekly Internet magazine devoted to Christianity and the cinema.
See earlier Film Forum postings for these other movies in the box-office top ten: Gone in 60 Seconds,Big Momma's House,Mission: Impossible 2,Gladiator,Titan A.E.,Dinosaur, and Boys and Girls.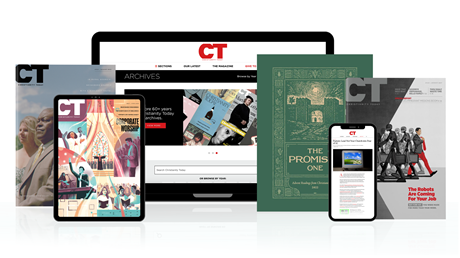 Subscribe to Christianity Today and get access to this article plus 65+ years of archives.
Home delivery of CT magazine
Complete access to articles on ChristianityToday.com
Over 120 years of magazine archives plus full access to all of CT's online archives
Subscribe Now
The Candy-Coated Destruction of Western Civilization
The Candy-Coated Destruction of Western Civilization