What started as a special presentation by the Pearl River Central High School's Fellowship of Christian Athletes turned into a full-fledged revival that has transformed the Carriere, Mississippi school and left school administrators astounded."It was the most incredible thing I've seen in all my years as an educator," said Pearl River principal Lolita Lee. "The meeting couldn't be stopped. You could tell something spiritual was happening in the lives of those students."The revival started during a special program sponsored by the Carriere, Miss., school's FCA and attended by nearly 90 percent of the school's 670 students. The program was originally scheduled for one hour, but when the bell rang, Lee said there were more than 100 students standing in line to pray and make spiritual decisions. So Lee did something that she said probably doesn't happen in normal public school settings—she let the service continue. And continue it did for more than four hours. Through three class periods and lunch, students wept, prayed, sang and made amends with one another."It was heart-stopping," said Lee, a member of Lees Chapel No. 1 Baptist Church. "When I realized how many students needed to pray, I went ahead and let the program continue."Following a hastily arranged telephone call to the school superintendent, Lee went back to the gymnasium where the revival was taking place. "Who was I to say to these students, 'Hey, you aren't important. Go back to class.'"And nearly one month later, Lee said the results of the revival are manifested in the hallways of Pearl River Central High. "I've had teachers and staff tell me how much better the students are," she said. "This has been a wonderful thing for our kids."The spiritual awakening all started a month earlier when a group of FCA leaders met with their faculty sponsor to discuss plans for the remainder of the school year."Everyone was writing down goals and plans when suddenly a teacher suggested we reach our school for Christ," said Cary-Anne Dell, a member of the FCA's leadership team. "That's pretty much how it all got started and the Lord took it from there."The plan involved an in-school rally during which FCA members would perform skits and share testimonies about what it means to be a Christian.The 18-year-old Dell, who is a member of Pine Grove Baptist Church, said the FCA members shared their plans with churches throughout the area. "We had people praying for us all over south Mississippi," Dell said. "It was incredible to see how all those prayers were answered."Tim Tolleson, youth pastor at First Baptist Church in nearby Picayune, Miss., said his entire church was involved in praying for the rally. One of his youth, 16-year-old Ben Helger, was also a member of the FCA leadership team."Ben spoke during our Sunday night worship service and in the course of his speech he told us about plans for the rally," Tolleson said. "Our church is known as a praying church and we took up the challenge to lift up those kids."One prayer involved a sound system. The acoustics in the school's gymnasium were terrible, Dell said. "We didn't have a sound system so we started praying. The next day, two churches called the school and offered to provide one."Since the entire event was student-led and student-organized, Lee said the club didn't have to seek permission from the school board. "In other words, they had my blessing," Lee said.A team of 16 students wrote skits and prepared the rally—all except for the closing. "We just decided that the Lord was going to figure out the closing," Dell said.On the day of the event, the entire school was invited to participate. At first, Lee was said she was skeptical of the meeting. "You know how it is with kids wanting to get out of class," she said. She said 90 percent of the school's population turned out for the meeting.Midway through the skits, Lee said it was obvious the spirit of the Lord was moving. "I even had tears in my eyes," said the veteran educator."You should have seen God working," Dell said. "It was so awesome. I had the chance to lead someone to the Lord right there in the gym."At one point, Lee said she counted 120 students lined up to share testimonies and be counseled. "And keep in mind," Lee added, "this was entirely student- led. Our staff only observed."For Dell, who will spend a good portion of her summer as a missionary to Haiti with Teen Mania Ministries, the experience was unforgettable. "It is so wonderful to be chosen by God to do his work," she said.Lee, too, is grateful for the revival service. "Our hallways are filled with students who say how their lives have been changed," Lee said.Tolleson said the atmosphere at Pearl Central has always been a bit different. "The students and faculty are more open to spiritual things," he said. "So to be honest, I wasn't surprised to see how God moved."The FCA had prayed so much and they had so many church families praying for them. This was truly wonderful," he added.David Smale, a spokesman for the Fellowship of Christian Athletes headquarters in Kansas City, Mo., said he was quite pleased to hear the news. "It's actually great news," he said. "And to be honest, it's very unusual in a public school to have something like that."As for Lee, she said she hasn't suffered any repercussions by allowing the revival to span the course of a school day. "So far, so good," she said. And even if there are, Lee said looking back, she would do the same thing again.Copyright (c) 2000 Baptist Press.
Related Elsewhere
Lee has offered to make herself available for more information. Her e-mail address is llee@prchs.k12.ms.us.At the Pearl River Central High School Web site, one can learn interesting and sometimes ironic tidbits, such as the Blue Devils serving as school mascot.The Fellowship of Christian Athletes site offers information about the ministry, but not the high school revival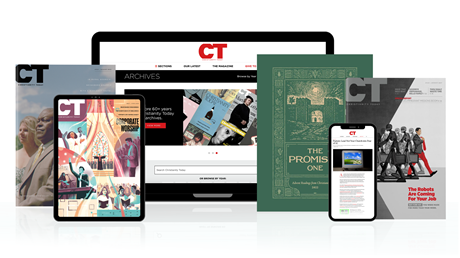 Subscribe to Christianity Today and get access to this article plus 65+ years of archives.
Home delivery of CT magazine
Complete access to articles on ChristianityToday.com
Over 120 years of magazine archives plus full access to all of CT's online archives
Subscribe Now
Revival at Public School Stirs 100 Students to Conversion
Revival at Public School Stirs 100 Students to Conversion