Jim, Tammy Faye, and their children (Tammy Sue Chapman and Jay Bakker) reunited for the first time on television since Jim Bakker went to jail. Jim and Tammy's new spouses, Lori Bakker and Roe Messner, appeared as well. CNNish "factoid:" the word "forgive" appears in some form 32 times in the transcript.
Heavily armed Muslims launched a early morning attack on Christian villages on Halmahera island. "Indonesian authorities were either powerless or not prepared to stop them," reports Australia's The Age. "Up to 4,000 people have been killed in clashes between Christians and Muslims in North Maluku in the past nine months, but only traditional and homemade weapons had been used until the attacks this week."
Evangelist Billy Graham will be preaching in Nashville this week: his last crusade before the torch-passing Amsterdam 2000 in July. Guests at the crusade will include Steven Curtis Chapman, the Charlie Daniels Band, Ricky Skaggs, Tennessee Titans' Running Back Coach Sherman Smith, Jars of Clay, Kirk Franklin, dc Talk, and Michael W. Smith. The crusade will be broadcast on the Web at webcast.billygraham.org. Graham is also scheduled for a Jacksonville, Florida, crusade in early November.
On May 13, the Vatican revealed the mysterious "third secret" of Fatima: a prophecy that Pope John Paul II would be shot 64 years later. Now the man who shot John Paul in 1981, Mehmet Ali Agca, says that because God preordained him to pull the trigger, he should be absolved of all responsibility. He was, after all, just doing God's will. The Vatican hasn't responded yet, but Catholic theologians are dismissing his argument as "rather silly."
Twenty-five men are suing a retired Roman Catholic priest, now 79 and living in the Alzheimer's unit of a Portland-area retirement home. The archbishop and Archdiocese are codefendants. It is reportedly the second-largest lawsuit of its kind. (Ninety-nine people accused Rev. James Porter of Massachusetts of sexual molestation. He pleaded guilty in 1993 to 28 counts.)
Michelle Brown, curator of illuminated manuscripts at the British Library, has discovered 60 previously unknown drawings in one of the world's most famous documents. Brown also suggests that Bede (c.673-735), the first English historian, may have been involved in the book's production.
"Monasticism in Egypt is enjoying a revival unprecedented since its desert origins, 16-hundred-years ago," reports Voice of America. "The phenomenon is all the more remarkable given that Egypt's six-million-member Coptic community—which makes up about 10-percent of this primarily Muslim population—is actually dwindling." The churches credit Sunday school programs, but sociologists suggest the rise of Islamic fundamentalism may have inspired Christians to take their faith more radically.
At Upper Arlington High School in the Columbus, Ohio, suburb, students (and some teachers, before they were told not to) are wearing bright yellow "I agree with Justin" T-shirts. They agree with Justin Rule, one of the school's very outspoken Christians, about his faith. "I have a problem with the focus being on Justin," one senior tells The Columbus Dispatch, but others say it's a creative witnessing tool. "If it had 'Jesus' in it, people would have had a bigger problem with it," says another student. "This is just a more subtle way of exploring his beliefs."
In a lawsuit filed last year against two environmentalist groups, attorney Stephen Young (representing a Minnesota loggers' organization) said the groups were imposing "the religion of deep ecology" by opposing federal timber sales—and were thus violating the constitutional separation of church and state. U.S. District Court Judge James Rosenbaum not only threw the case out, but he called it "an utter waste of the court's time" and fined the lawyer $5,000 for the "frivolous" lawsuit.
"[The series] portrays witches in positive ways … but it does not portray my religious beliefs," Chad Anctil of the Witches' League for Public Awareness tells the Associated Press. "It is difficult for the religion to be taken seriously when books like this portray it as magic." Still, says the article, most practitioners of Wicca find the stories enjoyable—and like the fact that sorcery isn't automatically seen as something dark and evil.
"The legal clashes Jehovah's Witnesses had with government authorities over their proselytizing and practices led to an astonishing total of 23 separate Supreme Court rulings between 1938 and 1946—surely more than any other single religious organization engendered before or since," writes Tony Mauro, Supreme Court correspondent for American Lawyer. "So frequently did Witnesses raise core First Amendment issues that Justice Harlan Fiske Stone wrote, 'The Jehovah's Witnesses ought to have an endowment in view of the aid which they give in solving the legal problems of civil liberties.'" The opinion piece notes next month's 60th anniversary of "the most infamous Jehovah's Witness decision, one the Supreme Court got completely wrong: Minersville School District vs. Gobitis."
Related Elsewhere
See our past Weblogs:May 30May 26 | 25 | 24 | 23 | 22 May 19 | 18 | 17 | 16 | 15 May 12 | 11 | 10 | 9 | 8 May 5 | 4 | 3 | 2 | 1 April 28 | 27 | 26 | 25 | 24 April 19 | 18 | 17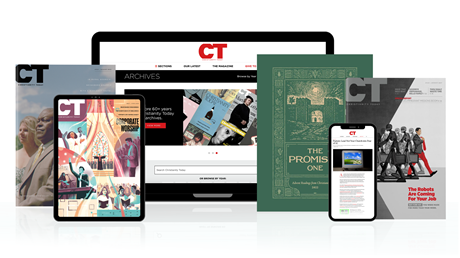 Annual & Monthly subscriptions available.
Print & Digital Issues of CT magazine
Complete access to every article on ChristianityToday.com
Unlimited access to 65+ years of CT's online archives
Member-only special issues
Subscribe
Jim and Tammy Faye Together Again
Jim and Tammy Faye Together Again