Flashing a smile reminiscent of her famous father, Anne Graham Lotz, last Friday night walked to the podium of Fort Worth Convention Center."Like you, I've had my share of troubles," declared Lotz, daughter of evangelist Billy Graham. "But I don't want to quit. I don't want to escape. I don't even want a miracle. Just give me Jesus."From a cross-shaped pulpit the tall, thin Lotz, wearing a shocking pink jacket, told the cheering crowd of some 8,000 people, most of them women, that Jesus is the answer."He's invincible. He's incredible. He's indescribable," she declared as she prowled a circular stage. "I can't got him out of my heart."The two-day stop in Fort Worth-Dallas on May 5-6 was the second in a series of "Just Give Me Jesus" revivals Lotz is conducting this year — her first foray into crusade evangelism."Daddy and I have different ministries," she said in an interview before the Fort Worth meeting. "He's the obstetrician, bringing new souls into the kingdom. I'm more the pediatrician, taking care of those new souls afterwards."But during the Texas revival, she raised her voice in warnings reminiscent of a young Billy Graham. She warned that those who turn away from God might not have another chance, And she used graphic images Fort Worth people—who recently experienced a tornado in their downtown area and a tragedy last year at a local church—recognized."Who knows, a tornado may come and strike you down, or you may be the victim of violence like those last year at Wedgwood Baptist Church," she declared. "You would not think you would lose your life in a church on Wednesday night."Although not an ordained minister, her father has introduced her at public events as the best preacher in the family."Daddy has to be careful about what he says since there are five of us," she said. "But I feel I have his full support and blessing."Lotz said her purpose of going on the road in five revivals this year is simple. She wants every person within the sound of her voice to have a fresh encounter with God."Many people are wandering and confused, including Christians," she said. "I want them to know they can find true joy."Her first stop on the revival tour in Knoxville, Tenn., on April 28-29 drew 12,500 people, also mostly women. Other revivals are scheduled Aug. 25-26 in Atlanta, Ga.; Sept. 15-16 in Kansas City, Mo., and Oct. 20-21 in San Diego, Cal.Following each of the revivals, local churches will offer an eight-week Bible study, "The Vision of His Glory," produced by LifeWay Christian Resources of the Southern Baptist Convention, a video presentation featuring Lotz, a member of the Providence Baptist Church in Raleigh, N.C.Lotz compared the ministry of her father and her brother, Franklin, who operates Samaritan's Purse, a relief agency, as well as being on the board of the Billy Graham Evangelistic Association, to the life of Moses, who brought the children of Israel out of Egypt."They've been used by God to deliver people from bondage and sin," she said. "But so many people, I think, wind up wandering in the wilderness and get nowhere in their Christian lives."She added: "I feel I am more like Joshua, who led the children of Israelout of the wilderness into the Promised Land. They had battles, like at Jericho, but they were victorious. That's what God wants for us, He doesn't want us wandering in the wilderness all of our lives."Her message is that all people—including Christians—struggle with life. But that God will see them through the hard times. When she was growing up in Montreat, N.C., and her father was preaching around the world, Lotz said she never dreamed she would be teaching and preaching. "lt goes against my nature," said Lotz, who said she is basically shy. She is married to Dan Lotz, a dentist in Raleigh, N.C., and a former basketball player for the 'University of North Carolina. They have three grown children.Her calling to preach developed as she was a mother and housewife in Raleigh, N.C. From 1976 to 1988 Lotz taught a weekly Bible study fellowship for women at her church. It grew to more than 500 participants and spawned nine other Bible studies of similar size. In 1988 she established AnGeL Ministries and has been a speaker at conferences on every continent, except Antarctica.But her role as a woman speaking out on godly matters to male audiences has not gone without challenges. Many conservative Christians think it is unbiblical for a woman to preach to men. During a speaking engagement at pastor's conference in 1988, many of the men turned their back on her, she said."It was a critical moment," Lotz recalled. "I had never had any problem with women being in the ministry. But that experience caused me to re-examine my position." After much Bible study, she became convinced that God had called her to give her testimony about what Jesus Christ has meant to her life. But she agrees with conservatives who say a woman should not be a senior pastor. "I know Christians disagree on this issue, but I believe God has called me into the ministry where I am," she said.One Bible passages that convinced her she was doing God's will was the Gospel account of Mary Magdalene being the first to see Jesus after the resurrection. "Jesus tells her to tell what she saw to the 11 disciples, who were all men," said Lotz.
Related Elsewhere
The Associated Press and Time magazine, also recently covered Lotz's "Just Give Me Jesus" tour.Christianity Todayprofiled Lotz our April 5, 1999 issue.The New York Times profiled Lotz on New Year's Day 1999 in an article on a "new generation of evangelists"AnneGrahamLotz.com (which is also AngelMinistries.org) offers more information about Lotz, AnGeL Ministries, and the "Just Give Me Jesus" revivals.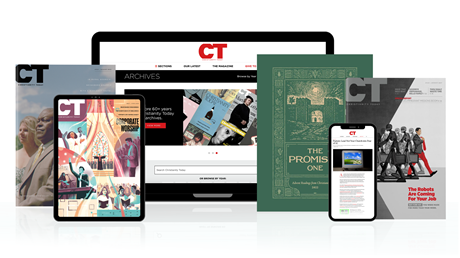 Subscribe to Christianity Today and get access to this article plus 65+ years of archives.
Home delivery of CT magazine
Complete access to articles on ChristianityToday.com
Over 120 years of magazine archives plus full access to all of CT's online archives
Subscribe Now
A Fresh Encounter with God
A Fresh Encounter with God