Fluff, anyone? Mindless fun was on tap all weekend as two intentionally shallow martial-art-fueled flicks, Mission: Impossible 2 and Shanghai Noon, opened to huge box office rewards. With little meaning or depths to plumb, Christian critics were left to debate the entertainment merit of the action sequences and the degree of moral offense in such violence.
What's Hot
Mission: Impossible 2 proved an even hotter attraction than its 1996 predecessor, grossing $92.8 million in its first six days (vs. $74.9 million for the original). The addition of director John Woo, known for his intensely choreographed action sequences, was partly responsible for the added allure. He certainly got Preview's Paul Bicking enthused:
"Woo doesn't disappoint as he takes the helm of this exciting adventure. … The action is non-stop, with unbelievable stunts, incredible chases and spectacular scenery." But other Woo fans disagreed. "He's one of my favorite directors," says Holly McClure of Crosswalk.com, "but I felt it lacked something, and it's not as great as it could have been." Jeffrey Overstreet of Green Lake Reflections echoes those sentiments, complaining that Woo "borrows heavily from his previous work" and can't overcome the "lousy script." The script in question follows superspy Ethan Hunt (Tom Cruise) of the Impossible Mission Force as he uses cool gadgets and talent at charming young ladies to save the world from a turncoat IMF agent who threatens to unleash a deadly virus. "If this sounds like the average James Bond movie," quips Focus on the Family's Bob Smithouser, "you're not far off. [But] unlike James Bond, who abuses his license to kill at the slightest provocation, Ethan Hunt resists murdering people unless it is an absolutely necessary act of self-defense." Michael Elliott ofCrosswalk.com isn't so quick to excuse the violence, though. "Woo uses slow motion photography and haunting musical strains during scenes of heavy gunplay in ways to try and make the violence appear more palatable or acceptable to our senses." The director also earned criticism for his handling of the love story between Cruise and Thandie Newton. "Woo seems more interested in her breasts than her acting ability," notes J. Robert Parks of The Phantom Tollbooth. "She goes from wearing a push-up bra to none at all, and Woo often shoots her in sultry slo-mo. And then she drops out of the movie in the last hour." The jerky storyline baffled Christian Spotlight guest reviewer Ken James as well, who felt the plot served as "only a minor vehicle for the intense action and cool photography." The Dove Foundation, however, brushes aside such nitpicking, praising the "action and stunts, beautiful locations, and breathtaking leading lady. This is an exciting adventure, surprisingly lacking in objectionable material … where the good guys best the villains." Movieguide was also upbeat, reporting that "Woo confessed recently that he is a Christian" and therefore reading into the film "several Christian symbols [that] identify Tom Cruise's character with a saintly quest for redemption and virtue." The director's faith was also noted, somewhat cheekily, by Bruce Newman of the San Jose Mercury News: "Woo was raised a Christian and is a devout believer in agape—altruistic love that corresponds to God's love of humanity—but he's not afraid to blow somebody's brains out when he has to."
The weekend's other big release was Shanghai Noon, which stars Jackie Chan as a Chinese Imperial Guard who tries to rescue an emperor's daughter, being held captive in the American West, with the help of outlaw Owen Wilson. Like Mission: Impossible 2, it relies heavily on choreographed fight scenes, but features a more comedic bent. Christian critics divided over whether the comedy made the violence more palatable. Crosswalk.com's Holly McClure praised it as "a throwback to the old-fashioned comedy westerns many baby boomers grew up watching, with daring stunts, lots of action, humorous witty dialogue." Michael Elliott of Crosswalk.com concurred, arguing that "the fight scenes are not the focus of the movie. At the core of this buddy picture is the relationship between the eastern Chan and the western Wilson. The developing friendship of their characters is what gives the picture its warmth and affability." Focus on the Family's Steven Isaac, however, felt that "as our culture continues to become more and more desensitized to brutality, humor only complicates things. Chan doesn't bother to show viewers any repercussions of their actions, he just laughs everything off as part of the fun." The Phantom Tollbooth's J. Robert Parks only wishes it were fun. "The jokes are obvious and rarely funny," he says, "[and] the fight scenes are largely perfunctory. … Shanghai Noon feels like what it is: a tired retread hoping to capitalize on its star's innate charisma." The Dove Foundation agrees it's been done better, reminiscing about "the far superior Harrison Ford/Gene Wilder collaboration The Frisco Kid" and suggesting the James Garner western sendup Support Your Local Sheriff as a better choice.
What's New
A pair of smaller, more artfully minded films also entered movie houses, yet fared little better with Christian critics. A new version of Hamlet, which updates the action in modern-day New York, prompts Christian Spotlight guest reviewer Christopher Heyn to say "Lawrence Olivier must be laughing in his grave." In particular, Heyn grouses at how writer/director Michael Almereyda edits the play to a meager running time. "The roles of Gertrude and Ophelia are cut down to almost nothing, so when both of their death scenes arrive, they pass with barely a ripple of emotional impact." The Dove Foundation was "left cold" by star Ethan Hawke—"a fine actor, but here [he] finds it difficult to muster any expression beyond blank and blanker." Preview's John Adair feels this new version exploits the play's inherent violence: "Two confrontations are portrayed in an overly bloody and graphic way. As people are shot and killed, the incredible amount of blood may elicit a sick feeling from viewers." However, for J. Robert Parks of The Phantom Tollbooth, this new rendition rings true. He explains that this Hamlet is a video hound, and watches old James Dean movies for inspiration. "This sort of contemporizing is useful as a commentary both on Hamlet and our society. How often do people, particularly of Hamlet's age, take their cues from contemporary culture, especially film? How does our culture's obsession with self echo in a play 400 years old?"
Also experimenting with new media is Time Code, a film from Mike Figgis that splits the movie screen into four sections, each camera following the story from a different character's vantage point. The movie is 93 minutes long and was filmed entirely in one take with the newly invented and much-hyped digital movie cameras. The Dove Foundation calls the gimmick inventive, but was less impressed with the story, featuring "characters and lifestyles [that] are depressing." The largely improvised plot centers on an actress who's in a love triangle with a married movie executive and a jealous lesbian lover. Movieguide calls this setup a "shallow, ill-defined story," and questions whether Time Code's "rough, unique style [will make] viewers either enthralled or annoyed with trying to keep up with four different screens." Paul Bicking of Preview sides with the annoyed group, saying the split screens "add to the viewer's confusion," and rejects the plot for its "many degenerate factors."
What's Noteworthy
Preview's Mary Draughon is quite enthusiastic about the Somerset Maugham adaptation Up at the Villa, which tells of an English widow (Kristen Scott Thomas) living in Italy at the dawn of World War II, whose misguided sympathy for an Austrian stranger threatens her impending marriage. Draughon praises the film for its "gorgeous Italian scenery, rich photography, and elegant costumes," but mostly for its story, which allows the widow to "suffer the consequences of her poor judgment," but nevertheless affirms "that life is about taking chances." The Dove Foundation agrees, calling it "an intelligent film that relies on witty dialogue and rich, detailed performances to hold viewer attention rather than bombs and car chases." But not everyone was so charmed. While Draughon felt that the "tasteful treatment of its adult subject matter is unlikely to offend discerning viewers," Movieguide warned that "adults should exercise extreme caution" because of its "uncaring, worldly viewpoint" in which "there is neither a redemptive character nor situation for the audience."
It'd be a stretch to call the infamously bad Battlefield Earth noteworthy, but Hollywood Jesus' staunch defense of it certainly is. While earlier reviews sighed with relief that this adaptation of Scientology founder L. Ron Hubbard's sci-fi novel didn't preach its religion, Hollywood Jesus calls it a shame that "we mask our spirituality from others. … Why is our culture so afraid of sharing its varied spiritual beliefs with each other? … Scientologists should make films that express their ideas on the big screen. As all religions should. … In the midst of incredible interest in spirituality there is [undue] self-censorship going on. … Where is free speech and religious freedom? … Where is the free exchange of religious thought?" Most reviewers simply couldn't take the movie that seriously: eStudentMinistry.net says "you may have had more fun flushing 8 dollars down the toilet in the foyer."
Steve Lansingh is editor of thefilmforum.com, a weekly Internet magazine devoted to Christianity and the cinema.
Related Elsewhere
See earlier Film Forum postings for these other movies in the box-office top ten: Dinosaur, Gladiator, Road Trip, Small Time Crooks, Frequency, U-571, Center Stage, and Where the Heart Is.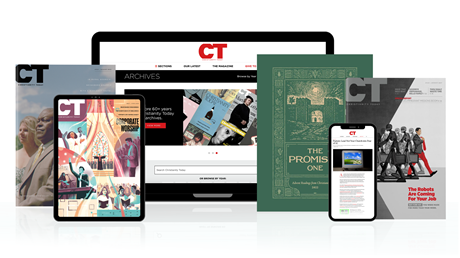 Annual & Monthly subscriptions available.
Print & Digital Issues of CT magazine
Complete access to every article on ChristianityToday.com
Unlimited access to 65+ years of CT's online archives
Member-only special issues
Subscribe
Woo-Hoo!
Woo-Hoo!