Early on a Wednesday morning during the bleak Minnesota winter, stick-wielding children of various ethnicities gather at center ice in a south Minneapolis hockey arena; they await their coach's instructions before an hour-long practice.
Before the pucks drop to the ice, however, another tradition begins. The players and their coach drop to one knee and invite God to join them. They pray for protection, for good sportsmanship, and for healing of an injured or sick player. A chorus of amens reverberates in the chilled air, and hockey drills begin.
Such invocations are an anomaly in a sport known more for fistfights than divine petitions—about as common as ethnic minorities skating in the traditionally white sport. The racial diversity and prayer of these teams, however, grew naturally out of the concern of John Foley, then a youth pastor, to motivate inner-city kids to improve their grades and future prospects.
Breaking the ice ceiling
To play in the DinoMights "Hockey in the 'Hood" youth development program, students must meet minimum grade standards and attendance quotas. Some 60 players, ages 7 to 15, play on four different teams—two for boys, one for girls, and one for both.
"I just wanted to do something a little different," says Foley, who directs the DinoMights program. "As weird as hockey in the 'hood sounded, I knew the younger kids would get fired up and feel they were part of something special."
The DinoMights are attempting to break the "ice ceiling" of an international sport identified as a white game. One-quarter of the DinoMights are white, half are African-American, and the remainder are Latino, Asian, or Native American.
This contrasts sharply with the Twin Cities Youth Hockey District, in which nearly nine-tenths of the registered players are white. Only 20 minority players have skated professionally in the 81-year history of the National Hockey League (NHL), partly because of the sport's northern origins and hefty costs.
Foley had not set out to be a pioneer in racial harmony. He was youth pastor at Park Avenue Methodist Church in south Minneapolis in 1993 when he became concerned with increased dropout rates in his youth group. Having recently heard a "bloom where God has planted you" message at a Christian urban-development conference, Foley waited and prayed. A vision began to germinate, and skates were central to the concept.
By the next winter, the first DinoMights went to the ice, and in 1996 the DinoMights won their first championship in a Minneapolis Park & Recreation League tournament.
Hockey is only one facet of the DinoMights' program. Foley and the DinoMights' board of directors envisioned a ministry that would extend far beyond the rink to assist children in every dimension of their lives. The DinoMights' mission statement promotes "equipping of urban youth to develop physical, academic, social, and spiritual excellence."
Foley and the DinoMights chose the team's Bible verse—"To press on toward the goal to win the prize for which God has called me heavenward in Christ Jesus" (Phil. 3:14)—to encourage excellence in every arena of life.
Foley and 40 volunteers—most of them from Park Avenue Methodist and other churches—coach the teams, tutor players in an after-school program, and drive kids to camps and tournaments. Team members receive emotional and spiritual nurturing from mature Christians. The program also offers career mentoring and computer instruction, as well as a series of incentives for academic excellence and community service.
Not all team members have adjusted well to the high expectations in class. Foley gives numerous chances and initially only suspends those who break the rules. A player who continually skips school, has low grades, or violates team rules must leave the program.
Instilling pride, grounding faith
Success stories far outweigh the failures. Several DinoMights have graduated and gone on to play for both private and public high schools in Minneapolis. Their testimonies reflect an appreciation for the opportunity to play hockey, but their greatest praise is for how the experience introduces them to Christ.
"Now I could [not] care less what other people think of me and would pray in front of anyone," says high school sophomore Jordan Baynard, whose five seasons with the DinoMights helped ground him in his faith and instilled pride to play on a Christian team.
Kayavin Unger, who now also plays on a high school team, adds that the DinoMights taught him "a lot of important things like responsibility, taking control of my actions, and being a leader. It has taught me more about God, and how to be a man."
In annual year-end evaluations, 80 percent of team members indicate that the most important aspect of the DinoMights experience is spiritual growth, Foley says.
"I know that the Holy Spirit is at work when I see how much they desire a relationship with a living God," he says. "After the thrill of championships, all-star selections, and tournament road trips, the great majority of the kids still respond that the best thing about being a DinoMight is developing a closer relationship with God."
Foley, the only full-time member of the DinoMights staff, also runs a learn-to-skate program with 80 first-graders from a local school. Some money for the expensive indoor ice and equipment comes from a $10,000 grant that the NHL awarded the DinoMights to develop hockey in the inner city. The DinoMights were one of 13 international programs to receive the prestigious grants.
Grant monies help offset the considerable expenses of operating four teams. Foley spends much of his time raising funds, and most of the DinoMights are fully or partially funded by the $83,000 annual team budget.
Though a DinoMight might not participate in the Olympics or the NHL, every player will remember early-morning prayer huddles and the challenge to live a life honoring to Christ, Foley says.
Speaking at the team's annual fall banquet, one player summed up the DinoMights' ministry: "John and the DinoMights keep pushing us to stand up for what we believe in, act like Christians, and start praising God."
Stephen T. Hunt is a freelance writer based in St. Paul, Minnesota.
Photography by George Byron Griffiths
Related Elsewhere
Visit the DinoMights' homepage to learn more about "Hockey in the Hood."
Read a story from The Minnesota Star Tribune about the team.
Learn about other diversity task force hockey programs at this NHL site.
Have something to add about this? See something we missed? Share your feedback here.
Our digital archives are a work in progress. Let us know if corrections need to be made.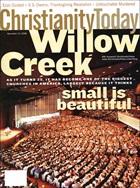 This article is from the November 13 2000 issue.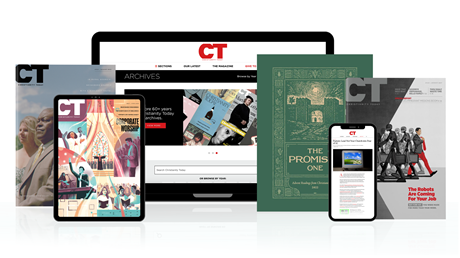 Annual & Monthly subscriptions available.
Print & Digital Issues of CT magazine
Complete access to every article on ChristianityToday.com
Unlimited access to 65+ years of CT's online archives
Member-only special issues
Subscribe
Souls on Ice
Souls on Ice