Mike Trout, for 15 years co-host of "Focus on the Family" with Dr. James Dobson, abruptly resigned from his position as senior vice president of broadcasting for the popular ministry organization.
"We would not be prepared to discuss anything of a speculative nature about any of our employees at any time," Paul Hetrick, Focus vice president of media relations, told

Christianity Today

in a telephone interview. "That's why the reasons are called personal."
Trout was not available for comment and is not listed in the Colorado Springs directories. He had a 30-year career in radio, and wrote two books, including one about a cross-country bicycle trip. That venture led to "Bike for the Family," a national campaign of bike runs to raise money for Focus.
An official statement released by the group, said Trout "will still be heard from time-to-time on pre-recorded programs."
Trout's departure comes during a challenging time for the controversial ministry. Dobson, a former Associate Clinical Professor of Pediatrics at the University of Southern California School of Medicine, is noted in American society for conservative political and social views; he has been portrayed as a "kingmaker" in some political circles, and the group has sponsored outreaches to homosexuals urging them to seek deliverance from their behavior and to teenagers advocating abstinence from sex before marriage.
It was Focus' "Love Wins Out" ministry to gays and lesbians which drew national media attention in the past two weeks when employee John Paulk, a self-described former "drag queen" was spotted in a Washington, D.C. "gay bar." Paulk, a board member and official of Exodus International, an ex-gay ministry, was dropped from his office in that group and is on suspension as a board member.
However, Dobson, in an emotion-packed radio broadcast, said he would forgive Paulk and keep him on the Focus staff. When asked to contrast the Paulk situation with that of Trout, Hetrick said there was no similarity.
"What we have with Mr. Trout was a resignation for personal reasons," Hetrick said.
The Focus official added Dobson had no personal statement on Trout's departure. However, On Friday's edition of Focus on the Family Dobson did make some comments about his sorrow over Trout's departure as he introduced his own broadcast.
"It's a very sad story to all of us," Dobson said, adding he could not comment on the circumstances surrounding Trout's departure because of employee confidentiality. "I can only say that I have a lump in my throat already. We worked together for 19 years and I miss him already."
Another of Trout's colleagues and mentors was also saddened by the broadcaster's departure.
"I hired Mike Trout and, if you will, trained him for his initial positions and watched him rise," said Gil Alexander-Moegerle, a former Focus senior vice president who co-founded the group with Dobson. "I advocated every promotion [Mike] got up to vice president. He's one fine human being, a very gifted broadcaster, and a very devoted family man to his wife Nancy and three daughters."
Related Elsewhere
Other media coverage of Trout and Paulk's stories includes:
Focus official, radio host quits—The (Colorado Springs) Gazette (Oct. 13, 2000)
Ex-Gay Leader Disciplined for Gay Bar Visit | Exodus removes John Paulk as board chairman, places him on probationary status as member.—Christianity Today (Oct. 6, 2000)
Tough Questions for an 'Ex-Gay'—Newsweek (Oct. 2, 2000)
Ex-gay leader confronted in gay bar—Southern Voice (Sept. 21, 2000)
John Paulk and his wife Ann discussed their recent challenges with Dobson on Focus's "Re-igniting the Hope for Homosexuals." If you have the RealPlayer, you can listen to the October 10 broadcast.
Or listen to the October 13 broadcast in which Dobson began by talking about Trout's departure.
Read two Focus articles that talk about Trout's influence and biking experience. " Wheels of Fortune" is mainly about upcoming Focus events, but " The Ride of Your Life" is about Trout's son-in-law's cross-country ride with the radio announcer.
Trout has written two books, Off The Air, in 1995, a compilation of stories from behind the scenes at Focus on the Family, and The Heart of America, in 1998, which details Trout's cross-country bike ride.
To read more about Trout's bike trip across America, check out the site Zondervan created to follow his journey.
Trout, a Senior Vice President at Focus, was instrumental in planning their new fundraising challenge, The National Bike Ride for the Family. The cycling event includes 50 rides, one in each of the 50 states. Focus had previously scheduled numerous rides to be spear-headed by Trout through 2002.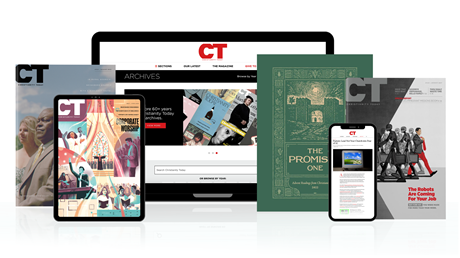 Annual & Monthly subscriptions available.
Print & Digital Issues of CT magazine
Complete access to every article on ChristianityToday.com
Unlimited access to 65+ years of CT's online archives
Member-only special issues
Subscribe
Mike Trout Quits Focus on the Family
Mike Trout Quits Focus on the Family