The simple answer is yes—sometimes. But in matters of litigation, there are rarely any simple answers. There may be situations where one is legally justified in filing a lawsuit, but a Christian must evaluate more than just the letter of the law. To understand what is at stake, it is helpful to consider what God's Word says about Christians suing Christians.
In 1 Corinthians 6:1-8, Paul reprimands church members who have filed lawsuits against each other. Their pettiness, suggests the apostle, lacks eternal foresight and discredits the testimony of the church. In Matthew 18:15-20, Jesus offers principles for how two believers are to resolve a conflict. And earlier on, Jesus advised his followers about how to carry themselves if they are the object of a suit: "If someone wants to sue you and take your tunic, let him have your cloak as well" (Matt. 5:40, NIV). What does this mean for us in today's ultra-litigious society?
As Christ's followers, we are called to live in unity. God wants us to be at peace with one another (Rom. 12:18). A suing Christian is usually enticed to take on the adversarial spirit manifested in the legal system. The predacious nature of our culture, the retention of attorneys, and the courtroom arena combine to form an atmosphere not conducive to reconciling relationships. A Christian who sues can become "caught up" in the system to the extent that he takes on a bitter, self-righteous, and disingenuous mindset.
This, in turn, can lead him to overlook the blessing hidden in conflict, an opportunity to demonstrate godly character in the face of adversity. It also minimizes God's concern about the "weightier matters of the law"—justice, mercy, and faithfulness (Matt. 23:23).
Even though he may be legally "right" to do so, a Christian who pursues a legal remedy outside the circle of other believers (especially when the church has authority over the matter) can end up cheating his brother by depriving him of the opportunity to receive godly counsel to deal properly with both the dispute at hand and things of an eternal nature. The secular legal system simply lacks the wherewithal and the desire to deal with these "weightier matters."
The good news is that the body of Christ has many competent, wise persons who are gifted in peacemaking and conflict resolution. These members, under the guidance of the Holy Spirit, can help people reconcile their relationships with each other as well as resolve their legal disputes.
What's more, the American judicial system often allows disputing parties—even after the filing of a suit—to resolve their conflicts in a private, nonadversarial forum (e.g., through mediation or arbitration with the assistance of a trained facilitator, many of whom are committed Christians). After resolving the matter, the parties may petition the court to incorporate the mediated agreement or the arbiter's decision into a court order.
This process can provide Christians with something that is sorely lacking in our nation's courtrooms: a protected setting where God's voice can be heard, where parties can communicate with each other and disclose their errors without fear of scorn, where forgiveness can be requested and extended, where true restoration can be fostered, and where the legal details can be handled properly. I have witnessed this process work successfully in a variety of cases, from church-related feuds to contract disputes and employment discrimination.
Which brings us back to the question. The stated cautions and principles generally are true for Christian/non-Christian relations as well. We are called to show charity to our neighbor, whether he is a believer or not. Even if the non-Christian resists our conciliatory gestures, we still control our own actions.
Am I saying that a Christian must never sue? No. There will be situations in which one has no choice but to seek legal recourse to resolve a conflict. I am saying, however, that Christian-initiated lawsuits should be rare. Moreover, if a Christian does sue, he should do so only after taking the following steps:
Prayerful self-examination that is not tainted by anger over the other party's actions.


Counsel from a trusted and neutral Christian adviser.


Genuine attempts at resolution using the principles laid out in Matthew 18.


A determination that the lawsuit can be handled with integrity and will not tarnish one's Christian witness.


If we name Christ as Lord, we can rejoice even in the midst of conflict when we remember that God never calls us to do anything without first equipping us to do it—including pursuing peace with all people.
Alice Curtis is an associate professor at the Regent University School of Law in Virginia Beach, Virginia.
Related Elsewhere
Earlier Good Question columns include:
Can We Expect God to Forgive Unbelievers Who 'Don't Know What They're Doing'?

Is the Stock Market Good Stewardship?

Is Satan Omnipresent?

Is Suicide Unforgivable?

Was Slavery God's Will?

A Little Wine for the Soul?

Should We All Speak in Tongues?

Did Jesus Really Descend to Hell?

Take, Eat—But How Often?

Is Christmas Pagan?

Are Christians Required to Tithe?

Is Revelation Prophecy or History?

You're Divorced—Can You Remarry?

If Grace Is Irresistible, Why Evangelize?

A Cracked Code

Committing the Unforgivable Sin

What Bible Version Did Jesus Read?

Did God Die on the Cross?

You Must Be Born Again—But at What Age?

Was the Revolutionary War Justified?

Can the Dead Be Converted?

Cloaked in Mystery

Is Hell Forever?

Denominations: Divided We Stand

Did Paul Baptize for the Dead?

Do Demons Have Zip Codes?

Doubting Thomas's Gospel
Article continues below
Have something to add about this? See something we missed? Share your feedback here.
Our digital archives are a work in progress. Let us know if corrections need to be made.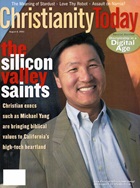 This article is from the August 6 2001 issue.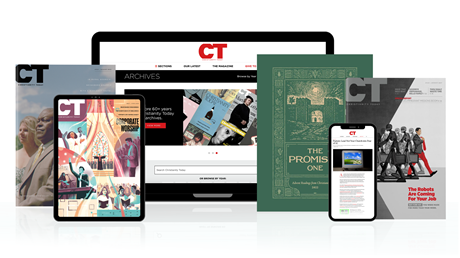 Annual & Monthly subscriptions available.
Print & Digital Issues of CT magazine
Complete access to every article on ChristianityToday.com
Unlimited access to 65+ years of CT's online archives
Member-only special issues
Subscribe
Should Christians Sue?
Should Christians Sue?