Latest friend of the Burnhams: Heather Mercer
It was inevitable that the story of the Shelter Now aid workers and that of Martin and Gracia Burnham would meet somewhere this side of heaven. Wednesday, during the day of prayer for the release of the New Tribes missionaries, Martin Burnham's parents enlisted the help of Heather Mercer for lobbying Washington. "So, she always has to wear a headscarf?" Mercer asked while looking at a recent photo of Gracia. "I always had to wear a headscarf, too." The Wichita Eagle reports that lobbying for the U.S. government to do more to free the Burnhams has a much higher profile than it did during the elder Burnhams' last trip to Washington a month ago. For example, 78 members of the U.S. Congress have signed a letter urging Philippine president Gloria Arroyo to speed up efforts. Rep. Todd Tiahrt (R-Kan.) is making a trip to the Philippines to attract more attention to the missionary couple's plight.
Meanwhile, the situation does seem to be heating up, but it has been for months. Basilan governor Wahab Akbar released a letter yesterday urging against ransom payments. "Rumors have circulated among civilian and other officials in this province that a 50-million peso ($960,000) ransom will be paid to the Abu Sayyaf for the release of Martin and Gracia Burnham and Deborah Yap by unknown negotiators," he acknowledged. "I appeal to all to help us stop paying ransom. Instead, support the military operations here."
The U.S. government seems to be supporting the military operations there more every day. Hundreds of sniper rifles, mortars, grenade launchers, and other weapons arrived for the Philippine military from the U.S. Army today; almost all are designated to be used against the Muslim Abu Sayyaf Group holding the Burnhams. Philippine military spokesman Brigadier General Edilberto Adan says it's time for the gloves to come off: American and other non-Philippine militaries should be able to actively fight the Abu Sayyaf. "This campaign against terrorism is a war without borders," he told reporters yesterday. "They strike not only Filipinos, they strike at any nationality, and we should be open-minded if there are nations willing to help to fight against terrorism." Other official rhetoric suggests that the government is softening its stance against armed foreign troops on its soil.
As more attention focuses on the Burnhams' plight, New Tribes Mission has greatly expanded its Web site's coverage. Past updates, photos, answers to common questions, and other materials have been added. The Wichita Eagle also seems to be running daily updates on its front page. Yesterday, the paper ran an article about a local Muslim who wants to help the Burnhams. He had been held hostage in Kuwait during the Iraqi invasion.
World Vision's ads against child sex upset some—and they're supposed to
"A man wearing a towel in a dark room is talking to his wife and daughter on the phone. When he hangs up, the camera pans to a slight Asian girl on the end of the bed and the man rests a hand on her shoulder." The ad, which is airing on Australia (though Weblog can't tell if it's on anywhere else), is meant to be disturbing—it's to draw attention to the sexual exploitation of children around the world. As the Second World Congress against the Commercial Sexual Exploitation of Children launches in Yokohama this week, World Vision partnered with UNICEF to create the spots. "Yes, they are confronting and we don't apologize for that, because frankly there are children in the world whose innocence is stolen by adults, and some of those adults are Australians," Lyn Arnold, World Vision Australia's CEO, tells The Sydney Morning Herald. "This is not artificial, this is not fiction. This is real life. The alternative is to say nothing, and where does saying nothing get these children?"
More articles
Persecution and violence:
Battle in Accokeek:
Church financial scandals:
Other stories of interest:
Related Elsewhere:
See our past Weblog updates:
December 14 | 13 | 12 | 11 | 10
November 30 | 29 | 28 | 27 | 26
November 16 | 15 | 14 | 13 | 12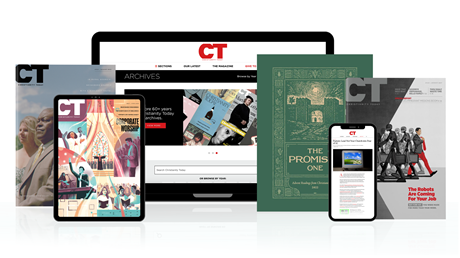 Subscribe to Christianity Today and get access to this article plus 65+ years of archives.
Home delivery of CT magazine
Complete access to articles on ChristianityToday.com
Over 120 years of magazine archives plus full access to all of CT's online archives
Subscribe Now
Heather Mercer Helps the Burnhams
Heather Mercer Helps the Burnhams