Following accusations at a seminar on the abuse of dowries in India that organized religions are "perpetuating" the illegal dowry system, prominent churchwomen have declared that the nation's churches have done little to put an end to the abusive practice among Christians. In their findings on the dowry system, the seminar participants declared that "organized religions are not part of the solution but part of the problem."
Many leading Christians agree.
"The message of liberation preached by Christ has been negated by the social influences here," Virginia Saldanha, secretary of the Catholic Bishops' Conference of India (CBCI) commission for women, told ENI. "The church here [in India] has absorbed the [dowry] culture of the society and is deep-rooted in it," she said in an interview at the CBCI secretariat in New Delhi.
Leading Christian women supported the findings of the fifth international seminar on "Dowry and Bride Burning in India," held here late in January, which condemned the dowry system, perhaps the best-known example of widespread discrimination against women here.
Female children in India are often viewed as inferior to boys. Once girls reach marriageable age, many families believe they need to pay a dowry in order to find a suitable husband for their daughters, despite a 1961 legal ban on the dowry system. Desperate to get their daughters married, parents often promise to pay a dowry that is beyond their means.
The bride's in-laws later pressure her to extract more goods, in cash and other forms, from her family. This happens even to brides who have already supplied the dowry originally promised.
Some brides commit suicide because of the constant pestering and, in some cases, physical torture by their in-laws, while others are burnt to death by their new family. The death is then blamed on "catching fire while cooking" or "suicide." The police generally take no action.
Even in cities such as the capital, New Delhi, "bride-burnings" are reported every day. A recent report from the federal Department of Women and Child Development—published as Violence Against Women—stated that registered dowry deaths rose from a total of 1,912 cases in 1987 to 5,157 in 1991. But women activists claim that at least 10 times as many cases are never registered.
"The word 'dowry' is dreadful to most parents, including Christians. The day a girl is born, parents start saving for her dowry," said Susy Matthew, president of All India Council of Christian Women (AICCW), which is linked to the National Council of Churches in India (NCCI).
She said that the dowry demands and the violence associated with them "prompt many [couples] to go for female foeticide. Thousands of girls do not get a chance to live. They are murdered in the wombs of their mothers," Matthew said, referring to the widespread use of gender tests after which some parents obtain an abortion to "avoid the burden" of an unwanted female child.
According to population experts, every year several million females "go missing." The female population ratio in India, which stood at 972 for 1,000 men a century ago had steadily declined. The 1991 census indicated the ratio had dropped to 929 to 1,000.
Some districts in the northern Indian state of Punjab have recorded a ratio of female to male children below 850 to 1,000 due to female abortions, which are widely advertised, even in small towns, despite a ban by the federal parliament in 1994.
Jyotsna Chatterji, secretary of Church of North India's (CNI) commission on national affairs, also endorsed the findings of the seminar. "Yes, it is true that organized religions, including Christianity, have not tried to combat the dowry problem originally rooted in Hinduism," said Chatterji, who also heads a national women's group called the Joint Women's Program with branches in a dozen states. "As per the scripture, Christianity should have combated the dowry system. But, instead of sticking to the written word, it has adopted a compromising position allowing this practice to continue."
Though invited to address the seminar, which was jointly organized by the Hindu reformer Swami Agnivesh and the International Society Against Dowry and Bride Burning in India, Chatterji could not attend the seminar as she was travelling. However she told ENI she agreed "100 percent" with the declaration criticizing religions.
"Religions have created the mindset for the dowry abuse—without ever raising the issue of equality of human beings," Swami Agnivesh said at the conclusion of the seminar, which was attended by 70 delegates from India and abroad. Agnivesh is also chairperson of the United Nations' Trust Fund on Contemporary Forms of Slavery. "Organized religions—as they are practiced now—only aggravate the problem. There is a whole mindset behind the dowry system and the violence attached to it," said Swami Agnivesh.
He quoted discriminatory passages from Hindu scriptures, including one that states that a father can only attain "moksha"—salvation—if his son performs the last rites for him.
In an interview with ENI, Swami Agnivesh said that, because of this preference for male children, girls had been reduced to an "unwanted commodity to be disposed of in marriage with dowry."
Professor Himendra Takur, an academic from Harvard University and coordinator of the International Society Against Dowry, told the seminar that, according to a conservative estimate, more than 25,000 brides were burnt to death each year in India for their failure "to meet the dowry demands of their in-laws."
"We want to create a movement against this horrendous crime," Professor Takur said.
Matthew told ENI that churches were "doing little to end the dowry system" among Christians.
A member of the Orthodox church based in the state of Kerala, Matthew said that her church had the tradition of "pattaram"—collecting two percent of the dowry for the church. "The dowry amount used to be officially announced during the marriage ceremony," said Matthew. But since the Dowry Prohibition Act came into force in 1961 the practice had been stopped.
But she added that she had reason to believe that church trustees still collected pattaram in secret. "When my sister-in-law was married, they [the church] collected pattaram even from the girl's family."
Chatterji said she had got a "real taste of churches' patriarchal approach to the dowry problem" a decade ago when she coordinated the churches' bid to amend laws relating to Christian marriage, divorce, and adoption.
In her proposed amendments, Chatterji included a solemn declaration for the bridegroom and the bride containing the words "I have not asked for or given dowry" for the marriage.
However, almost all 33 members of the ecumenical committee of church leaders, lawyers, and canon law experts rejected the clause as "unnecessary."
Saldanha, who is also executive secretary of the women's desk of the Federation of Asian (Catholic) Bishops Conferences, told ENI that among Christians the dowry problem was "not as acute as among Hindus in so far as it does not end in cold murders."
But she added: "Many Christian families still find it difficult to take back their daughters if they face dowry harassment. For them, a daughter is paraya dhan [another's property] and taking back a married daughter hurts family pride."
While the problem "ought to be a serious concern for the churches" Saldanha said she regretted that it had "not received adequate attention. Even the [Catholic] bishops are a product of the society with the patriarchal thinking deep rooted in their minds."
The Catholic Church had made a "small beginning" in 1997 when it dedicated September 8, the nativity feast of the Virgin Mary, as "the day of the Girl Child" to "remind us how precious to the world and society are the girls born to us in the providence of God."
"But such tokenism is not enough," said Saldanha.
Related Elsewhere:
Charles Grant (1746 -1823) and the Clapham Sect worked against such Indian customs as exposing the sick, burning or drowning lepers, and sati, the ritual burning of widows. Read about them in Christian History magazine, one of Christianity Today's sister publications.
When Stan Guthrie was managing editor of Evangelical Missions Quarterly and the missions newsletter World Pulse, (he's now associate news editor for Christianity Today), he profiled the historical and current situation of Christianity in India.
Other media coverage of India's dowry practices include:
Father jailed on son's evidence | Pratap Narayan allegedly strangled his wife to death for dowry — The Times of India (Feb. 17, 2001)
Court records sought in dowry death case — The Times of India (Feb. 7, 2001)
SP leader concerned over female exploitation — The Times of India (Feb. 5, 2001)
Dowry death: The curse of being a Daroga's daughter — The Times of India (Feb. 3, 2001)
Teenaged woman set afire for dowry — The Times of India (Feb. 2, 2001)
'Women are fighting back' — The Times of India (Feb. 1, 2001)
Broker beaten for sending brides into quake — The Independent (Johannesburg, South Africa) (Jan. 31, 2001)
Crime against women not reflected in figures: Police — The Times of India (Jan. 29, 2001)
'Dowry an evil reality of Indian society' — The Times of India (Jan. 26, 2001)
Can wife-beating be justified? | Three out of five women in India accept at least one reason as a justification for wife beating. — The Times of India (Jan. 21, 2001)
For most women, life is no bed of roses — The Times of India (Jan. 21, 2001)
Discrimination against women exists at all levels of society — The Earth Times (Jan. 17, 2001)
Housewife done to death for dowry — The Times of India (Jan. 14, 2001)
Previous Christianity Today stories on India include:
India's Christians Face Continued Threats | We must preach what we believe in spite of Hindu pressure, says Operation Mobilization India leader. (Feb. 15, 2000)
Article continues below
India's Quake Survivors Need Counseling | Earthquake survivors are desperate for more than material aid, Indian bishop warns. (Feb. 9, 2001)
Quake Rocks Hindu Hotbed | Agencies appeal for funds to aid victims (Feb. 8, 2001)
Politician Who Saw God's Hand in Gujarat Quake Forced to Resign | Civil aviation minister had told Christians that quake was God's judgment against persecution of Christians. (Feb. 5, 2001)
Christians Hammered by Pre-Christmas Violence | 200 Christians driven from a small town in Gujarat, India, and their church converted into a Hindu temple. (Dec. 22, 2000)
Indian Christian Youth Form Protection Group | Non-violent group aims to counter attacks on Christians through peaceful solidarity. (Nov. 12, 2000)
A Chinese Model for India's Churches? | No thank you, say Indian Christians to Hindu proposal for government church regulation. (Oct. 12, 2000)
U.S. Religious Freedom Commission Criticized | Indian churches reject U.S. inquiry, but Pakistani Christians welcome it. (Oct. 3, 2000)
Plans to Resolve India's Interfaith Tensions Face Delays and Accusations | Did India's National Commission for Minorities plan a meeting to discredit Christians? (July 20, 2000)
India's First Dalit Archbishop Holds 'No Grudge' Over Predecessor's Attack | Once "untouchable" Dalits make up bulk of country's Christians. (May 11, 2000)
India's Christians Resist Move to Register Conversions | State's legislation unconstitutional, says leaders. (May 2, 2000)
Build Bridges, but Fight Fanaticism, India's Churches Told | National Council of churches in India will work against strengthening of caste system. (Mar. 9, 2000)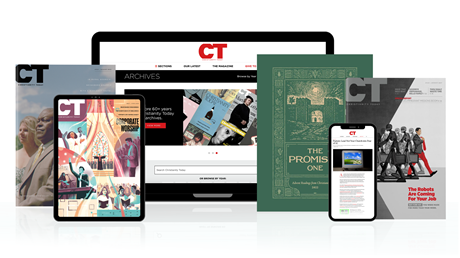 Annual & Monthly subscriptions available.
Print & Digital Issues of CT magazine
Complete access to every article on ChristianityToday.com
Unlimited access to 65+ years of CT's online archives
Member-only special issues
Subscribe
Churches Have Not Worked to End Dowry Practice
Churches Have Not Worked to End Dowry Practice