A major policy initiative by U.S. President George W. Bush to increase federal support for faith-based organizations and charities that provide social services is drawing mixed reactions from the nation's faith communities.
The initiative, announced during a series of appearances by the new president late in January, would allow faith-based groups to compete for about $10 billion in funds for various social service programs—in effect, opening up the management of many programs to faith-based groups and charities.
The plan also creates a White House office for faith-based initiatives and calls for five federal agencies to assist faith-based groups in expanding their social services.
President Bush also wants to increase tax deductions available to faith-based groups to encourage Americans to donate more money to charities.
President Bush, a United Methodist who openly discussed his faith during the 2000 presidential campaign, said that religious groups were often in a better position to provide assistance to the needy than the federal government.
At the same time, he said that the federal government must maintain the official U.S. constitutional separation of church and state, and that federal funds would not be used for expressly religious purposes.
"We will encourage faith-based and community programs without changing their mission," the president said in announcing the new initiative. "We will help all [of them] in their work to change hearts while keeping a commitment to pluralism."
Criticism of the plan has stemmed from two major concerns: first, that the initiative puts at risk the boundary between church and state; second, that faith-based groups, particularly congregations, often do not have the capacity to implement social service programs and cannot take the government's place in providing social services.
In a letter sent on January 30 to President Bush, 19 national organizations including civil rights, civil liberties, education and some religious groups—among them the Baptist Joint Committee on Public Affairs—said they were concerned that the proposal raised constitutional questions about the separation of church and state.
The letter urged President Bush to guarantee that groups receiving federal funds must not discriminate on the basis of religion.
Some Catholic, Protestant, and Jewish leaders also criticized the proposal, as did gay and lesbian groups who feared that the proposals could result in discrimination against homosexuals by federally-funded religious charities.
"I don't think President Bush knew how much opposition there would be from so many different kinds of groups," said Barry Lynn, executive director of Americans United for Separation of Church and State.
However, others hailed the initiative as a practical and much needed way to assist those in need. "Faith-based programs have the potential to be successful in ways that government efforts have failed," said Amy Sherman, a senior fellow on welfare policy at the Hudson Institute, a conservative think-tank.
Saying that the public and faith-based sectors have "complementary roles to play," Sherman told ENI that "government does best in addressing structural issues." But Sherman's own experiences in several local ministries have led her to believe that often what those experiencing poverty most need "is a friend, and that is something that government is not well-positioned to provide."
"Faith-based efforts have human resources—human capital—that can be involved in intensive, holistic efforts to assist people," she said. "Faith-based and community-based programs can be innovative, personal, and flexible.
"Of course, they cannot replace the government role, but it's a situation of 'both/and' and not 'either/or'. What needs to be asked is: 'What does each sector do best?'"
The National Council of Churches (NCC), the nation's biggest ecumenical agency, has not yet issued a statement on the Bush plan, but is reported to support some aspects of the initiative. But the NCC is apparently also concerned about church-state sensitivities.
A statement on the initiative is expected from the NCC soon, an NCC spokesperson told ENI. Some NCC-related programs, including immigration resettlement by the NCC-affiliated relief agency Church World Service, already receive government funding, as do other Protestant, Catholic, and Jewish relief and development agencies.
But these programs are well established. Concern over expanding federal funding for faith-based organizations has more to do with smaller faith-based groups, such as congregations, suddenly seeking funds for programs they do not have the capacity to implement.
James Wind, president of the Alban Institute, an organization which studies U.S.congregations, told ENI that churches needed to move cautiously. Most congregations, he said, were small and had limited resources. A quarter of them did not even have formal budgets. "There can be unrealistic expectations of what churches can do," said Wind, who is a minister with the Evangelical Lutheran Church in America (ELCA).
"Before we go running off with expectations of what churches can do, we first need to assess what their capacity is," Wind said. Some large churches could already provide such services, but many more could not.
There was also a philosophical issue at stake, Wind told ENI. Churches could not merely be social service providers, he said. They must also provide pastoral care, worship, and, if need be, act in the prophetic tradition and criticize the government and larger culture when they feel the obligation to do so.
"Those are roles that are as important to our culture and society as social ministry," he said, adding that a church taking federal money could find itself compromised if it felt called to take a prophetic stance on a public policy issue, but was concerned about keeping its government funding.
At the same time, Wind said, the president's initiatives expressed "something that is out there: the society is undergoing a shift on the issue of religion and public life." The shift is "something that is healthy and good. We just need to proceed carefully."
On the potential problems of capacity, Sherman said that most congregations doing social service work were small-scale and still effective; that moderate-to-large churches could potentially expand their work; and that U.S. congregations were generally a "sleeping giant" in the area of social service work.
"It is true that congregations cannot take over large-scale government programs," Sherman told ENI. "But there is still a lot of untapped capacity among churches and congregations."
And while Sherman said there was a potential risk that churches could lose their "prophetic" edge if they accepted government funding, she also suggested that their prophetic role could actually be enhanced because "they are building relationships with people and institutions that put them at the table [of influence]."
Related Elsewhere:
Previous Christianity Today stories on Bush and faith-based initiatives include:
The Bush Agenda | Will the White House be user-friendly for religious organizations? (Jan. 8, 2001)
Bush's Call to Prayer | After Al Gore's concession, evangelical leaders unify around faith-based initiatives, morality, and prayer as the incoming Bush administration gears up. (Dec. 14, 2000)
A Presidential Hopeful's Progress | The spiritual journey of George W. Bush starts in hardscrabble west Texas. Will the White House be his next stop? (Sept. 5, 2000)
Article continues below
Christianity and Politics | Recent and important releases that will shape evangelical thought.(May 22, 2000)
Bush's Faith-Based Plans (Oct. 25, 1999)
The Washington Post has also covered Bush's faith-based proposals closely:
Religious Charities Under Fresh Scrutiny (Feb. 11, 2000)
Bush Proposal Is Worrisome, Jackson Says (Feb. 5, 2001)
Hailing Faith's Influence (Feb. 2, 2001)
Groups Lukewarm on Earlier Faith Initiative (Feb. 1, 2001)
Bush: Limits Set on 'Faith-Based' Plan (Jan. 31, 2001)
Bush Unveils 'Faith-Based' Initiative (Jan. 30, 2001)
Further media coverage is available from The New York Times, The Los Angeles Times, and The Seattle Times.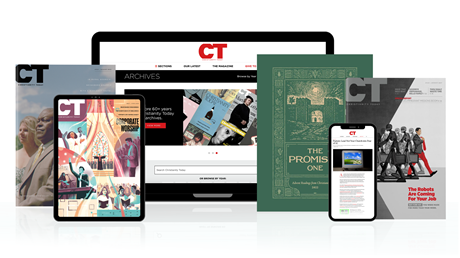 Subscribe to Christianity Today and get access to this article plus 65+ years of archives.
Home delivery of CT magazine
Complete access to articles on ChristianityToday.com
Over 120 years of magazine archives plus full access to all of CT's online archives
Subscribe Now
Should Charities Take Washington's Money?
Should Charities Take Washington's Money?