Over the past ten years, a small Orthodox parish in Moscow has created, almost from scratch, sign language for Orthodox liturgy.
"We are now ready to start publishing the first dictionary on videocassettes, CD-ROMs and in books," the parish priest, Pyotr Kolomeitsev, told ENI.
Many of the worshippers at his church, Our Lady of Tikhvin, are deaf or hearing impaired. At a recent service, the small choir sang for those who could hear, while for those who could not, a woman in a headscarf stood near the choir translating the hymn into sign language with rapid, vigorous gestures.
Standing behind the sacred doors—which in Orthodox churches separate the altar from the rest of the church—Kolomeitsev recited his part of the liturgy using both his voice and his hands, frequently pointing towards the ceiling to signify the word "God." And in a departure from Orthodox practice, he frequently faced the congregation rather than the altar, so that sign-readers could follow the liturgy.
One of the main achievements of his small community, Kolomeitsev said, was that it had succeeded in not being pigeon-holed as a church exclusively for deaf people. "The deaf live in their own world, in their ghetto, in their own sub-culture," he said. "They have their schools, their theatre, their clubs. Here, people all feel that they are in a normal church. We have not created another ghetto for them. We simply let the hearing-impaired into the Russian Orthodox Church."
Orthodox liturgy also appealed strongly to senses other than hearing, Kolomeitsev said, pointing out that he ensured his church had the finest icons and best incense.
While ministry to deaf and hearing-impaired people is well established in many Western churches, the congregation at Our Lady of Tikhvin is a pioneer within the Russian Orthodox Church.
The congregation was founded in 1991 by Archdeacon Pavel Troshenkin, who had worked in the Soviet era as a professional interpreter for deaf people. He gave lectures about Christianity for deaf and hearing-impaired people, and received permission from church authorities to turn his back to the altar and translate parts of the service into sign language.
Over the past 10 years the work has been continued by a team of priests and interpreters, who have borrowed some signs from Western denominations and invented others.
A small network of Orthodox parishes offering services with sign language has begun to emerge in Russia. Kolomeitsev often travels to St Petersburg to celebrate services for a community there, which is still awaiting its own priest. Occasional interpretation is provided in several churches in the Moscow region where deaf people live or work.
Many Western Christian organizations are active in providing humanitarian aid for deaf and hearing-impaired people in Russia, Kolomeitsev told ENI. Baptists were particularly active, helping congregations in about 50 Russian cities.
"We distribute aid too, but that is not the most important work for us," the priest said. The main goal was to help hearing-impaired people to be "fully-fledged Christians". There are about 100 members in his regular congregation who participate in services, undertake pilgrimages in Russia and abroad, and teach in schools for the hearing-impaired.
Kolomeitsev, who is a member of the International Federation for Pastoral Care to Hearing-Impaired Persons, which has a secretariat based in Germany, also has contacts with similar groups in other churches, including a small community of hearing-impaired Roman Catholics in Moscow.
Russian, Kolomeitsev said, was sometimes difficult for deaf people, who often watched videos or action movies that could be understood without translation, rather than reading books. "Our parishioners have begun to read and this is very good," Kolomeitsev said.
"When I talk to my Western colleagues, I see that they have many things which we don't have, especially as far as technical equipment is concerned. But when they hear that our parishioners read the [standard Russian translation of the] Bible and not a picture Bible, they are very impressed."
Related Elsewhere:
Our Lady of Tikhvin's Web site is, of course, in Russian.
Previous Christianity Today stories about the Russian Orthodox Church include:
Russian Orthodox Church Approves as Putin Decides to Sing to a Soviet Tune | Once wary Moscow Patriarchate now supports resurrecting former national anthem.(Dec. 8, 2000)
Serbia to Return Confiscated Lands to Orthodox Church | Interim religion minister says she'll promote freedoms for Muslims and evangelicals too. (Oct. 31, 2000)
Soviets, Schism, and Sabotage | How the government manipulated division in the Russian Orthodox Church. (Aug. 18, 2000)
Russia's Last Czar to Be Sainted for 'Humility' of His Death, But Not for His Life | Nicholas II and family part of 1,100 canonized for martyrdom by communists. (Aug. 16, 2000)
'Thorny' Issue Proves to be an Obstacle for Catholic-Orthodox Commission | Fate of Eastern Catholic Churches in post-communist Europe and Russia still unresolved.(July 26, 2000)
For Many Russian Christians, Bar Codes Signal Coming of the Antichrist | Russian Orthodox Church trying to calm fears, but may be making it worse. (April 14, 2000)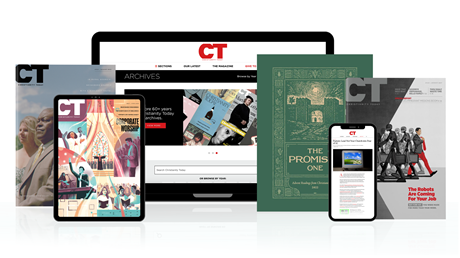 Annual & Monthly subscriptions available.
Print & Digital Issues of CT magazine
Complete access to every article on ChristianityToday.com
Unlimited access to 65+ years of CT's online archives
Member-only special issues
Subscribe
Moscow Parish Overcomes the Sound Barrier
Moscow Parish Overcomes the Sound Barrier