My daughter and son-in-law be came Canadian citizens recently. They have lived in Canada for many years; but that, to me, wasn't the same as citizenship. I joshed with them, saying they were repudiating their parental heritage. They sensed it wasn't all a joke; and my daughter, being a theologian's daughter, gave me an elaborate biblical justification for their break with their family heritage.
For years they had dwelled in a community, she said, participating in its life, accepting leadership in a local church, but they could not vote. They could not assume social or political leadership among the people they had chosen. They were living in an alien land without taking a share of responsibility for the good of that land. They wanted to do what they could to protect that land and to work for the good of the people among whom they lived.
After all, my daughter continued, three of their four grandfathers had done the same. And from the Bible we learn that part of being a good Christian is being a good citizen. "Thy statutes are my song wherever I lodge," cried the psalmist (119:54). And Jeremiah the prophet brought the Word of the Lord to his people who were dwelling in a strange land: "Build houses and settle down, plant gardens,. … seek the peace and prosperity of the city to which I have carried you into exile. Pray to the Lord for it. … For I know the plans I have for you, declares the Lord, plans to prosper you and not to harm you, plans to give you hope and a future."
What could I say? In what relevant way did their situation differ from that of the ancient Israelites that would suggest this passage does not apply to my daughter and her husband?
Native son
This experience raised for me the question of what is appropriate Christian patriotism. I love my country. As a boy I memorized Sir Walter Scott's lines: "Breathes there the man with soul so dead, / Who never to himself hath said, / This is my own, my native land!" I never hear the words of "My Country, 'Tis of Thee" without being deeply moved.
Sentimental? Yes. But there is room for sentiment. I love the rocks and rills of my native land, but even more am I moved by its heritage of freedom, its ideal of justice, its recognition of the sacred rights of each individual, its fairness in providing opportunity for all. For all these gifts I am grateful to God.
Of course, I know our justice is far from perfect, and equal opportunity depends on who you are-which is to say, it is not equal at all. The main redeeming factor is that we feel guilty when we fall short. And that is always the first step toward improvement. Unfortunately, it sometimes seems as though for every three steps forward, we slide four steps backward.
True patriotism is not anti-Christian but flows naturally from creation and the providence of God. God comes first, every Christian knows. But by both natural law and biblical law, a man is to love his wife and "cleave" to her. They love their children, care for them, nourish them, and protect them with their very lives if necessary. Those who are nearest to us become dearest to us. And we humans-derived from humus, from the earth-identify with the soil beneath and around us. It is "my land," my country, my city.
And if, as sometimes happens by turns of providence or twists of our own perversity, we are alienated from our heritage, we have lost a part of ourselves. There are no more terrible misfits than those who deem themselves utterly independent and alien from all-with no friend, no one to depend on, no one dependent on them. Their souls are dead.
And with our ties to life and land and loved ones, comes responsibility-responsibility to live as citizens of heaven and citizens of earth-to be obedient, loving, and useful Christians with an ultimate future with God and the heavenly hosts above, but here and now with our eyes and hearts on earth.
That's what my daughter is telling me. And it is very good.
This article originally appeared in the October 7, 1991 issue of Christianity Today. At the time, Kenneth S. Kantzer was senior editor of Christianity Today. He is retired in Pennington, New Jersey.
Related Elsewhere
See today's other articles on patriotism, in commemoration of the American Independence Day:
Is Patriotism Dead? | The day that patriotism ceases, that day we will have ceased to be a people.

What Jonathan Edwards Can Teach Us About Politics | Before Jerry Falwell and Jesse Jackson, another preacher ventured into the public square.
More articles are available at ChristianityToday.com's Fourth of July area.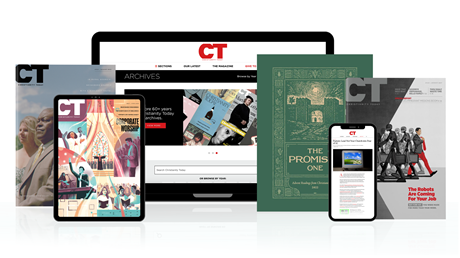 Annual & Monthly subscriptions available.
Print & Digital Issues of CT magazine
Complete access to every article on ChristianityToday.com
Unlimited access to 65+ years of CT's online archives
Member-only special issues
Subscribe
Watching My Daughter 'Defect'
Watching My Daughter 'Defect'