Christian leaders in Pakistan have gained ground in a campaign against an election system that identifies voters by religion and, they claim, discriminates against religious minorities.
The Pakistani Supreme Court recently ruled that Christians may contest the post of village or district council head, a judgment that chips away at the nation's current voting system and in effect supports the notion of more voting rights for religious minorities, Christian activists claimed.
Elected representatives chose heads of more than 5000 village and municipal councils on August 2.
Although the nation's highest court did not endorse Christian demands for a complete abolition of the election system, Christian church leaders welcomed the ruling.
"We are happy that [the court] has taken note of the injustice we are facing," said Catholic priest Bonnie Mendis, a leader of the ecumenical Christian Organization for Social Action in Pakistan (COSAP). "It is for the government to give us equal rights as citizens."
Pakistan's separate electorate system (SES) was imposed in 1979 under General Zia-ul Haq's martial rule. Under the system, citizens cannot vote for candidates outside their own religious affiliation: Muslim voters can only vote for Muslim candidates, Christians for Christian candidates and Hindus for Hindu candidates. About 3 million of Pakistan's population of 140 million are Christian; approximately 97 percent of the nation is Muslim.
At the national level, 10 seats out of 217 at the National Assembly are reserved for religious minorities—four for Christians, four for Hindus and two for people of other religions.
Under SES, recently concluded village council elections permitted Christians voters a single vote as compared with five votes each for Muslim voters, who were able to vote for a range of posts on the council such as those for women and labour leaders.
The village council head is chosen from among the elected members of the village council. The supreme court ruling means that Christians who have been elected to village councils may now contest this post, something that had previously been ruled out by election officials as contravening SES.
Victor Azariah, general secretary of the National Council of Churches of Pakistan (NCCP), welcomed the Supreme Court ruling, but said, "Christians can rejoice over it only when the government and the election commission abolish the separate electorate system. The judgment should be turned into law to end this discrimination."
The NCCP is a forum of non-Catholic Christians in Pakistan comprising the Church of Pakistan, Presbyterian Church, Salvation Army and Association of Reformed Churches.
The NCCP and the Catholic Bishops' Conference of Pakistan had called for a boycott of the local body elections—which were held in four phases from December to July—as a protest against the separate electorate.
Concerned that the campaign might garner political sympathy, the government tried to stop the boycott by extending the filing date for minority candidates and putting pressure on Christian politicians not to withdraw their candidacy, Father Mendis said.
But the campaign picked up steam, garnering political support at a convention organized in June by the National Commission for Justice and Peace of the Catholic Bishops' Conference in Lahore. Representatives of more than a dozen major political parties endorsed the Christian activists' demand for dismantling the SES.
"No one has the right to discriminate against minorities because of their religious identity," Imran Khan, head of the Tehrik-I-Insaf party, said at the convention.
"To regain social and national integrity we should demand the restoration of the joint electorate system," added Khan, the popular former captain of Pakistan's cricket team.
Ijaz-ul-hassan of the Pakistan Peoples Party called the SES a "negation of true democracy," stating that "a handful of fundamentalists have taken 140 million Pakistanis hostage."
The chair of the convention, Catholic Bishop Joseph Coutts of Faisalabad, said "the present [election] system here is really nothing but political apartheid."
"We want to be treated as equal citizens. We will continue our struggle peacefully for that," said the bishop, who had succeeded Bishop John Joseph. In 1998, Bishop Joseph shot himself in protest against Pakistan's Blasphemy Law and what he considered to be the harassment of Christians.
Asserting that the "qurbani" (sacrifice) of his predecessor "has not gone in vain," Coutts said that "change does not take place all of a sudden. We need to be consistent and keep trying."
There is "growing awareness" among Christians and others of "the political isolation" of minorities in Pakistan, he said. "But, that is not enough. We want the government to put an end to this undeclared apartheid."
Related Elsewhere
The U.S. Department of State reports on human rights and religious freedom detail abuses in the Pakistan.
Previous Christianity Today articles about Pakistan include:
Article continues below
Christian Principal Accused of Blasphemy | 33-year-old Pakistani Presbyterian faces death penalty if convicted (Apr. 27, 2001)

Stolen Daughter | Parents demand answers after girl is kidnapped and reportedly raped (Apr. 27, 2001)

Christians Cleared of Blasphemy | But more than 50 Pakistani Christians have been victimized on trumped-up charges since 1987. (Mar. 26, 2001)

U.S. Religious Freedom Commission Criticized | Indian churches reject U.S. inquiry, but Pakistani Christians welcome it. (Oct. 3, 2000)

Pakistan's Christians Demand End to 'Religious Apartheid' at Polls | Election system allows religious minorities to vote only for candidates of their own faith. (Sept. 19, 2000)

Rapes of Christians Put Pakistani Justice on Trial | "Religious apartheid is coming," says human rights leader. (Sept. 12, 2000)

Military Leader Backpeddles on Human Rights Decision (June 12, 2000)

Two Pakistani Christians Sentenced to 35 Years in Prison | Musharraf retracts new blasphemy law policy in wake of protests. (May 23, 2000)

Blasphemy Case Registered Against Young Pakistani Husband | First test of military government's new judicial curb (May 11, 2000)

Churches Welcome Pakistan Promise to Ease Restrictions on Minority Faiths | October coup turns out to be beneficial to Christians as blasphemy laws are overhauled. (May 4, 2000)

Pakistan's Christians 'Not Shocked' by Life Sentence for Former PM | Life has improved, persecution has eased under new leader, say church leaders. (Jan. 15, 2000)

Pakistan's Despised Christians | Despite a Catholic bishop's protest suicide in 1998, Christians hold little hope for repeal of blasphemy law. (April 26, 1999)

Islamic Law Proposal Raises Tensions (Dec. 7, 1998)

Pakistani Bishop's Death Sparks Riots (June 15, 1998)

Muslims Destroy Christian Village | Rumors of a damaged copy of the Qur'an incite riot. (April 7, 1997)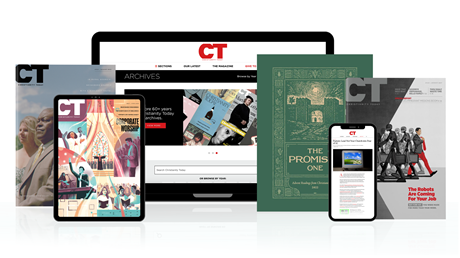 Subscribe to Christianity Today and get access to this article plus 65+ years of archives.
Home delivery of CT magazine
Complete access to articles on ChristianityToday.com
Over 120 years of magazine archives plus full access to all of CT's online archives
Subscribe Now
Pakistani Christians Fight Against 'Apartheid' in Election System
Pakistani Christians Fight Against 'Apartheid' in Election System