Newsweek likes Christian rock
"I thought it was going to be more out of the loop than it was," Newsweek music critic Lorraine Ali admits about the subject of her cover story: Christian rock music. Instead, what she found at the touring Festival con Dios, where teens "wreak havoc and give praise," was some good music, relevancy, and a lot of savvy marketing. Christian record sales brought in $747 million last year, accounting for 7 percent all American music sales. But if it's so big, why don't more people know about it? Ali attributes it to change within the Christian music culture itself:
Christian music underwent a makeover, hipping itself up for the approaching millennium. Starting in the early '90s, its artists began borrowing from more relevant styles of music and fashion to promote their words of praise. Conveying those lyrics in the catchiest ways is now the main goal. It's all part of an evangelical oral tradition to spread the Gospel. Where a preacher uses the pulpit and an organ, CCMers use the stage and a band. Artists can choose to dedicate songs directly to God, referred to as "verticals," or praise-and-worship tunes, or to sing about religious values, sometimes with a deliberate ambiguity to attract less conservative listeners. Occasionally, the music crosses over: CCM stars such as crooner Michael W. Smith and the roots-rock outfit Jars of Clay get play on VH1, and the metal bands P.O.D. and Lifehouse are embraced by MTV. To young Christians, these rock artists are Gospel-spreading heroes. Like the kids, they exist between dueling cultures, forming an unlikely bridge from explosive teenage rebellion to steady, unwavering faith.
But what Ali completely misses is that nobody really knew how big Christian music was until September 1995, when SoundScan—the company that tracks record sales—finally started counting sales from Christian stores. Almost overnight, Christian acts started appearing on the charts. The same thing has been true with Christian book sales and, to a lesser degree, films—the country at large hasn't noticed the Christian entertainment world because it has been excluded by the listmakers. The other big change in the mid-'90s was that Christian music started being available in megastores like Wal-Mart and more prominent in record stores. This was largely thanks to Christian music labels being bought up by the major mainstream labels. Ali is half right when she says, "The heavenly ring of cash registers has finally grown so independent gospel-based labels are being snapped up by such corporate giants as Sony and Universal," but she fails to note that such purchases happened half a decade ago and are as much responsible for the Christian music boom as the result of it.
In fact, most of Ali's story could have been written—and was—about half a decade ago. (She actually quotes a musician who suggests that many evangelicals think Christian rock music "is high-decibel Devil worship." What is this, 1975?) What's really news now is that the golden age of Christian rock music may be in trouble. Last year, Christian music sales dropped by 8 percent—the first decline in four years. And that number would have been a lot worse if it hadn't been for a 9.2 percent spike in general market sales; now those figures are down, too. Some Christian labels that had been bought up by the large conglomerates are now being closed. The arrest of Ja'Marc Davis, member of the band Raze, on rape charges—and the band's subsequent winning of a Dove Award—has caused some folks to ask questions about the industry. (The dropping of the Dove Awards from PAX-TV was surely another blow to the Christian music bigwigs). And some evangelicals—who aren't concerned about the music being Devil worship—are worried about Christian artists getting too cozy in the culture at large. Focus on the Family's Steven Isaac, for example, criticized bands like Grammatrain, the Newsboys, dc Talk, and Sixpence None the Richer for "partnering in the overall message of … [Dawson's] Creek, Charmed, and Undressed … [a] message is either sexually or occultly driven."
Not that it's all bad news for the Christian music world, but Newsweek is supposed to be a news magazine, isn't it? Ali's article is full of wonderful details of the Christian music festival—a blasé roadie laments the crowd-surfing capabilities of Christian music fans, kids voluntarily pick up trash after the show, almost everyone comes with a church group or parents—but simply attending such a party gives a skewed impression of the Christian music world. Ali should have spent a little more time reporting.
A sidebar on the rest of the $4-billion-plus Christian retail industry gets broader and deeper, noting that Christian music's popularity is only the forerunner of the rest of the Christian pop culture boom. The eye-popping success of the Left Behind series and The Prayer of Jabez are leading many publishers to shift their plans and aim for the mainstream market instead of just Christian bookstores, Inside.com reports. And Jerry Rose, president of the Total Living Network and executive producer of Encounters With the Unexplained on PAX-TV says Christian television is moving toward a softer sell. "One of the things we've got to get past is the need to pack the church buses full to make something successful. That's still a Christian product oriented to a Christian audience," he tells Newsweek. "The idea is to take the time and the trouble to make programming that brings all people in and give them an objective look at the moral and spiritual values in their lives." Newsweek responds, "Still, it raises the question that has faced most minority groups: when does crossing over become selling out?"
Indeed as Ali writes, "There's something about the ethos of alternative rock—staying true to your beliefs, never bowing to mainstream pressure—that is oddly simpatico with conservative Christian culture." If Christian culture becomes less of an alternative to the culture, if it does bow to mainstream pressures to win more listeners, why bother with exclusively Christian festivals at all?
Related Elsewhere
See our past Weblog updates:
July 6 | 5 | 3 | 2

June 29 | 28 | 27 | 26 | 25

June 22 | 20 | 19 | 18

June 15 | 14 | 13 | 12 | 11

June 8 | 7 | 6 | 5 | 4

June 1 | May 31 | 30

May 18 | 17 | 16 | 15 | 14

May 11 | 10 | 9 | 8 | 7

May 4 | 3 | 2 | 1 | April 30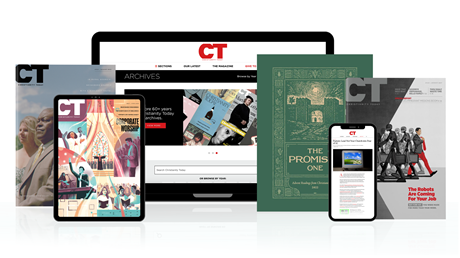 Subscribe to Christianity Today and get access to this article plus 65+ years of archives.
Home delivery of CT magazine
Complete access to articles on ChristianityToday.com
Over 120 years of magazine archives plus full access to all of CT's online archives
Subscribe Now
Newsweek Discovers Christian Music About Six Years Late
Newsweek Discovers Christian Music About Six Years Late