true
(This article originally appeared in the February 15, 1985, issue of Christianity Today.)
The term "heavy metal" was coined to describe the loud, driving, guitar-based music popularized in the late 1960s. Over the years, bands have added new connotations to the term. A group called Black Sabbath combined heavy-metal music with occult symbols and odes to the Devil. A few years later, a band named KISS set new standards for outlandish makeup and lewd lyrics.
More recently, groups like Mötley Crüe, Ratt, and Twisted Sister have taken themes of generalized rage, sexual abandon, drug abuse, violence, and despair into the homes of millions of young record buyers. Billboard magazine reported that of the 59 albums certified platinum (signifying 1 million copies sold) last year, 10 were in the heavy-metal category. That figure is up from 5 in 1983. With the growing appeal of heavy-metal music, the National Coalition on Television Violence has called attention to the destructive potential of music videos, many of which graphically depict violence and rebellion.
In contrast to those sinister influences, a new heavy-metal band is shattering the stereotypes. A four-member group called Stryper is adding a Christian dimension to heavy-metal music. The band's members—wearing costumes adorned with chains and metal studs—look like members of other popular heavy-metal groups. Stryper's latest album was released by the same record company that launched Mötley Crüe and Ratt. But that is where the similarities end.
The lyrics to Stryper's songs, and the band's on-stage performance, distance it from its secular counterparts. During concerts, the four-man band throws Bibles into the audience. In a song called "From Wrong to Right," Stryper sings: "So many bands give the devil all the glory—it's hard to understand. We want to change the story."
Stryper has received coverage in Rolling Stone and other rock music magazines, and was featured on television's Entertainment Tonight. In interviews with the media, band members explain such things as why a reference to Isaiah 53:5 (" … with his stripes we are healed") is part of their logo.
"When you're in court, both sides have an attorney," said Michael Sweet, the band's 24-year-old lead singer and guitarist. "But in rock-and-roll or the entire secular music business today, no one tells God's side of the story. Nobody stands for what's right. The number one thing for us is to tell people about Jesus—especially the young kids—in a way they can understand."
Combining Christian lyrics with rock music is nothing new. Gospel music companies have promoted sanitized hard-rock bands for 15 years. Stryper is different because it records on a secular record label, its albums are sold widely in secular retail outlets, and it appears on stage with secular heavy-metal bands.
Christian rock bands such as Petra, Rez Band (formerly Resurrection Band), Barnabas, and Jerusalem have been largely unsuccessful in selling albums and concert tickets to the unchurched. "The machinery is not geared for us to go into the secular stores and sell our records," said Ray Nenow, president of Refuge Records, a Christian record company.
Stryper's Sweet said part of the problem with religious rockers is that their theology is stronger than their music. "If you're out there in the secular world and you don't have Christ, you're not going to see a group because they talk about Christ," he said. "You're going to go hear a band because they're good, and because they have a good stage show. Stryper is trying to stay away from being known as a Christian band. We want to be known as a metal band for Christ."
Saying their main purpose is evangelism, the four band members—Sweet; his brother Robert, the drummer; guitarist Oz Fox; and Tim Gaines, who plays bass and keyboards—have sought to win their listeners' hearts after capturing their attention. "You don't have to compromise on the music or the look as long as sin doesn't mix in with it," Michael Sweet said. "We're here to show people you can play rock music, you can look this way, and you can let Jesus be the Lord of your life."
Their six-song debut album has been selling faster than initial releases by secular heavy-metal bands Mötley Crüe and Ratt. Released in July on the Enigma label, Stryper's album has sold more than 50,000 copies. Said Enigma spokesman Rick Orienza: "The music on the album is very powerful. But also, their message is positive in a field that has been glutted with bands with songs about the Devil and negativism."
Despite widespread praise, Stryper has run into stiff opposition. At a recent concert appearance with two secular heavy-metal bands, members of Stryper were spat on. Some members of the audience shouted obscenities about Christ.
Generally, however, audiences respond well to the band's high-powered and flashy presentation of the gospel. "The band gets sullen fans of Twisted Sister cheering and poking stubby 'one way' fingers heavenward—a refutation of the double-fingered 'devil horns' salute of many metal groups," reported the Los Angeles Times.
Raul Ries, pastor of the 6,500-member Calvary Chapel of West Covina, California, said his church supports Stryper's evangelistic efforts. "These guys are pulling people out of hell," he said. "They've been coming [to church] here for a year and a half, and we've seen a lot of their fruits. They bring a lot of people here to fellowship. I've seen what they're doing in the nightclubs, and I believe these guys really have a commitment to Jesus Christ."
Dan and Steve Peters, authors of Why Knock Rock? (Bethany) and youth pastors in St. Paul, Minnesota, have been among the most vocal critics of rock music. However, when it comes to Stryper, the Peters brothers say the band's approach is an acceptable means to an end.
"I don't think Jesus told us how to look," said Steve Peters. "I would dress as a clown—and I would dress in just about any outfit that wasn't immoral—to get on Entertainment Tonight and share 10 sentences about Jesus Christ. Stryper is using music to reach today's people, and they are reaching people at a point of need. I would say what Jesus said to the disciples in Mark 9:40, 'He that is not against us is for us.'"
Other Christians, however, are less enthusiastic about the band's approach to evangelism. "I like what the guys say in their music and their interviews, and I have complete support for their sincerity," said Bob Larson, author of four books about rock music and the church. "But I very strongly object to the whole heavy-metal frame of reference, their stage presence, and the chains, leather, and studs. I question the wisdom of using this kind of imagery, and I worry about the Christian kid who finds in Stryper a reason for looking like things that connote negativism."
Other critics fail to see any good whatsoever in bands like Stryper. David Noebel, author of The Legacy of John Lennon (Nelson), and television evangelist Jimmy Swaggart say rock music is inherently evil and cannot be used to communicate God's grace.
Sweet takes such criticism in stride. "I really feel Jimmy Swaggart and myself are going to be able to sit down and talk, because he's my favorite evangelist," Sweet said. "I know he's down on rock [music]. And I don't blame him, because there's very little good rock-and-roll left. But I think he will see that God can use whatever he wants to use."
This article originally appeared in the February 15, 1985, issue of Christianity Today.
Related Elsewhere
Also appearing on Christianity Today's Web site today are letters from readers in response to the above article and a current story on Stryper's return at Cornerstone 2001.
CDNOW ran a story on Stryper's reunion show at the 2001 Stryper Expo.
Stryper's Official Web Site has articles, biographies and the band's full history.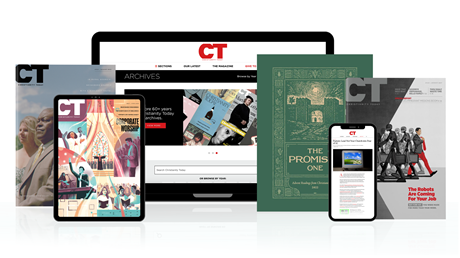 Subscribe to Christianity Today and get access to this article plus 65+ years of archives.
Home delivery of CT magazine
Complete access to articles on ChristianityToday.com
Over 120 years of magazine archives plus full access to all of CT's online archives
Subscribe Now
A Christian 'Heavy-Metal' Band Makes Its Mark on the Secular Music Industry
A Christian 'Heavy-Metal' Band Makes Its Mark on ...