Recently, a poll conducted by the authors of Environmental Values in American Culture (MIT Press), revealed some surprising news: Most Americans agree with the statement "Because God created the world, it's wrong to abuse it."
It is safe to say that the environment has not been prominent on the evangelical agenda. We may privately acknowledge the need to be better stewards of our natural resources, but we generally stay away from groups and organizations working on environmental issues because we suspect they are either too "liberal," "New Age," or both. Indeed, some groups clearly have New Age ties, and political liberals seem to have cornered the environmental market. But if this poll accurately reflects the philosophical underpinnings of most Americans regarding care of the planet, our fears may have been unwarranted. Rank-and-file Americans want to take better care of the earth for the same reason we do: God made it.
Happily, more evangelicals are being motivated more by obedience to God's Word than by fears spread by environmental extremists. The recent formation of the Christian Society of the Green Cross is a case in point. The society's quarterly, Green Cross, "seeks to help Christians become good stewards of creation" and promotes biblical thinking about ecological issues.
For years, World Vision International has built environmental stewardship into its development ministry. Working in Ethiopia's Ansokia Valley, ravaged by famine, World Vision helped local residents plant millions of trees for food and fuel and to stabilize the soil, and pioneered the use of drought-resistant crops. Now the valley is green and exports food to other regions.
Michigan's AuSable Institute, begun by a small group of Christian biologists, is another example of a practical "theology of ecology." Through its publications, seminars, and conferences, the institute has done cutting-edge work in Christian environmental concern for over a decade.
More recently, some Christian colleges have hired environmentally conscious administrators to help with energy conservation. Christian publishers are increasingly using recycled and environmentally safe paper and are recycling wastes.
Still, these examples are more the exception than the rule. Many evangelicals, especially in the United States, seem to feel that ecology is of no deep concern to God. The physical world is of little value compared to the human soul. Some ask: "Shouldn't we just stick to saving souls?"
In a word, no. The question is not the motives or politics of others who are concerned about the environment, but where biblically informed and Jesus-motivated compassion leads us. We ought to do a better job of caring for the environment because "the Earth is the Lord's, and everything in it." Nothing in the New Testament suggests that the biblical concern for creation was canceled by the coming of Christ. Quite the opposite. In the risen Jesus Christ we see the first fruits of a renewed creation. So we seek God's help in being earth-keepers today. Christians ought to be the most active and effective environmentalists in America. Here are some suggestions to begin that work:
Teach our children a biblical perspective on the environment. This means avoiding both extremes: purely secular environmentalism, or overspiritualizing that undercuts good stewardship.
Become informed on environmental issues. A number of books and other publications by Christian writers and scientists are now available.
Take care of our property. Christian churches and organizations are major holders of real estate, most of it untaxed. These pieces of the environment should be demonstration plots for our concern for God's world.
Recycle. Here is where good ecology and good economics meet. If patriotic Christians during World War II could recycle tin cans and tires for the war effort, certainly Jesus' disciples today can recycle our abundance of consumer trash, demonstrating a kingdom patriotism.
Here is something to celebrate: the goodness of God's creation, a growing public support for earthcare, and evangelicals who are leading the way in the stewardship of the garden God has given us. Doesn't it make you want to roll up your sleeves and do more?
This article originally appeared in the May 15, 1995, issue of Christianity Today. At the time, Howard A. Snyder was Heisel Professor of Evangelization and Church Renewal at United Theological Seminary in Dayton, Ohio. He is now Professor of History and Theology of Mission at Asbury Theological Seminary in Wilmore, Kentucky.
Related Elsewhere
Outside magazine profiled Christian environmentalism past, present, and future, and suggested that religious activists will be extremely important in the Bush administration.
A Christian Century editorial said society can either tell God "we're in charge of sea level from here on out, or we can throttle back and learn to live a little differently."
America's Roman Catholic bishops have called for immediate action to find solutions to global climate change saying that fighting it is a moral duty. A Boston Globe editorial looked at global warming's spiritual cost.
Article continues below
Christian Environmentalism associations include Christian Environmental Council (an offshoot of the Evangelical Environmental Network), the Interfaith Council for Environmental Stewardship, Evangelicals for Social Action and Green Cross.
For more articles, see Yahoo's full coverage areas on environment news.
Earlier Christianity Today articles on environmentalism include:
Religious Leaders Rebuke Bush Administration Over Kyoto Protocol | Officials from the National Council of Churches, Presbyterian Church (USA), United Methodist Church, Disciples of Christ, and African Methodist Episcopal Church say U.S. must limit greenhouse gas emissions. (April 6, 2001)
Unholy Harvest? | Evangelicals join protests against genetically modified "frankenfoods." (May 9, 2000)
U.S. Churches Join Global Warming Debate (Oct. 5, 1998)
God's Green Acres | How Calvin DeWitt is helping Dunn, Wisconsin, reflect the glory of God's good creation. (June 15, 1998)
Greening of the Gospel? | Evangelical environmentalists press to add creation care to the church's mission. (Nov. 11, 1996)
Evangelical Environmentalism Comes of Age (Nov. 11, 1996)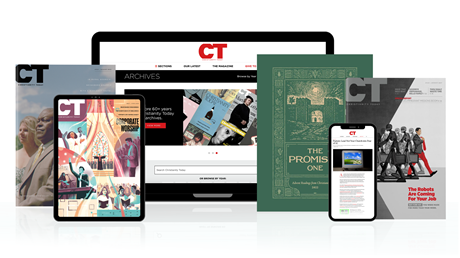 Subscribe to Christianity Today and get access to this article plus 65+ years of archives.
Home delivery of CT magazine
Complete access to articles on ChristianityToday.com
Over 120 years of magazine archives plus full access to all of CT's online archives
Subscribe Now
Why We Love the Earth
Why We Love the Earth