A prominent Orthodox priest in the southern Indian state of Kerala has failed in his bid to be elected to the state legislative assembly.
Father Mathai Nooranal's electoral campaign annoyed some Christians because he had the support of the state's Communist-led ruling coalition in the election held on May 10. The coalition lost the election.
The priest stood as an "independent" candidate in the constituency of Sultan Bathery in north Kerala, supported by the Communist-led Left Democratic Front (LDF).
Nooranal, who is well known in the region for his social service, gained 45,000 votes, compared to 68,000 votes for N. D. Appachan, a Catholic layman and Congress party leader.
Appachan had been nominated by the opposition United Democratic Front, led by the Congress party. The UDF won 100 seats in Kerala's legislative assembly, while the Communist coalition won only 40, the worst result in Kerala's history. It had 80 seats in the outgoing assembly. Commentators attributed the poor showing to a strong reaction against the incumbent state government.
With a population of 32 million people, almost 20 percent of them Christian, Kerala is divided into 140 constituencies. Christians, 10,000 of them Orthodox, account for more than a third of the 150,000 eligible voters in the Bathery constituency.
"I accept the verdict. People have given their mandate," Nooranal said at his residence at St. Mary's Cathedral in Bathery where he has been vicar since 1951.
A senior Catholic priest in Bathery, who asked not to be named, said Nooranal's defeat showed that "the people do not want priests to enter politics." He added that the "atheist" support for Nooranal had been "strongly disapproved by the people. It seems even Orthodox Christians have not voted for him."
Nooranal is one of three trustees of the Malankara Orthodox Syrian Church, which has up to two million members in India. His church supported his election bid. But soon after the Communist leaders announced their support for Nooranal late March, a lay group within his church, the Malankara Orthodox Almaya Association, organized a press conference to condemn his election bid.
However, Nooranal said the association "had no influence" in Bathery or in his defeat.
A spokesperson for the Malankara Orthodox Syrian Church, declined to comment on Nooranal's defeat.
Related Elsewhere
Prior to the election, The Times of India reported that Kerala Marxists were fielding a priest to harvest votes.
The Times of India followed up post-election with a run-down of results.
Article continues below
Christianity Today first covered Nooranal's candidacy in April.
Recent Christianity Today articles on India include:
Churches Adopt Entire Villages in Devastated Gujarat to Help the Homeless | Charities aim to meet basic needs after January's western India earthquake (June 7, 2001)

Militants Blamed for Death of Three Missionaries in India | 5,000 attend funeral, Catholic schools close in mourning (June 7, 2001)

Despite Tensions, Indian Churches Agree to Talks With Hindu Groups | Mainline churches will join talks, but other Christians say "partisan" meeting is dangerous. (Apr. 11, 2001)

Christians Help Overlooked Villages | Many Christian agencies are still doing earthquake relief among India's poorest victims. (Apr. 5, 2001)

In Southern India, Orthodox Priest Has Communist Support in State Election | Popular priest says he's independent despite strange bedfellows, but many Christians are wary. (Apr. 4, 2001)

Christians Call for India's Prime Minister and Government to Resign in Wake of Scandal | Web site releases tapes of party president taking bribes from men posing as arms dealers. (Mar. 22, 2001)

India Relief Abuses Rampant | Radical Hindus hijack supplies in quake intervention. (Mar. 20, 2001)

In Orissa, You Must Ask the Government If You Want to Change Religion | Christian church leaders say they're trying to ignore the controversial law, but police aren't doing the same. (Mar. 12, 2001)

New Delhi Conference Condemns 'Immense Suffering' in Caste System | National Campaign for Dalit Human Rights plans to appeal to United Nations. (Mar. 9, 2001)

Weblog: Take Up Arms Against Missionaries, Says Hindu Leader | Clouds darkening over India (Mar. 6, 2001)

Churches Angry that Indian Census Ignores 14 Million Christian Dalits | Only Hindu, Sikh, and Buddhist members of "untouchable" caste being counted. (Mar. 2, 2001)

Churches Have Not Worked to End Dowry Practice | India's women are seen as less valuable than men in a society that supports bride burnings and "suicide." (Feb. 20, 2001)

India's Christians Face Continued Threats | We must preach what we believe in spite of Hindu pressure, says Operation Mobilization India leader. (Feb. 15, 2001)

India's Quake Survivors Need Counseling | Earthquake survivors are desperate for more than material aid, Indian bishop warns. (Feb. 9, 2001)

Quake Rocks Hindu Hotbed | Agencies appeal for funds to aid victims. (Feb. 8, 2001)

Politician Who Saw God's Hand in Gujarat Quake Forced to Resign | Civil aviation minister had told Christians that quake was God's judgment against persecution of Christians. (Feb. 5, 2001)

Militant Hindus Assault Christians | Persecution of religious minorities stirs Christian outrage against government inaction. (Jan. 31, 2001)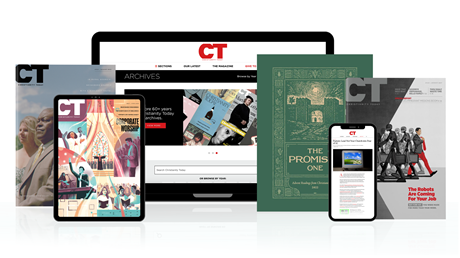 Annual & Monthly subscriptions available.
Print & Digital Issues of CT magazine
Complete access to every article on ChristianityToday.com
Unlimited access to 65+ years of CT's online archives
Member-only special issues
Subscribe
Communist-Backed Orthodox Priest Loses Election for Kerala Assembly
Communist-Backed Orthodox Priest Loses Election ...